Adobe Training Sydney
Enhance your team's Adobe proficiency with Nexacu Training
Courses available in-person. 
Join in-person. We hope to be offering this course remote online in the near future

Adobe includes a comprehensive suite of applications widely recognised as the industry standard for digital design and creativity. Among the diverse range of software available, Adobe courses provide invaluable skills in graphic design, photography, video editing, web development, and more. Whether you are a professional seeking to enhance your abilities or an aspiring creative looking to embark on a new career, mastering Adobe applications is essential.
Adobe Training Sydney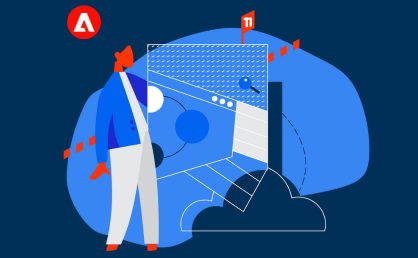 Improve productivity and online collaboration. One-day in-person training courses in Sydney's CBD.
Upcoming Courses:
Course Dates
We currently have no public courses scheduled. Please contact us to register your interest.
Scheduled
Taking enrollments.
Confirmed
Taking enrollments.
Sold Out
Try another date.
Frequently Asked Questions
Do you offer government-funded Adobe training courses?
While we do not provide government-funded courses, you may qualify for reimbursement through government grants for workplace training to cover the cost of your Adobe training.
What prerequisites do I need for Nexacu's Adobe training courses?
Our Adobe training courses are designed to cater to participants of varying skill levels. While some courses may have recommended prerequisites, no specific requirements are needed for most introductory-level courses. Our instructors will guide you through the necessary concepts and ensure you have a solid foundation in using Adobe software.
What are the benefits of completing an Adobe training course with Nexacu?
By completing our Adobe training courses, you will gain the skills and confidence to effectively use Adobe software. Our courses are taught by experienced instructors who will guide you through hands-on exercises and real-world examples, enabling you to apply your knowledge immediately. You will learn time-saving tips, best practices, and advanced techniques to enhance your productivity and create professional-quality output.
Is certification provided upon completing the Adobe training?
Yes, upon successful completion of our Adobe training courses, you will receive a certificate of achievement. This certification validates your proficiency in using Adobe software and can be a valuable asset when demonstrating your skills to clients, employers, or colleagues.
Why is Adobe training important for businesses and organisations?
Adobe software is widely used in various industries, including graphic design, marketing, advertising, and media production. Having employees with strong Adobe skills can significantly enhance the quality and efficiency of your organization's visual content creation, branding, and marketing efforts.
What is the role of employee training in Adobe software?
Employee training in Adobe software plays a crucial role in empowering individuals to maximize their creative potential and productivity. It enables employees to efficiently use Adobe tools, unlock advanced features, and explore creative possibilities. Well-trained employees can create visually appealing content, design professional marketing materials, and effectively communicate ideas through multimedia. Adobe training also fosters collaboration and streamlines workflows within teams, resulting in improved efficiency and output quality.
How much is Adobe training?
The cost of Adobe training at Nexacu varies depending on the specific course you are interested in. We offer a range of Adobe courses designed to cater to different software applications and skill levels. To find out the exact cost of a particular course, we recommend visiting the respective course page on our website. There, you will find detailed information about the course content, duration, and pricing.
What benefits can businesses gain from Adobe training?
Adobe training provides businesses with a competitive edge by enabling employees to create visually stunning designs, compelling marketing materials, and engaging multimedia content. By enhancing employees' Adobe skills, organizations can streamline their creative processes, produce high-quality deliverables, and effectively communicate their brand identity. Adobe training also empowers businesses to take advantage of the latest software features and stay up to date with industry trends, ensuring they can meet evolving customer expectations and stand out in the market.
Price
Adobe Acrobat Pro DC Mastery: $495
Time
9am - 4pm ( approx )
Reference Materials
Provided
Training Computer
Provided
Delivery
Instructor-led training
Address
Level 24/477 Pitt Street
Sydney
New South Wales 2000

COmprehensive - great tips on efficient shortcuts for Excel
Greg - Analysis & Dashboards Sydney,
8 Dec 2023
.
very nice and engaging, answered questions from participants and was accommodating to both physical and online participants.
Steffie - Power BI Beginner Kuala Lumpur,
7 Dec 2023
.
Was great, very methodical, ran many examples
Corey - Power BI Beginner Perth,
7 Dec 2023
.
Perry did a great job. I already have knowledge on Bi but with him explaining I gain other knowledge on how I can make my report more comprehensive and how I can make my report preparation easier
Marvel - Power BI Beginner Manila,
7 Dec 2023
.
Very well presented and covered the course nicely
Kevin - Power BI Beginner Perth,
7 Dec 2023
.
Great work. Well paced
Julie - Power BI Beginner Remote West,
7 Dec 2023
.
Great session. There was a lot to cover and I found the pace a bit fast. I got lost quite a few times but Ulfa was great with taking me back through the steps. Overall I enjoyed the session
Leisa - Power BI Advanced Remote East,
7 Dec 2023
.
Some of the area will need to provide more information.
Angela - Power BI Advanced Brisbane,
7 Dec 2023
.
Very knowledgeable in a range of areas and did a great job at answering question more specifically suited to my context. Went through at a great pace that allowed me to keep up.
Chris - Power BI Advanced Brisbane,
7 Dec 2023
.
Trainer was good and assisted all students.
Thomas - Power BI Advanced Brisbane,
7 Dec 2023
.
Extremely helpful training on Power Automate - covered many basic functions in a systematic manner which I would not have come by just by Googling and watching YouTube videos. Appreciated your patience as well to make sure each attendee was taken care of and could follow along with the many steps involved.
Jovita - Power Automate Beginner Remote East,
7 Dec 2023
.
Jagg explained things well and at a good pace. When my computer had to reload suddenly, and I fell behind he was able to quickly help me catch up to the class. Thanks for all your help Jagg and the Bookmarks and Row Level Security info was particularly useful.
Anita - Power BI Intermediate Remote East,
7 Dec 2023
.