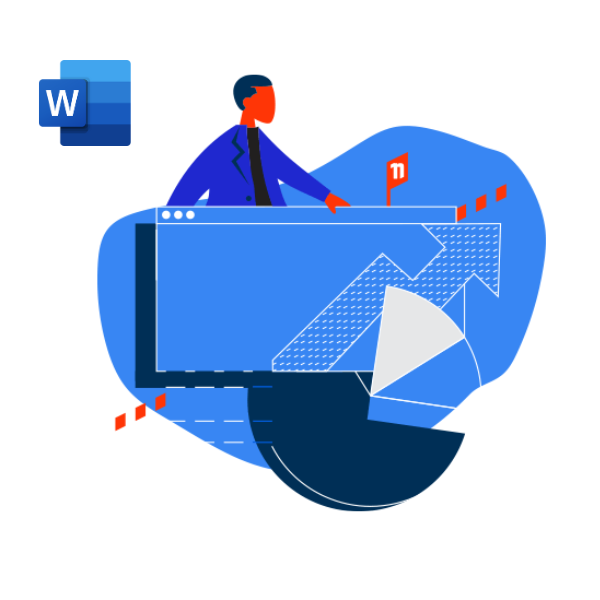 Word Course Canberra – Dates
Our Microsoft Word courses are offered in Canberra Civic and remotely.
Elevate your career with our Microsoft Word training courses! Discover a world of possibilities with our Microsoft Word courses in the Australian capital territory of Canberra. As your gateway to mastering the most versatile word processing tool, this course will skyrocket your career by enhancing your documentation and formatting skills. 
Word Course Canberra – Dates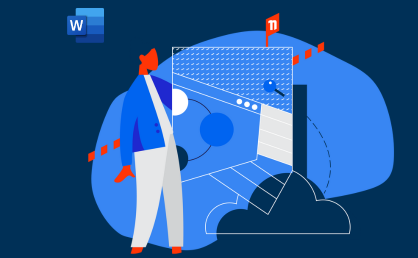 Learn to create professional documents efficiently from our experienced trainers in our Canberra Word Courses.
Upcoming Courses:
Scheduled
Taking enrollments.
Confirmed
Taking enrollments.
Sold Out
Try another date.
Frequently Asked Questions
Why should I learn Microsoft Word?
Learning Microsoft Word is a stepping stone to advancing your career, as it's one of the essential tools in the modern professional landscape.
Mastering Word increases productivity, enabling you to create, format, and share professional documents effectively.
With a solid grasp, you streamline your workflow and showcase your enhanced technical skills to employers, which will help you set yourself apart in the competitive job market.
Your proficiency in Word can open doors to new opportunities, promoting your growth in any industry you choose.
How many months will it take me to learn Microsoft Word Office?
Our Microsoft Office Word training in Canberra is structured to fast-track your learning, with each level—beginner, intermediate, or advanced—designed to be completed in a day. Therefore, you could technically complete the training in just three days.
However, we recommend spreading out the training over 4 to 6 weeks. It allows you a few days in between each session to practice and consolidate what you have learned, ensuring a thorough understanding of the material, which, in turn, could be more beneficial for your career progression and daily productivity.
Which Microsoft Word course is best for beginners?
Nexacu's Microsoft Word Beginner Training is an excellent choice for newcomers to Microsoft Word. It is designed to provide a solid foundation, easing you into Word's environment and fundamental features.
With expert guidance, engaging lessons, and practical exercises, you will swiftly transition from novice to proficient, making your first steps in mastering Word remarkably rewarding and productive for your career journey ahead.
Will the content of the Microsoft Word course be relevant for the workplace?
Our Microsoft Word training in Canberra is structured for practical workplace learning, spanning Beginner to Advanced levels. At the MS Word beginner level, you will learn the basics of Word, like creating documents, text formatting, and basic design tasks.
As you advance to the MS Word intermediate level, you will explore complex formatting, work with PDFs, and delve into styles and templates.
The MS Word advanced level catapults students into intricate Word functionalities, including working with SmartArt, master documents, and collaborative features like tracking changes and document protection.
Each level is a step towards mastering the Word suite, enhancing your document creation and management skills, and making you a valued asset in any professional setting.
This journey will make you proficient in MS Word and significantly increase workplace productivity.
Can I take the Microsoft Word course for free?
We do not offer Microsoft Word courses for free. However, we do have options to make training more affordable. We provide group training discounts, which could significantly reduce costs.
Please contact us on 1300 886 190 for more details on these discounts and to find a pricing option that works for you.
How much does the Microsoft Office course cost?
The cost of our Microsoft Office training in Canberra varies per level. The Microsoft Office Word beginner level is priced at $360, the Word intermediate level at $ 370, and the Word advanced level at $385.
Each course is structured to provide a thorough idea of MS Word, progressively advancing from essential to complex features, ensuring value for the investment towards enhancing your skills and career prospects.
How long is the Microsoft Word course?
Our instructor-led Microsoft Word courses located in Canberra are designed to be comprehensive yet time-efficient, spanning one day from 9 a.m. to 4 p.m.
Within this timeframe, you will receive 6 CPD (Continuing Professional Development) hours of focused training, equipping the students with valuable knowledge and improving your Microsoft Word skills for various tasks.
Who should attend this Microsoft Office class in Canberra?
Our Microsoft Office training in Canberra is ideal for anyone in the area keen on mastering Word to enhance their productivity significantly.
Whether you are a beginner or looking to refine your skills further, this course is structured to provide valuable insights and hands-on experience, propelling you toward becoming proficient in Word.
It's a fantastic opportunity for locals to upgrade their skills in their city conveniently.
How many students are typically in the Canberra Microsoft Training Class?
Our Canberra Microsoft Office training class size is kept intimate to enhance the learning experience. On average, there are about 5 students in a class, with a maximum limit of 10.
The small class sizes ensure personalised attention from the instructor and ample interaction opportunities. Additionally, reference materials are provided to aid your learning journey during and after the course.
What are the prerequisites for enrolling in the Microsoft Word course?
There are no prerequisites for enrolling in the beginner Microsoft Word training, making it accessible for anyone keen to learn.
However, for the Word intermediate and advanced courses, we recommend that enrollees are regular users of Microsoft Office and have a solid understanding of the concepts covered in the beginner-level training.
It ensures a smoother transition into the more complex material in higher-level courses, facilitating a more productive learning experience.
Can I get a certification upon completing the Microsoft Word course?
Upon completing the Microsoft Office Word course in Canberra, you will receive a Nexacu Word series completion badge, which showcases your acquired advanced skills and dedication to learning.
However, you must pass Microsoft's MO-100 and MO-101 exams to obtain an official certification.
The training and badge you receive from Nexacu will be a substantial stepping stone toward preparing for these MS certification exams, ultimately enabling you to become certified as an MS Word expert.
Is the Microsoft Word certification exam free?
The Microsoft Word certification exam is not free, and its fees vary based on the region. We offer a complete MS Word package at $ 1,380, encompassing all three-course levels (beginner, intermediate, and advanced) and a practice certification exam to ensure you are well-prepared.
If you start at the Word intermediate level, bypassing the beginner level, this package costs $1,020.
Our structured training and practice exams are devised to prepare you for the official Microsoft certification exam, advancing your Word skills and career prospects.
How are the Microsoft Word courses in Canberra delivered (online, in-person, or hybrid)?
You can attend our Microsoft Word training in Canberra in person or remotely. If you opt to participate in the online training remotely, don't forget to select your location as "Remote Online."
Are there evening or weekend classes available for working professionals?
We do not conduct any evening or weekend classes at our London Circuit Canberra centre. However, we offer 'On Demand' courses if you have multiple employees you want to train, and we can adjust the timings accordingly.
Please call us on 1300 886 190 or contact us for further information and support regarding this option.
What topics are covered in the Microsoft Office training courses?
Our Microsoft Office training courses in Canberra are meticulously structured across three levels - beginner, intermediate, and advanced - covering a broad spectrum of topics to ensure comprehensive understanding and practical application of MS Word.
The Microsoft Office Word Beginner course will familiarise you with Word's basics, learn to create documents, format text and paragraphs, create tabs and tables, perform mail merges, and delve into document design and layout essentials.
The intermediate level takes a step further by introducing you to advanced document techniques. You will explore formatting techniques, work with PDFs, and create and apply styles, templates, and themes. You will also learn to manage section breaks, headers, and footers and refine your skills in drawing, formatting shapes, and enhancing images.
The Advanced course dives deep into complex Word functionalities. Here, you will get familiar with SmartArt, manage long documents, handle footnotes, endnotes, bookmarks, mail merge and cross-references. You will also master the art of document proofing, collaboration features, tracking changes, comparing documents, and delve into advanced topics like creating electronic forms and working with macros.
What materials and resources will I have access to during the course?
Our training centres in Canberra are well-prepared with the latest Windows PCs and Microsoft 365 for your use throughout the course. We will provide you with a unique login ID so you can access our student portal to get hold of the course materials at no extra cost, no matter where you are.
This setup facilitates a hands-on learning journey and offers the ease of accessing course materials whenever you wish, ensuring a deep grasp and practice of the concepts discussed during the Microsoft Word course.
Do I need to bring my laptop to the Microsoft Word class?
Our training campus has the latest computers and all the necessary software. However, if you want, you can bring your laptop, provided it has all the licensed Microsoft products and software.
Is there a specific schedule for assignments and exams, or can I work at my own pace?
Though we have a fixed class schedule, we provide many hands-on exercises and assignments that participants can tackle at their own pace.
Can I access course materials after completing the course for future reference?
Absolutely! Once you have completed the course, you have two easy ways to get hold of the materials for any later reference.
First off, feel free to bring a USB drive to copy all the documents on the day of training. Alternatively, you can utilise your unique login ID to hop onto our student portal and fetch the training materials from anywhere.
Can the course be customised for corporate training or group enrolment?
Certainly! Nexacu is adept at providing customised Microsoft Office training courses designed to meet businesses across Australia's specific needs.
Whether it's corporate training or a group enrolment, we can adjust the course content to match your requirements.
For pricing and further details, please contact us at 1300 886 190. Our team is on hand to assist you in creating a training program that is the perfect fit for your organisation.
What is the course cancellation or refund policy?
You can reschedule a public training course through the clients' portal to available dates within the booking validity period. The booking will be placed on the "Restricted List" with certain conditions for rescheduling within seven days before the course starts.
A cancellation or change in public course dates must be made in writing at least seven days before the course, or a 100% course fee will be charged.
We won't be able to issue any refund or credit if a student fails to attend without prior notice.
Private course or consulting service change requests must be made at least 14 days in advance, or a 100% fee is charged.
Please visit our booking policy page for further information.
How can I enrol in the Microsoft Word course in Canberra?
To enrol in the MS Word course in Canberra, visit the MS Word course page and navigate to "Upcoming Courses" for scheduled dates. Click "Book Now" on your preferred date, fill in the required details, and select Canberra as your location. You will receive a booking confirmation after that.
Price
Word Beginner: $324
Word Intermediate: $333
Word Advanced: $347
Time
9am - 4pm ( approx )
Reference Materials
Provided
Training Computer
Provided
Delivery
Instructor-led training
Address
Ethos House
Level 1
28 Ainslie Place
Canberra ACT 2601

MO-101 Word Certification
Other courses in Canberra
Knowledgeable and patient
Jennie - Word Advanced Perth,
22 Nov 2023
.
Very interesting, lost me a little bit on Macros
Ella - Word Advanced Perth,
22 Nov 2023
.
Great examples! Learned a lot.
Ronald - Word Advanced Perth,
22 Nov 2023
.
This was an excellent course and I would like to have all my Microsoft training with Magdalena - very knowledgeable ad engaging. I learned a lot today.
Rhiannon - Word Advanced Remote East,
22 Nov 2023
.
Excellent! Very friendly and highly skilled.
Stephanie - Word Advanced Parramatta,
22 Nov 2023
.
Amazing!! I picked up some tips and tricks to make my life easier when using word
Megan - Word Advanced Parramatta,
22 Nov 2023
.
Was a very helpful introduction to word.
Simon - Word Beginner Perth,
20 Nov 2023
.
Easy to follow, well spoken and easy to understand.
Harmony - Word Beginner Perth,
20 Nov 2023
.
Well educated on subject
Matthew - Word Beginner Perth,
20 Nov 2023
.
Very informative, made the teaching casual yet easy to understand. Would recommend to new word beginners.
Chelsi - Word Beginner Perth,
20 Nov 2023
.
Lots of great information provided
Catherine - Word Advanced Remote East,
16 Nov 2023
.
Thank you!
Joy - Word Advanced Canberra,
16 Nov 2023
.