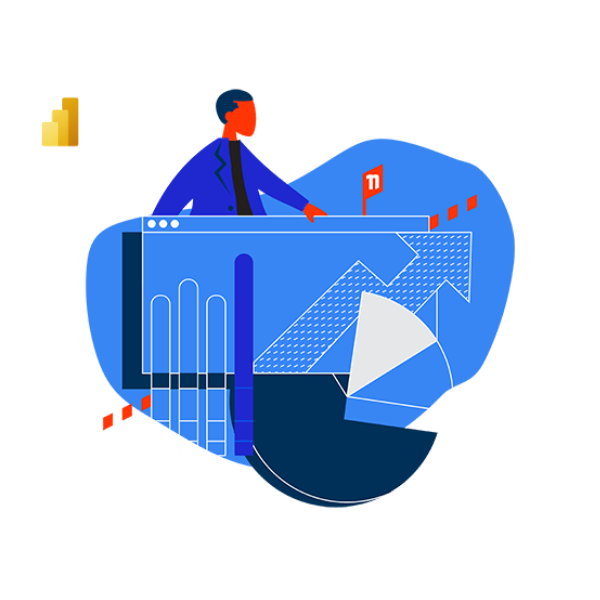 Microsoft Power BI Courses Brisbane
Learn how to transform, analyse and visualise data in Brisbane CBD.
All courses available in-class or remotely.
To attend remotely, select "Remote East" or "Remote West" as your location on book now.

Our Power BI courses are delivered out of our Brisbane offices, by our experienced Microsoft Certified trainers.
Learn how to use Power BI to unlock insights into your data and to drive more informed decisions across your organisation. We are leaders in Power BI training in Australia and continue to update our Power BI courses to keep in step with Power BI as it evolves. Our experienced trainers will guide you through from Beginner to Advanced and DAX courses. 
We also provide Power BI training in the workplace in Brisbane, on both the Gold Coast and the Sunshine Coast as well as across Queensland.
Microsoft Power BI Courses Brisbane
Unlock data insights and create smart visuals. Brisbane Power BI Training Courses. Microsoft Partners.
Upcoming Courses:
Scheduled
Taking enrollments.
Confirmed
Taking enrollments.
Sold Out
Try another date.
Frequently Asked Questions
Will the content in these Power BI Courses be relevant for the workplace?
Our training courses for Microsoft Power BI are designed with a focus on real-world application, and our experienced course writers and trainers bring their industry backgrounds to the table to provide you with the knowledge and skills you need to achieve efficiency and productivity gains in your workplace. We offer a comprehensive curriculum that covers everything from the basics of visualisations to advanced data modelling and analysis, with an additional course for advanced users on the DAX language. By learning Power BI with us, you'll be equipped with the tools to create effective reports and dashboards, allowing you to excel with efficiency in your role.
How many students are typically in a Power BI Training Course?
At Nexacu, we deliver the highest quality of training where we strive to maintain a high level of quality instruction and foster active participation and dialogue. As such, we generally limit the number of students in each class to 5-8 individuals, with a maximum cap of 10. This approach ensures that you receive comprehensive and effective training, while also providing ample opportunities for asking questions and engaging in discussions with the instructor and fellow students. 
What is Remote Training?
Remote training means our team of experienced trainers will deliver your training virtually. With remote learning, students can access our usual classroom training courses via video conferencing, ask questions, participate in discussions and share their screen with the trainer if they need help at any point in the course. Students have the same level of participation and access to the trainer as they would in classroom training sessions. Essentially, you will learn Power BI from our Microsoft-certified trainers online. 
Where is the training held in Brisbane?
Your Power BI training will be held at our Brisbane offices, Level 10, 333 Adelaide St., Brisbane. We are two blocks from Central train station and many buses run along Adelaide St. 
Is Power BI training available on the Gold Coast?
Yes! We run public courses at our Brisbane venue and we can also deliver corporate training to groups on the Gold Coast, Sunshine Coast, Ipswich, Toowoomba, and throughout Queensland. 
Price
Power BI Beginner: $356
Power BI Intermediate: $536
Power BI Advanced: $536
Power BI DAX: $536
Time
9am - 4pm ( approx )
Reference Materials
Provided
Training Computer
Provided
Delivery
Instructor-led training
Address
Level 8
201 Charlotte Street
Brisbane QLD 4000

PL-300 Power BI Certification
Other courses in Brisbane
Greg was a great trainer. Explained everything well. I really learnt a lot and found this a useful course
Kristin - Power BI Beginner Remote East,
6 Dec 2023
.
Really great workshop today! Everything was explained clearly and patiently, and I really appreciated that we were told not just the steps of what to do but also why - as well as plenty of other useful tips and shortcuts to improve the user experience. Very useful.
Louise - Power BI Beginner Remote East,
6 Dec 2023
.
Gregory was fantastic - very helpful and made the training easy to follow. I look forward to putting the system to use!
Barbara - Power BI Beginner Remote East,
6 Dec 2023
.
Excellent - pace was good, very clear, very personable
Denise - Power BI Beginner Remote East,
6 Dec 2023
.
A LOT of information to get through - I would have really liked this to be in 2 half-days. I do feel like I can build my own visualisation now and then if I get stuck, I know what to google.
Christina - Power BI Beginner Remote East,
6 Dec 2023
.
Gregory is a great trainer. It would be even better he could be make the pace a bit slower. Overall, a great session!
Isabella - Power BI Beginner Remote East,
6 Dec 2023
.
Thank you Greg, really interesting and went through the exercises easily enough and understood the processes.
Kerrie - Power BI Beginner Remote East,
6 Dec 2023
.
Greg was superb at training and was very detailed and thorough in all his instructions. I would highly recommend Greg.
Cristina - Power BI Beginner Remote East,
6 Dec 2023
.
A little beyond me but finely explained
John - Power BI Beginner Remote East,
6 Dec 2023
.
Great sessions. Thank you very much Greg!
Li - Power BI Beginner Remote East,
6 Dec 2023
.
Very knowledgable and thorough. Thanks, Greg.
Feon - Power BI Beginner Remote East,
6 Dec 2023
.
Tim explains things very clearly and concisely. It has given me a lot of ideas on how to use Power BI at work.
Samantha - Power BI Intermediate Melbourne,
6 Dec 2023
.