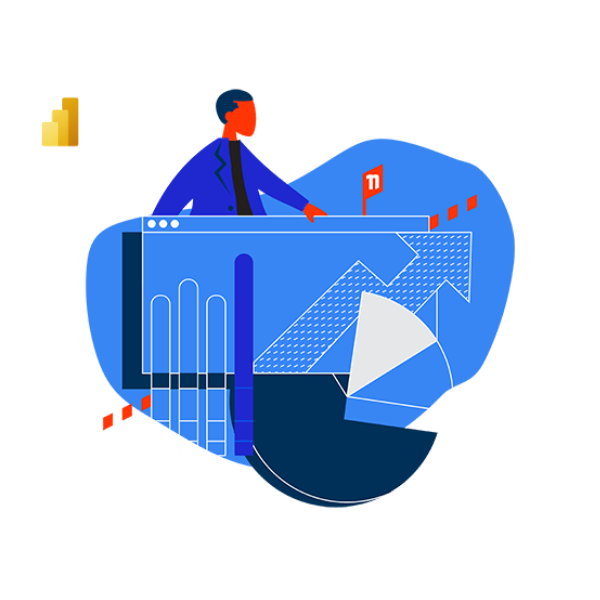 Microsoft Power BI Courses Sydney
Get, transform and visualise data with Power BI training in Sydney.
All courses available in-class or remotely.
To attend remotely, select "Remote East" or "Remote West" as your location on book now.

Our Sydney Power BI courses are delivered by our experienced Microsoft Certified trainers. 
Power BI empowers users to unlock data insights and drive more informed decisions across their organisation. Learn how to connect to your data, transform and cleanse data automatically, build powerful interactive visuals that provide actionable insights and embed these online.  
We continuously update and refine our courses to keep in step with Power BI developments. Our trainers will support your learning from Power BI Beginner right through to Advanced levels. We also provide Power BI training in the workplace throughout Sydney and New South Wales.
Microsoft Power BI Courses Sydney
Learn Power BI Beginner to Advanced from our Microsoft Certified Trainers. Sydney courses in-class and remote.
Upcoming Courses:
Scheduled
Taking enrollments.
Confirmed
Taking enrollments.
Sold Out
Try another date.
Frequently Asked Questions
Will the content in these Power BI Courses be relevant for the workplace?
Yes, our course writers and trainers have industry backgrounds. Our core principle is to deliver training that our students can not only use in the workplace but will actually drive increased efficiency and productivity gains. We teach the key elements of Power BI from Beginner to Advanced; starting with a focus on visualisations and quickly progressing to data manipulation and modelling. We also offer DAX and Microsoft Official 20778 courses.
How many student are typically in a Sydney Power BI Training Course?
While this varies from session to session, we typically have 5-7 students in our Power BI classes. We cap our classes at 10 students. This is to ensure the quality of training remains high and that all students can ask questions and engage in discussion.
I previously attended a course with Excel Consulting, will the training be similar?
Yes, we rebranded from Excel Consulting in October 2019. The business quickly outgrew its original name. Our new brand Nexacu, better reflects our direction, continued innovation and commitment to deliver next level learning. We have always refined and continue to update our courses but retain our excellent trainers and deliver the same high quality content.
Price
Power BI Beginner: $356
Power BI Intermediate: $536
Power BI Advanced: $536
Power BI DAX: $536
Time
9am - 4pm ( approx )
Reference Materials
Provided
Training Computer
Provided
Delivery
Instructor-led training
Address
Level 24/477 Pitt Street
Sydney
New South Wales 2000

PL-300 Power BI Certification
Greg was a great trainer. Explained everything well. I really learnt a lot and found this a useful course
Kristin - Power BI Beginner Remote East,
6 Dec 2023
.
Really great workshop today! Everything was explained clearly and patiently, and I really appreciated that we were told not just the steps of what to do but also why - as well as plenty of other useful tips and shortcuts to improve the user experience. Very useful.
Louise - Power BI Beginner Remote East,
6 Dec 2023
.
Gregory was fantastic - very helpful and made the training easy to follow. I look forward to putting the system to use!
Barbara - Power BI Beginner Remote East,
6 Dec 2023
.
Excellent - pace was good, very clear, very personable
Denise - Power BI Beginner Remote East,
6 Dec 2023
.
A LOT of information to get through - I would have really liked this to be in 2 half-days. I do feel like I can build my own visualisation now and then if I get stuck, I know what to google.
Christina - Power BI Beginner Remote East,
6 Dec 2023
.
Gregory is a great trainer. It would be even better he could be make the pace a bit slower. Overall, a great session!
Isabella - Power BI Beginner Remote East,
6 Dec 2023
.
Thank you Greg, really interesting and went through the exercises easily enough and understood the processes.
Kerrie - Power BI Beginner Remote East,
6 Dec 2023
.
Greg was superb at training and was very detailed and thorough in all his instructions. I would highly recommend Greg.
Cristina - Power BI Beginner Remote East,
6 Dec 2023
.
A little beyond me but finely explained
John - Power BI Beginner Remote East,
6 Dec 2023
.
Great sessions. Thank you very much Greg!
Li - Power BI Beginner Remote East,
6 Dec 2023
.
Very knowledgable and thorough. Thanks, Greg.
Feon - Power BI Beginner Remote East,
6 Dec 2023
.
Tim explains things very clearly and concisely. It has given me a lot of ideas on how to use Power BI at work.
Samantha - Power BI Intermediate Melbourne,
6 Dec 2023
.