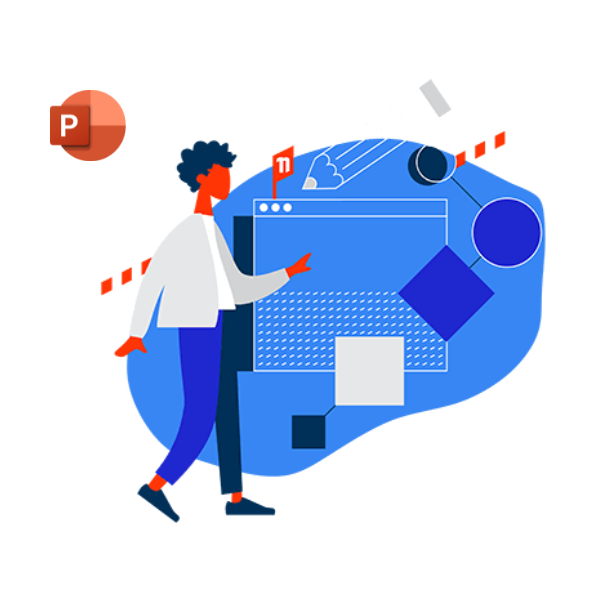 Microsoft PowerPoint Training in Canberra
Our PowerPoint courses are offered in Canberra Civic and in-house across the ACT.
All courses are available in-person or remotely. 
To attend remotely, select "Remote East" or "Remote West" as your location on book now.


Our courses are meticulously designed to empower you with a profound understanding of PowerPoint's capabilities, ensuring that you can proficiently craft, design, and deliver presentations that captivate and engage your audience. Whether you're a novice seeking to grasp the fundamentals or an experienced user aiming to refine your skills, our Canberra PowerPoint courses cater to a diverse range of proficiency levels.
Throughout the course, you will explore the intricacies of PowerPoint, learning how to create visually striking slides, seamlessly integrate multimedia elements, and master the art of effective storytelling through your presentations. Our expert instructors will guide you through the process of crafting compelling visuals, using animations and transitions judiciously, and effectively utilising data-driven charts and graphs to convey complex information with clarity.
Furthermore, you will gain practical experience in organising and structuring your presentations for maximum impact, whether they are intended for business meetings, educational purposes, or any other professional context. We will also cover valuable tips and techniques for streamlining your workflow, enhancing collaboration with colleagues, and ensuring your presentations are fully compatible with a variety of devices and platforms.
Microsoft PowerPoint Training in Canberra
Learn to create professional presentations efficiently in our Canberra PowerPoint Courses.
Upcoming Courses:
Scheduled
Taking enrollments.
Confirmed
Taking enrollments.
Sold Out
Try another date.
Frequently Asked Questions
What are the details of the PowerPoint training courses in Canberra?
Our PowerPoint training courses in Canberra offer comprehensive options to enhance your skills. Whether you're a beginner or an advanced user, our courses are designed to cater to your needs. The cost for both PowerPoint Level 1 and Level 2 courses is $330 each, making them an affordable choice for anyone looking to improve their presentation skills.
Each course spans one day, with training hours from 9 am to approximately 4 pm. We understand the importance of personalised learning, which is why we limit the class size to a maximum of 10 participants. This ensures that you receive individual attention and can actively participate in the training. On average, our class sizes are around 5 participants, creating an ideal environment for learning and interaction.
For your convenience, we provide reference materials and training computers. These resources will help you practice what you learn during the course effectively. Furthermore, successful completion of the course awards you with 6 CPD (Continuing Professional Development) hours, which can be a valuable addition to your professional portfolio.
The training is instructor-led and takes place at Ethos House, Level 1, 28 Ainslie Place, Canberra ACT 2601. If you have any more questions or need further details, please feel free to reach out to us. We are here to assist you throughout your learning journey.
What is the course content for PowerPoint Level 1 and Level 2?
Our PowerPoint training courses are designed to cover a wide range of topics in each level. In PowerPoint Level 1, you will delve into the essentials of creating and formatting slides, understanding slide layouts, and effectively organising content. As you progress to PowerPoint Level 2, you'll explore advanced features such as working with multimedia, incorporating dynamic animations and transitions, and mastering the art of data-driven presentations. If you require a detailed breakdown of the course outline for each level, you can find these on the relevant course pages. Our aim is to equip you with the skills and knowledge needed to create impactful presentations that engage your audience.
Are there any prerequisites for these courses?
There are no specific prerequisites for PowerPoint Level 1. We welcome beginners who are eager to learn and improve their PowerPoint skills. However, for PowerPoint Level 2, it is recommended that participants have completed Level 1 or possess a basic understanding of PowerPoint. This ensures that you have a strong foundation before delving into the more advanced topics covered in Level 2. Our goal is to support your learning journey, regardless of your current skill level.
What is the cancellation and refund policy?
Our cancellation and refund policy may vary depending on the specific course and circumstances. We understand that unexpected situations can arise. It's advisable to review the specific terms and conditions outlined during the registration process to ensure you are aware of the policy applicable to your chosen course.
Is parking available at the training location?
While we do not provide parking directly, there are convenient parking facilities available nearby our training location at Ethos House, Level 1, 28 Ainslie Place, Canberra ACT 2601. We recommend checking the parking options in advance or using public transportation if possible. Your comfort and convenience during the training are important to us, and we strive to make your experience as smooth as possible.
PowerPoint

Course Details
Price
PowerPoint Level 1: $328
PowerPoint Level 2: $329
Time
9am - 4pm ( approx )
Reference Materials
Provided
Training Computer
Provided
Delivery
Instructor-led training
Address
Ethos House
Level 1
28 Ainslie Place
Canberra ACT 2601

PowerPoint

Course Outlines
MO-300 PowerPoint Certification

Digital Literacy Certification
Other courses in Canberra
Ithought it was great, easy to follow along and learnt a lot
Alena - PowerPoint Level 1 Remote East,
4 Dec 2023
.
Jagg was a fantastic trainer
Paula - PowerPoint Level 1 Adelaide,
4 Dec 2023
.
Great presenting.
Amanda - PowerPoint Level 1 Adelaide,
4 Dec 2023
.
Thank you, a very helpful session. Very clear instructions at a great pace. I learned a lot.
Rachael - PowerPoint Level 1 Adelaide,
4 Dec 2023
.
great presentation
Snjezana - PowerPoint Level 1 Adelaide,
4 Dec 2023
.
great session for beginners and very hands on approach
Nancy - PowerPoint Level 1 Adelaide,
4 Dec 2023
.
Valuable course, which covered many of the technical points of using powerpoint. I would also like to have learnt more 'design' techniques on how to have the presentation look professional i.e. best colours, how to divide up the screen to get the most impact, the best use of icons to convey a message. However overall a very good course that was very detailed and interesting. Thank you.
Jane - PowerPoint Level 2 Remote East,
4 Dec 2023
.
Ken was great as always
Ruby - PowerPoint Level 2 Remote East,
4 Dec 2023
.
great lesson, very informative
Brad - PowerPoint Level 2 Remote East,
4 Dec 2023
.
thank you for an educational training
Monika - PowerPoint Level 2 Perth,
13 Nov 2023
.
Thank you so much Magda for the informative session.
Lily - PowerPoint Level 2 Remote East,
7 Nov 2023
.
Comprehensive course. Able to participate/ask questions. Pleasant day.
Geoff - PowerPoint Level 2 Sydney,
6 Nov 2023
.