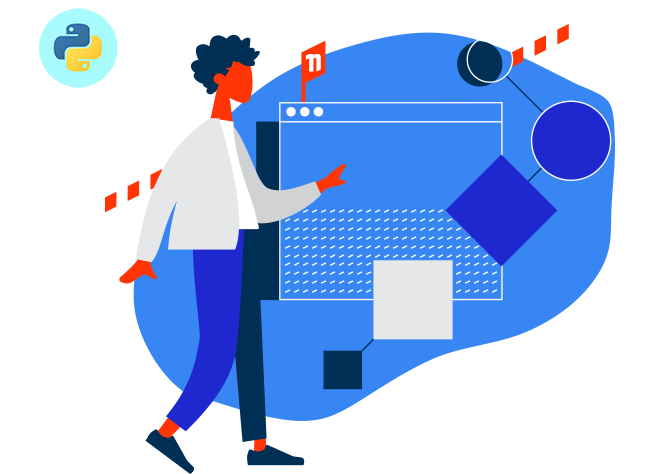 Python Courses in Canberra
Learn how run data analysis using Python
Our Python basics course focuses on the fundamentals of working with Python for Data Analysis. Become familiar with Anaconda and JupyterLab and the basics of Python syntax in the first of our Python courses. Learn how to work with objects in Python, access and manipulate dataframes, use functions, methods and create basic visualisations. You can then build on these core skills with our Python Beginner and Intermediate courses.

Python Courses are scheduled for remote delivery in Canberra and across the ACT. For in-class training, please call us directly. 
Python Courses in Canberra
Learn Python programming for Data Analysis. A key tool for all data analysts, accessing python libraries makes analysing and visualising data much easier.
Frequently Asked Questions
Meet your Trainer

Tamara Shatar holds a PhD in Agricultural Data Science. She has extensive experience, including many years working as a research scientist focused on data analysis, modelling using machine learning, simulation and other techniques. While working in both academia and at the CSIRO, part of her role included teaching a variety of data analysis skills. Tamara has designed our first Data Analytics Training Course, Using R, to provide beginners with the fundamental tools necessary to start using R for data analysis. She is consistently well reviewed by her students. 


"The course was really good, Tamara is an excellent trainer and was able to answer my questions, the resources she provided to help after the course are excellent. I was a bit overwhelmed at the beginning trying to learn a new language, but Tamara put me at ease and went through the content at a pace that I could understand." -Using R Beginner Brisbane 


"Great trainer, structure, material and manual. I have completed programming courses before but this one just made more sense! I'm sure it was the trainer. Looking forward to the Intermediate course when it is available." -Using R Beginner Sydney

What is Python? 
Python is a general-purpose programming language that is easy to use and learn. It is open source and free to use, including for commercial use. The Python user community is very active and have collectively developed over 237,000 packages which extend the functionality of the Python Standard Library. These packages contain functions to perform a wide range of tasks.
Can I run Python in Power BI?
Python can be used within a number of Microsoft products. In Power BI, reusable Python scripts can be used to manipulate data and create visualisations. In Azure, machine learning models can be written in Python and trained and deployed within the Azure Machine Learning Workspace.
Price
Python Basics: $745
Data Analysis in Python: $745
Python Intermediate: $745
Time
9am - 4pm ( approx )
Reference Materials
Provided
Training Computer
Provided
Delivery
Instructor-led training
Address
**Remote only until Dec**
Ethos House
Level 1
28 Ainslie Place
Canberra ACT 2601

Tamara was able to easily help us understand why we used certain techniques in the python data analysis library as well as the best practices and pitfalls which is very helpful in the large landscape of python. The exercises where setup so we could directly see how the code performed the analytical functions and was easy to follow and setup. Tamara also provided good resources related to further learning and extensions to the classes.
Kristian - Python Intermediate Sydney,
30 Aug 2021
.
Thanks. You were very knowlegable
Andrew - Python Intermediate Sydney,
30 Aug 2021
.
Great Knowledge, very helpful.
Phillip - Python Intermediate Sydney,
30 Aug 2021
.
Detail Explanation.
Aparna - Python Intermediate Sydney,
30 Aug 2021
.
Detail Explanation.
Aparna - Data Analysis in Python Sydney,
26 Aug 2021
.
great!
Jacek - Data Analysis in Python Sydney,
26 Aug 2021
.
Excellent course, Providing codes saved lot of time
Virendra - Data Analysis in Python Perth,
26 Aug 2021
.
Detail Explanation.
Aparna - Python Basics Sydney,
25 Aug 2021
.
Tamara is engaging, explains concepts well and is accommodating to questions. I found the Python Intermediate pulls together the content from the previous two course in a practical way. There is plenty of material to refer to assist in real data analysis projects.
Daniel - Python Intermediate Sydney,
22 Jul 2021
.
Excellent knowledge, good pace, interactive, helpful
Sherry(Qing) - Python Intermediate Sydney,
22 Jul 2021
.
really good
Patrick - Data Analysis in Python Sydney,
21 Jul 2021
.
Tamara was very helpful even before the course with assisting getting everything working on my work computer and then very goo trainer
Mark - Python Basics Sydney,
20 Jul 2021
.