What is Power Automate and why do you need it? 
Power Automate is a service that allows its users to design and automate workflows, by seamlessly connecting to over 275 external data sources known as connectors. Both businesses and individuals can program previously repetitive tasks by creating 'flows' that are initiated by certain actions. This ultimately saves time and improves efficiency, by allowing users to better allocate their time to more important tasks. 

The Power Automate package comes with a diverse range of pre-made templates which can be implemented at the click of a button. Or, if you are more familiar with the platform, you can build your own custom flows for more complex and personalised automation.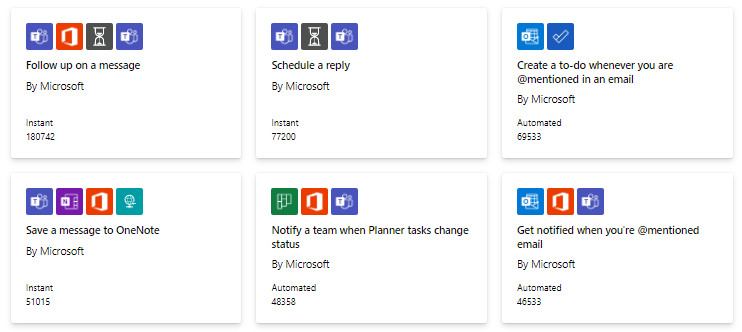 Power Automate Flow Templates



So how can you take advantage of this platform? We have provided some industry-specific use cases to give you an overview of the diverse capabilities this tool offers. Simple examples should inspire you to automate all those mundane repetitive tasks which take up so much of your day.

Marketing

Automatically track and manage social media presence

Keep your team updated when you get mentioned on social media, keeping an archive of customer sentiment.


Automate the creation of email lists

Capture, store and organise data from surveys, email campaigns, and more — without all the tedious aspect of manual copy-and-pasting.  


Sales

Automate digital sign-offs

Instead of back-and-forth emails, use Power Automate with a signature app like DocuSign to get things signed quickly and easily.

Onboard new vendors

Automate new vendor onboarding processes.

Notify new leads

Instead of manually tracking leads, Power Automate can notify you of new Dynamics 365 or Salesforce opportunities as they come in.


HR

HR onboarding process

Automate the onboarding process, which can be especially laborious when there is multiple documentation verification required. 
Productivity

Automatically store email attachments

How much time have you spent trawling your email for that file or presentation? Power Automate makes it easy to automatically store a copy of all your email attachments for quick reference and organization.






The illustration above shows a typical procedure for receiving and processing invoices. With Power Automate, you have the ability to filter emails with attachments and a subject line that includes "invoice". The invoice can be saved automatically, and the information can be interpreted and stored using AI capabilities. An approval form can then be triggered and emailed to relevant managers to get approval. Once approved the invoicing system is updated automatically! 


Get notified when data sources are updated

Ensure you're working with the latest information by using automated notifications whenever your SharePoint lists or cloud-based files and folders are updated.


Automate manager approval email requests

Avoid bottlenecks in your processes with built-in escalation options and automated triggers to ensure approvals requests are turned around quickly.
Automate manager approval email requests
Get a push alert when you get an email from your boss or key client. 
Scanning emails & appointment setting

Avoid bottlenecks in your processes by automating an email scan and setting up appointments. 
Summary

Save time today by implementing Power Automate into your organisation. And remember, Power Automate is free if you already hold an Office 365 license!

Want to learn how to use Power Automate? View our Power Automate Beginner and Intermediate courses.