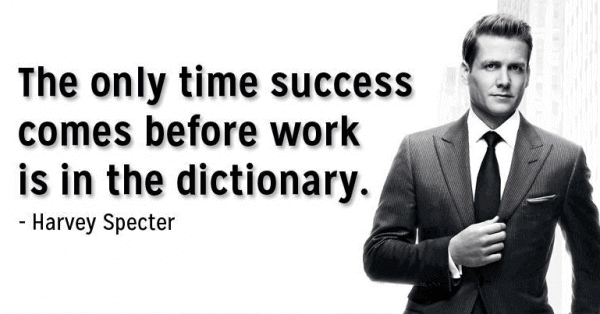 5 Confidence Lessons
Dress for Impact
"People respond to how you dress so like it or not this is what you have to do"
If you want to work better, dress better. The clothes you wear and the way you groom yourself will change the way other people hear what you say. It will also influence the way you think and increases your confidence for what you have to say. Whether you want to get a better job or start a worldwide movement, the way you dress and present yourself will play a major role. You may not like this reality, but remember: those who succeed are not those who complain about "the way it is" or "the way it should be". They're the ones who accept reality for what it is, and then rewrite the rules.

 
Rewrite the Rules
"When you're backed against the wall, break the goddamn thing down"
Challenge what is expected and be creative when solving problems. Some situations require you to not only think outside the box but sometimes you will have to redraw it completely. Try new approaches to everything. Whether that's daily experiences or life goals. It's ok to start small.

 
Position yourself to win
"You wanna lose small I wanna win big"
Take up challenging opportunities and do whatever it takes to come out on top. If you want to win big, you usually have to bet big. The key here is to pick your battles and be calculated in your approach and be prepared to fail forwards. By this we mean you should expect setbacks and accept them with humility. The more you bounce back from failure the more confidence you will have.

 

 
Let your reputation precede you
"Work until you no longer have to introduce yourself"
Craft your personal brand and ensure that you leave a lasting impression. Confidence matters. This isn't about trying to make your reputation by working yourself into the ground. You need to work hard but also play hard. Learn to say no to things that don't add value in your life and prioritize those that energize you. Your success and reputation will become a consequence of your attitude towards your quality of life.

 
Back yourself
"It's going to happen because I'm going to make it happen"
Speak with authority; your tone, pace and choice of language will increase your level of persuasion. Even if you're not 100% confident you need to have 100% faith in yourself to make things happen.  Communication is power. Every time Harvey needs to make a strong point he stands. Move like Harvey Specter and you will be kicking goals in no time.
The best way to raise your confidence? Sharpen your Microsoft skills. See our course pages for more information.