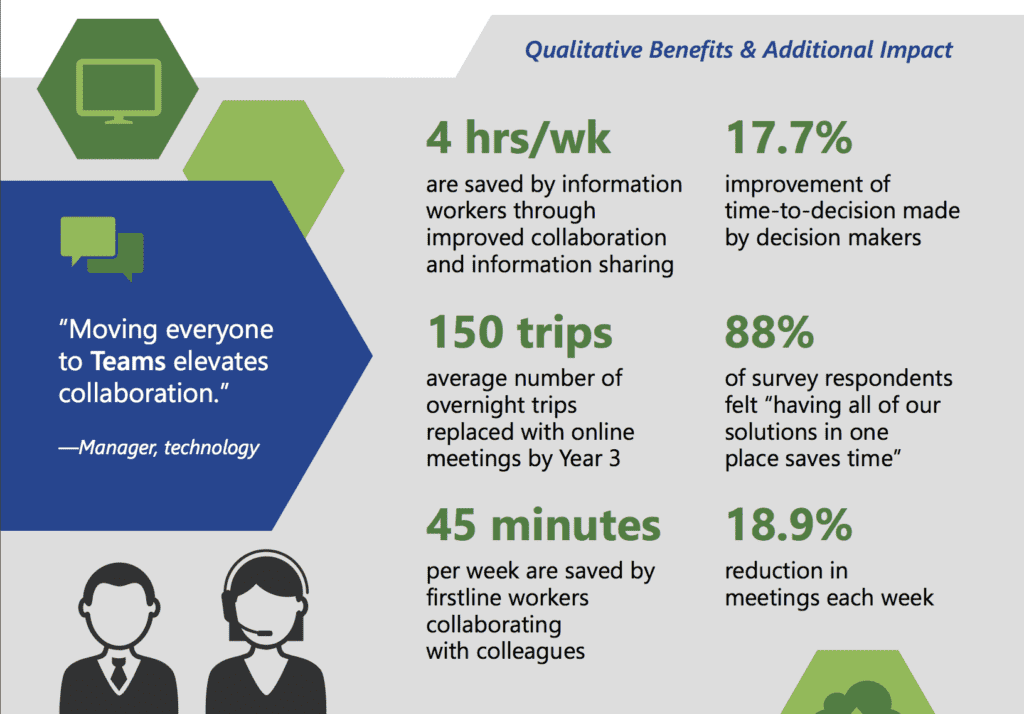 The implementation of business collaboration tools such as Microsoft Teams can be invaluable for a business.  Microsoft Teams touts itself as a business solution tool, helping to increase employee productivity, improve efficiency and save businesses time and money while doing so.  Teams can improve collaboration across an entire organisation, and provides an online space which fosters innovation within a well-informed and empowered workforce.

But how exactly does a program like Microsoft Teams save a business time and money when you take a look at the bigger picture?  And by how much? 'The Forrester Total Economic Impact of Microsoft Teams' Report has run the numbers, detailing a wide range of benefits observed when implementing the program.


The Report's key findings:
4 hours per week were saved by workers on projects due to improved collaboration and information sharing.  With features within Teams such as co-authoring and version control, being able to search documents and having conversations in one place, workers were able to more effectively collaborate in real-time, reducing wasted hours.

With Teams, there was a 17.7% improvement to the time it took for business decisions to be made.  Because Teams allows for information and resources to be readily available at all times, employees are able to confer with their peers more efficiently, enabling decision makers to do their work faster.

Approximately 150 overnight business trips after three years of using Teams were replaced by online meetings, saving ample time and money.

An 18.9% reduction in unnecessary in-person meetings was also shown every week, with many replaced by communication via Teams.  The study showed that the meetings conducted via Teams were more reliable, of higher quality (with regards to audio-video), and employees reported getting more out of their meetings with Teams and requiring fewer of them.

The report further showed that companies who used Teams spent less money on communication software and hardware such as web-conferencing, long-distance phone calls, business mobile phone plans and on-premises telephone costs.

All of these cuts to time-wasting activities and unnecessary costs have been shown to improve worker satisfaction, integration and empowerment, which further leads to reduced attrition rates.
Typical ROI and Expected Break Even Period:
 
Based on the Teams customers surveyed and interviewed by Forrester, expected time to breakeven is 6 months or less with expected Return on Investment of 832%. You can read the full report by Forrester online here, and view the key stats in infographic from here.

If you'd like to learn more about how to use Teams so your business can reap the benefits, check out our Office 365 courses.

 

Image credits:  The Forrester Total Economic Impact of Microsoft Teams