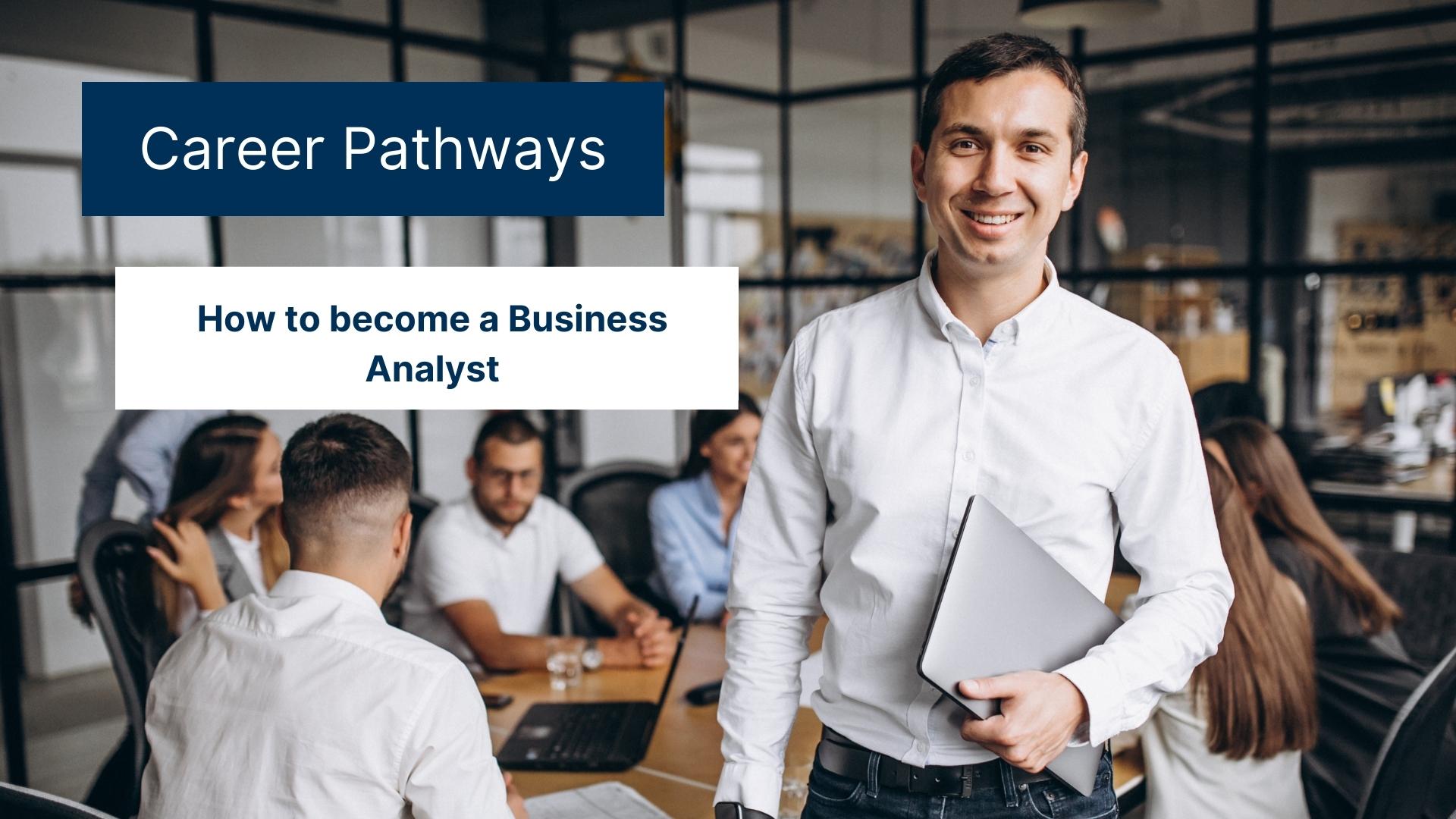 How to Become a Business Analyst - Salary, Qualifications, Skills
Becoming a Business Analyst has certain requirements:
Relevant degree and knowledge of your domain
Having the analytical skills required
Profound expertise in Microsoft Excel
Knowing how to work with SQL
Being able to use programming languages like Python and R
Adept expertise in data visualisation tools
Having great communication and negotiation skills
Being a Business Analyst is becoming a more popular role every day, and for good reason: it is one of the highest-paid professions in the world. However, in order to become a Business Analyst, there are a few skills you need to have.
This article will tell you more about what a Business Analyst is. It will take you through the degrees and work experience required. We will also tell you about the skills you need and your duties.
You will find out more about the career path you can take to become a Business Analyst. Finally, we will answer some commonly asked questions - this will ensure that you get all the information you need to become a successful Business Analyst!
What is a Business Analyst? 
Business Analysts evaluate different processes of an organisation, determining the various requirements the business may have. Through the use of data-driven approaches, Business Analysts are able to provide efficient business solutions to the organisation.
Business Analysts are the bridge between the IT and the business wings of an organisation. 
They enhance the business's performance by understanding what it needs. Based on their research, they integrate IT solutions to solve problems in a data-driven manner.
Organisations that know how to use data in our present data-driven world are the most powerful. They use data to discover hidden business patterns. 
These patterns give them meaningful insights. These insights help companies in improving their processes and making critical decisions.
Thus, you can see how pivotal the role of a Business Analyst is today.
Now you know all about what Business Analysts do. Let's tell you how to be a Business Analyst.
How to become a Business Analyst?
Education requirements
You will need a comprehensive understanding of the business domain. You will also be expected to know at least basic level programming. This will be required to solve the complex problems you come across every day.
As you will be working with data, you will be expected to understand advanced mathematics and statistics. Your ability to work with data and find patterns is only as good as your ability to see the different mathematical trends it is showing.
Different roles will require you to have different levels of expertise. However, it is still good to start early and acquire new skills.
Work experience
You will need work experience that you can get from volunteering or through internships. If you are already employed, you could take up projects that can help you gain experience in the Business Analyst role.
Many transferable skills can be used to attain this role. People with a background in the business domain, finance, governance, or IT can get started as Business Analysts.
Once you get an entry-level role in business analytics, try to gain as much experience as you can. After that, you can specialise in an area of your choice.
What does a Business Analyst do?
Business Analyst Job Description
Business Analysts need to identify the business objectives of an organisation. They need to deliver lucrative solutions to the problems faced by a business.
They research the requirements of the business by understanding client's needs. 
Business Analysts collaborate with the developers. They help in designing solutions for different problems. 
They critically evaluate a software's layout. They implement novel features into software to help the business grow.
Business Analysts try to measure both the functional and the less functional needs of a business.
They regularly meet the stakeholders to shed light on the different issues and suggest solutions. 
Business Analysts validate projects' statuses by researching users' acceptance. They make sure that the services offered by the business are in accordance with the clients' needs. 
They also use data visualisation tools to depict findings of a project in an easily-understandable way.
Skills and attributes
To become a Business Analyst, you need three core skills:
Communication skills: you need strong written and spoken communication skills. You should be confident to work in a leadership role. You have to get approval for your different plans from various higher-ranking individuals in your company.
Business Analysts also need to collaborate with many different wings of an organisation and its clients.
They need to collect technically-dense information and present it to various stakeholders in the company. This requires them to be able to convey information and negotiate their terms with different people.
Therefore, having the right skills to effectively communicate with everyone is essential. This makes good communication skills the first requirement in any business professional.
Business knowledge and the ability to think critically: you will be expected to thoroughly understand various workings of the organisation.
You need to understand the roles of different people and departments. You also have to find the links between these departments and think of ways you could create new links to enhance efficiency.
You need to see the bigger picture, understand how your organisation fits in the broader industry, what role it plays, and what makes it vital?
This knowledge allows you to analyse data in a meaningful way in order to build cunning strategies to move into the future.
Technical skills: you would be expected to know how to program. You would also need to regularly use data visualisation tools.
You have to be able to draw diagrams, crunch data, wire frameworks, and present your findings.
Big data mining, knowing machine learning or AI, and data engineering is a huge plus for you right now if you wish to become a successful Business Analyst.
Qualifications
You will need to have at least a bachelor's degree in accounting, business administration, or finance.
However, to progress to higher roles, you may be required to have a master's degree. You can obtain an advanced certificate in business analytics as an alternative to a graduate program.
IIBA offers some professional foundational courses in business analytics. However, it is not the only institute, many universities and institutions offer similar courses.
Once you have completed a Business Analyst course or a Master's degree, you will be set to succeed in more advanced roles of Business Analysts.
Career path
Jobs
Many huge companies are hiring Business Analysts to enhance their growth. These include industry giants like American Express, CISCO, WhatsApp, Amazon, Google, and Dell.
However, these aren't the only firms hiring Business Analysts right now. Your employers would likely be:
Firms that offer business analysis services
Consulting firms
Public sector entities
Advanced technology firms
Research and development firms
Larger organisations in need of in-house Business Analysts
Banks
Utility firms
Multinational conglomerates
Business Analyst Salary
Australia: The median salary for Business Analysts in Australia is A$102,750.
Outlook
In Australia there are great job growth prospects for Business Analysts, as there is a very high demand for this role within the national market. Business Analyst roles were ranked in the top 5 in terms of demand within the technology sector for both permanent and short-term jobs in 2022. By 2023, it is predicted that the number of Business Analyst jobs will increase to 26,100. Further, Australia has one of the highest paid Business Analyst sectors in the world, along with the US, Canada, and UK.
Related careers
Business Analysts have many translational skills. This makes them eligible for a wide array of careers. A few examples of such careers are as follows:
Product Owner
IT Project Coordinator
Information Technology Lead
Information Technology Manager
Systems Analyst
Systems Architect
Process Analyst
Process Coordinator
IT Business Analyst
Process Owner
ICT Business Analyst
Usability Analyst
User Experience Designer
Business Consultant
Management Consultant
Agile Analyst
Business Solution Architect
FAQ's / Resources
Is it hard to become a Business Analyst?
It is harder to become a Business Analyst than most operational roles, such as that of a designer. However, it is easier to achieve than most technical roles, such as a developer.
Business Analysts are the bridge between business and IT. Thus, the level of difficulty is also moderate.
How long does it take to become a Business Analyst?
It will typically take you between 5 – 7 years.
You will have to complete a four-year bachelor's degree. After that, you can either directly gain 1 year of experience in an entry-level position or go for a Master's degree for 1 – 2 years.
How to get a job as a Business Analyst with no experience?
You can apply for entry-level positions or internships. These will be underpaid or without pay. However, they will give you the necessary experience that you will need to apply for a more advanced Business Analyst role.
How to become a Business Analyst without a degree?
  Learn more about business processes.
  Get knowledge of the specific domain.
  Gain expertise in working with different software.
  Learn SQL and data visualisation.
  Enhance your communication abilities.
  Do an internship or an entry-level business analysis job.
How much does it cost to become a Business Analyst?
It will cost you an average of $56,000 to become a Business Analyst.
However, if you would like a cheaper alternative, you can try IIBA's certifications. They will bring the cost down to about $2,350.
Is a Business Analyst a stressful job?
Forbes categorises Business Analysts' roles as typically less stressful compared to more intensive finance roles.
How to write a Business Analyst Resume
In order to apply for a Business Analyst role, you will need to have a resume to apply with, whether it be for an entry-level or senior role. A standard resume should include aspects such as an objective, career history, education, and skills.
For a Business Analyst resume, you may want to include things such as related courses undertaken, mathematical/ programming skills and experience or any certifications obtained.
Business Analyst Interview Questions
Preparing for particular questions prior to an interview can help you to feel more prepared and confident with potential employers. For a Business Analyst role, you may want to consider job specific questions such as:
What programs, software, or tools you have experience with?
Describe how would you go about completing new project assigned to you?
How would you cope with changes to project requirements?
How would you explain data findings to colleagues not familiar with analytics?
For additional resources on Business Analyst interview questions see: https://www.roberthalf.com/blog/job-interview-tips/8-common-business-analyst-interview-questions