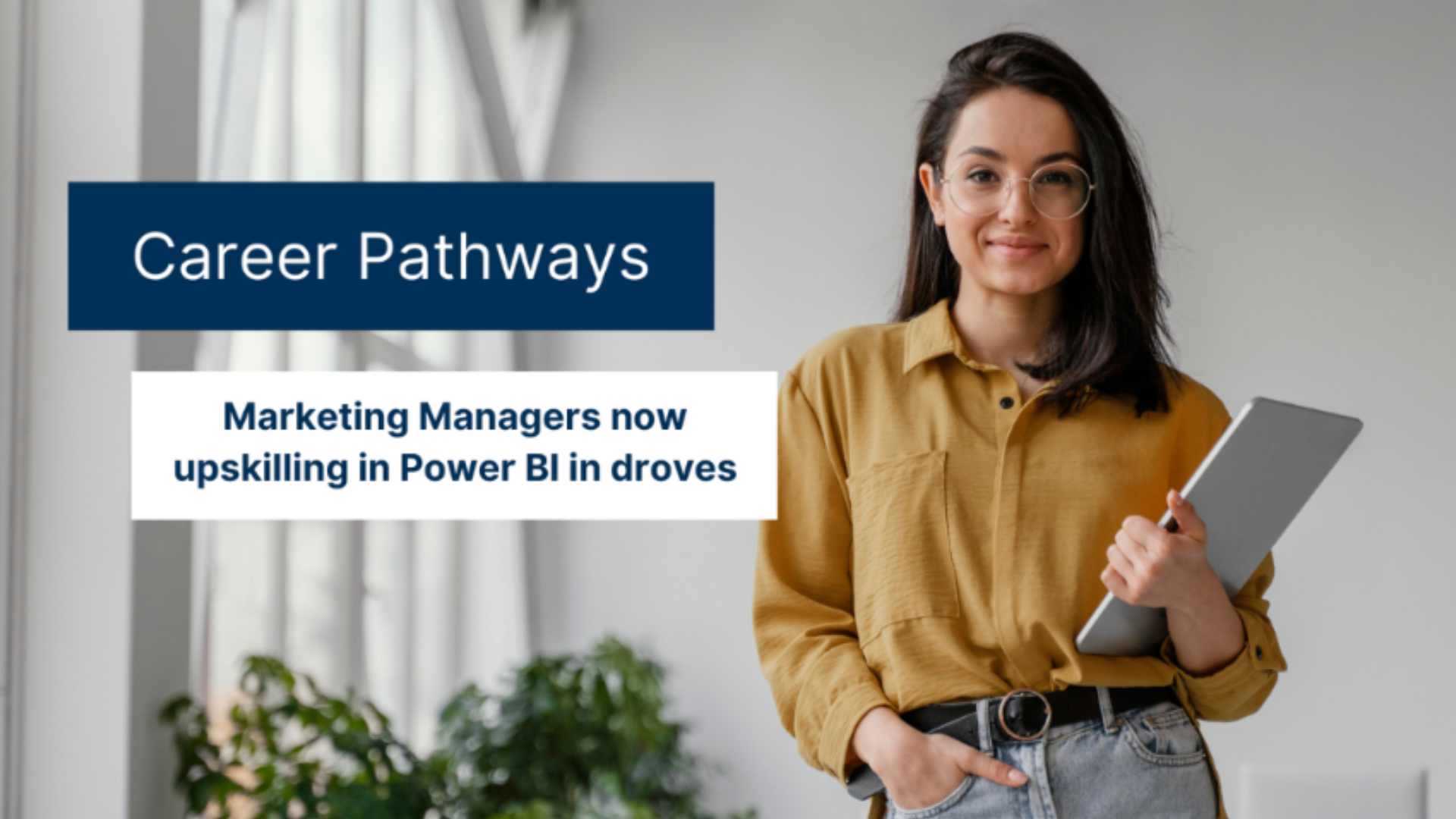 Marketing Managers create and implement strategies that increase brand awareness and reach sales goals. Marketing Managers have various skills and earn an average of AU$80,425 yearly. To become a Marketing Manager, you need a qualification in marketing, work experience and certifications.
A business's success depends on marketing practitioners who understand services, products, and the audience. As companies adapt to the fast growth in e-commerce, employment opportunities are increasing. 
Hence, prospective Marketing Managers need the right academic qualifications, experience and skills to pursue the career.
This article will discuss what Marketing Managers do and how you can become one. You will also learn a Marketing Manager's job outlook, salaries, career path and related careers.
Let's dive in!


What is a Marketing Manager?

A Marketing Manager forms and creates techniques that help organisations reach sales goals and enhance brand awareness. They promote services, businesses or products and ensure that the organisation communicates the perfect messages to attract clients.
Marketing Managers oversee a broad range of activities such as events, advertising, social media, etc. Their exact duties depend on the organisation.


What is marketing management?
Marketing management involves the following processes:
Controlling the aspects of marketing
Creating company goals
Arranging marketing plans 
Taking decisions for the firm and implementing them
Marketing management is based on the four Ps of marketing; product, place, price, and promotion. The 4 Ps are responsible for attracting customers and are decided by the company's management.
Let's break the 4 Ps down:
Products are items that satisfy the target audience, both tangible and intangible.
Price is the determination of the product value. The pricing technique involves careful calculation, market data and balancing prices (not too low or too high).
Place is where you provide your clients access to the product.
Promotion is how you make your customers aware of the product.

What is marketing?
Marketing is promoting services or products to potential clients. The process involves research, promotions, selling, and distribution of services or products. Marketing is a growth strategy that companies use to achieve goals, promote products and improve sales.

What is digital marketing?
Digital marketing is promoting a brand to reach prospective customers using digital communication channels like social media, email, multimedia messages and web-based advertising. 



What does a Marketing Manager do?
A Marketing Manager has to do a lot of collaborative work. The manager integrates various functions, including digital specialists, product marketing, and content and creative teams. Bringing together these groups contributes to a successful result.
Besides working hand in hand with colleagues, Marketing Managers also represent marketing teams to other groups. They work with customer support, sales, and product management to communicate new ideas.
Marketing Managers also connect with people outside the organisation to identify opportunities to build awareness or connect with clients.
A successful Marketing Manager organises all their tasks to keep track of their duties and their team's. 


Tasks and duties
Here are the tasks and responsibilities of Marketing Managers:
Executing strategy: Marketing Managers have to implement a strategic plan to help the company achieve and retain a competitive advantage in the market.
Building programs and campaigns:  Aligning creative content with an organisation's objectives.
Managing content: Marketing Managers set content strategies and review each for approval. They can also create content with the right message and tone and improve SEO.
Organising events: Marketing Managers plan and produce events by launching massive products or webinars.
Dealing with external communication: Marketing Managers also create relationships with media to enhance the company's message. They interact with people outside the organisation, including partners, vendors or advertising agencies.
Implementing projects, budgets and people: Besides planning projects, Marketing Managers also use budgeting for tools and campaigns.
Liaising with cross-functional teams: Marketing Managers can lead cross-functional teams to keep everyone informed and answer any internal marketing questions.
Supporting sales: Marketing Managers assist with the sales process by producing information materials for training sales representatives.
Evaluating marketing data: Marketing Managers evaluate, track and report the effects of all their strategies. They find ways to enhance their efforts and engage clients.

Skills and attributes
Marketing Managers need to apply their skills to different situations. However, depending on the Marketing Manager's role, they need other specialised skills such as search engine optimisations or marketing automation.
Here are general skills and attributes every Marketing Manager should have:
Communication
Flexible
Responds Well to Pressure
Social Media
Goal-oriented
Skilled Planner
Internet Marketing
Analytical
Creative
Multi-tasking
Project planning and management
Data analysis
Leadership

Different types of Marketing
Marketing rests on customer needs, and it is constantly evolving. Managers analyse and update different concepts to align with economic and social trends. 
Here are the different types of marketing:
Social Marketing is applying commercial marketing techniques for social good. The main objective of social marketing is to impact behaviour for societal benefit rather than monetary gain. For instance, promotion of seatbelt use while driving, telling people the effects of drinking alcohol or telling parents to get their kids vaccinated.
Service marketing is promoting intangible economic activities that satisfy clients' needs. Some services work hand in hand with tangible products, while others are wholly intangible. People experience benefits, but they can't see or touch them.
Green marketing or sustainable marketing promotes products or services in an environment-friendly way. It integrates the conservation of the natural environment and clients' needs. Environment-friendly companies use safe production methods that don't damage the environment.
Holistic marketing is where the whole company is considered before making a marketing strategy. Marketing Managers view the marketing efforts as a whole and come up with a plan. Not only does holistic marketing emphasise services or products, but it also focuses on people involved in creating a plan.
Direct marketing. Companies that use direct marketing interact with target customers with particular promotion strategies. The process helps the organisation create excellent customer relations due to direct connections with clients.

How to Become a Marketing Manager
Marketing management is a dynamic field that needs a lot of practical knowledge and experience. Still, it is crucial to get a bachelor's degree to get more opportunities and better pay. 
Here's are the steps to follow to become a Marketing Manager:
1. Complete a qualification in marketing
A Marketing Manager's job is earned through education and promotions. Before you land your first, you'll need to complete one of the following courses:
Certificate IV in Marketing and Communication
Diploma of Digital Marketing
Bachelor of Marketing
Bachelor of Business (Marketing)
Regardless of the course, it is also essential to focus on the digital or online space. Know all types of digital communication such as website analytics, writing for the web and social media.
2. Gain work experience
You can start by securing an attachment in an internship program while studying. You will gain mentorship or guidance from Marketing Managers with experience. Also, learn social media, web analytics, content marketing and SEO by taking short courses online to boost your career.
Don't dismiss entry-level positions or junior roles (Marketing coordinator) because you can work your way up if you produce great results. Additionally, read blog posts, industry articles and practice with tools to sharpen your skills.
3. Sharpen relevant skills
To sharpen your marketing skills, upskilling in software like Power BI by taking Microsoft Power BI training courses, would allow you to understand how to connect data from different sources, then prepare and transform it into usable insights. You'll learn how to perform data modelling and analysis and create visualisations for better decision-making, and monthly/ campaign reporting.  
Powerful and enticing visualisations such as these ones play an important role in the day-to-day life of a Marketing Manager, and Microsoft's Power BI is the industry leader for data visualisation software. From informed dashboards used in pitch meetings to data that drives campaigns, Power BI provides depth and context to important information. Dashboards are an indispensable tool to take colleagues and senior leaders on the internal marketing journey.
Although it has a user-friendly interface, to get the most out of Power BI a deeper understanding of the program is a must.
Take your free Power BI skills test 
4. Get certifications
The marketing sphere can integrate different certificates other than the official ones. You can get certificates from Hubspot's free marketing and sales courses. Also, Google offers their courses and certificates.
5. Earn a master's degree
A master's degree will be helpful if you are planning on starting your own company or getting an executive role. The degree is also beneficial for prospective CMOs or high-level leadership roles.

Qualifications
Here are some of the qualifications you need as a Marketing Manager:
Certificate IV in Marketing and Communication (Digital Marketing): This course helps you learn about digital marketing. You will know concepts such as social media marketing, SEO, Data Analytics and User Experience.
Certificate IV in New Small Business and Certificate IV in Marketing and Communication (specialising in Digital Marketing): This is for small scale business owners and managers who want to apply marketing concepts to their business
Diploma of Digital Marketing Pathway: The certification proves a way to show proof to employers of your expertise in digital marketing.
Career path
Different career pathways can lead to Marketing Manager roles. The following roles can serve as stepping stones towards a manager position:
Junior Marketer
Marketing Officer/Representative
Market Analyst
Marketing Consultant
Marketing Assistant
Marketing Planner
Jobs
Marketing Manager is a broad job title that can fit in with different roles within an organisation. The roles of a Marketing Manager in a company depend on the company's industry and size. 
Here are a few other jobs you can work as a Marketing Manager:
Marketing Manager: Here, you take the general role of managing all marketing activities in the company.
Digital Marketing Manager: This role revolves around the digital space and requires digital campaigns on websites, paid ads and social media.
Public Relations Manager: Here, you handle relations between media, company and the public. Roles include pitching stories to media outlets, writing press releases, and organising press conferences.
Advertising Manager: Managers work with customers to build advertising techniques and timelines. You also negotiate contracts with media outlets and prepare budgets.
Brand manager: You maintain brand and product reputation and rely on market research data to create strategies to improve the brand vision.
Market Research Analyst: You gather information about the target audience or prospective customers. The next step is to evaluate behaviour and predict sales.
Chief Marketing Officer: The CMO is the greatest role for a Marketing Manager. These managers handle everything that falls under marketing, including brand management, advertising, public relations, creative etc.
Account Manager: This role often involves managing or facilitating all aspects of marketing for a client including digital marketing, advertising, public relations, events, website updates, research, and analytics and reporting. 
Salary
The average salary for a Marketing Manager is AU$80,425 per year, according to PayScale. The salaries differ depending on experience and location. In New South Wales and Sydney, Marketing Managers earn 10.1% than the national average. 
Victorian and Melbourne Marketing Managers make 3.5% more than the national average. Low salaries are in Brisbane, Queensland (4.2% less), Newcastle, New South Wales (6.4% less) and Gold Coast, Queensland (14.7% less).
Here's a graph showing a Marketing Manager's salary depending on experience. 


Data from Salary Explorer
Outlook
The future of work Occupational and education trends in marketing in Australia predicted growth in the Australian marketing workforce in 2018. The study showed that the workforce would grow from 269,000 persons in 2016-17 to 299,000 persons in 2021-22. The yearly average growth rate would be 2.2% due to an increase of around 30,000 workers. 
Related careers
Some of the related careers to Marketing Managers include the following:
Project Managers (Emerging)
Advertising Managers.
Management Analysts.
Public Relations Specialists.
Purchasing Managers.
Advertising Salespeople.
Market Research Analysts.
Human Resources Managers.

FAQ's / Resources 
Why do marketing jobs ask for sales experience?
A sales job teaches you to think fast and enhances your public speaking skills. With this, you can pitch new ideas to a team or think of other options when plans fall through.
How long does it take to become a Marketing Manager?
Individuals can spend 6 to 8 years learning and gaining work experience before becoming a Marketing Manager. Most employers require a bachelor's degree in business administration, marketing management, or other related fields.
How to get a job in marketing with no experience?
You can get a marketing job without experience by getting certified in different marketing courses. Also, improve your skills through blogs, books, podcasts and webinars. Next is to volunteer to gain experience, network with professionals and share your ideas for recognition.