To become a Warehouse Manager, you must have a high-school diploma. Technically, this is the only educational requirement for the position. However, employers often prefer candidates with an associate's or bachelor's degree in logistics.
Essential certification programs for aspiring Warehouse Managers are inventory management and control, people management, certificates III and IV in supply chain operations, and operations management. 
With these, plus must-have skills of attention to detail and problem-solving, you could work your way up to Warehouse Manager or learn as an apprentice if you have a high-school diploma.
Warehouse Managers plan warehouse activities at manufacturing facilities, retail chains, and distribution centres where large volumes of goods are produced, received, dispatched and stored.
Warehouse Manager jobs are always in demand, so this is an excellent field to pursue.
What is a Warehouse Manager?
The Warehouse Manager is responsible for smooth operations in the warehouse. Their daily duties include monitoring employee productivity, planning and executing warehouse operations like receiving, sorting, storing, picking, packing, shipping, and overseeing the accurate recording of all orders in databases.
The general Warehouse Manager dispatches goods, communicating with transport companies, suppliers, and customers to get the right products to the right people.
The efficiency of a warehouse is crucial to the success of any business that stores and distributes goods. A detail-oriented manager can help the company achieve its primary objectives of increased profitability and satisfied customers by ensuring all warehouse operations operate optimally.
Roles and responsibilities of a Warehouse Manager
Warehouse Managers are responsible for the day-to-day operations of the warehouse, including:
Ensuring that warehouse operations are efficient and aligning processes to customer satisfaction.
Inducting, supervising, organising, directing, training, and developing warehouse employees to meet operation goals.
Providing solutions and training employees to solve minor daily issues.
Inspecting equipment, tools, and machinery regularly, and overseeing general maintenance as needed.
Meeting periodically with warehouse workers to review, analyse, and develop actionable plans to improve productivity and prevent wastage.
Overseeing and managing both manual and automated logistics on products' shipment to customers and other facilities, communicating with drivers and partners to ensure efficient delivery of packages.
Cargo handling, from arrival to departure, including loading and unloading containers.
Maintaining accurate inventory and stock location records by reconciling shipments and orders.
Verifying the quality and quantity of both incoming and outgoing stock.
Building trustworthy relationships with all stakeholders (employees, build teams, suppliers, and customers).
Creating and overseeing standard operating procedures for goods' arrival, processing, and storage.
Developing a workplace safety culture and enforcing Occupational Health and Safety Administration (OSHA) regulations.
Ensuring proper labelling for shipped goods and those to be stored.
Participating in the planning and implementation of warehouse expansion plans.
Articulating the company's policies and vision to workers and aligning warehouse processes and outcomes to vision.
Ensuring optimal warehouse space utilisation, achieving environmental goals, and meeting budgetary targets. 
Useful traits of a Warehouse Manager
A Warehouse Manager must have strong leadership and organisational skills to be successful. Some useful traits of a Warehouse Manager include:
Strong leadership skills: A Warehouse Manager must be able to lead and motivate their team to achieve success.
Good organisational skills: A Warehouse Manager must be able to keep the warehouse organised and running smoothly.
Attention to detail: A Warehouse Manager must be detail-oriented to catch any errors or problems, especially inventory accuracy.
Communication skills: A Warehouse Manager must communicate effectively with their team and other departments to coordinate activities. The Warehouse Manager's job entails building lasting relationships with employees, customers, and vendors.
Problem-solving skills: Problems will arise daily, and being solution-oriented is critical.
The average salary of a Warehouse Manager in Australia
The average Warehouse Manager salary is $50,000 – $87,000 (Median: $64,000).
Based on 28 salaries provided by anonymous users, the average total compensation (tips, bonus, and overtime pay) for a Warehouse Manager with less than one year of experience is AU$55,320 per annum.
The average Warehouse Manager salary with 1-4 years of experience is AU$60,042 per year, per calculations from data on 523 salaries. 
The median annual compensation for a Warehouse Manager with 5-9 years of experience is AU$65,806, based on salaries reported by 356 employees.
As per 332 salaries listed, the average annual salary for a Warehouse Manager with 10-19 years of experience is AU$70,108. 
The average salary for workers in their late careers (those with 20 years of experience or more) is AU$75,150.
Requirements to become a Warehouse Manager
Ideally, you only need a high school diploma, warehousing certifications, and work experience. A relevant Warehouse Manager degree in logistics is not essential for a Warehouse Manager job. Still, a degree and proof of necessary skills can give you better chances in an interview.
Warehouse Manager qualifications
Here is a detailed list of Warehouse Manager qualifications that'll set you apart and help you acquire a job:
High school or college diploma plus apprenticeship experience. Most employers however prefer a bachelor's degree in business, logistics, or a related field.
Proof of practical experience in a warehouse management or operations role.
Inventory control and inventory management know-how.
Proven experience in leading and motivating a team.
A strong focus on safety and compliance: Familiarity with safety procedures and proper maintenance of warehouse equipment. 
Proficient in the use of warehouse management software and systems.
A valid driving licence.
A forklift licence.
Additional certifications for the completion of selected high–risk tasks may also be required.
Proficiency with logistics
Proficient knowledge of warehouse procedures and policy
Important Warehouse Manager skills
To get hired and earn an above-average salary, you must demonstrate the ability to manage people, operations management skills, and logistics know-how.
Inventory control and management are necessary but do not influence your pay.
You must, however, demonstrate in-depth data entry skills using warehouse management software such that you can teach other employees. 
Demonstrate inventory management and control skills from work experience or relevant certifications.
Other necessary skills are:
Business management skills
In-depth knowledge of transport means, costs, and advantages
Leadership skills
Excellent customer service
Admirable numeracy and financial management skills
The ability to take positive criticism
Maintain a calm and collected posture under pressure
Ability to work well under pressure and meet tight deadlines
Ability to delegate, motivate and empower teams
Excellent mediation skills
Problem-solving skills-key
Excellent spoken and written communication, organisation, and time management skills
Comfortable giving oral and written feedback to employees.
Ability to work with workers of all cadres
Safety management
Time management-time tracking employees and scheduling
Personal traits
A successful Warehouse Manager should be:
Highly organised
Detail-oriented
High integrity
Technological savvy
Ability to stay calm when conflicts and challenging issues arise
Leadership traits
Results driven
Independent-minded and able to work and make decisions alone
A critical and fast thinker
Resilient
Job availability
Warehouse Managerial jobs are in various sectors. However, manufacturing, transport, postal, wholesale, warehousing, and logistics industries have the highest average salaries for Warehouse Manager jobs.
Projections on job availability show that a Warehouse Manager career path is promising. The likelihood of getting a job is high, judging by the high number of Warehouse Manager jobs on job boards and the flexibility to specialise in operations or logistics.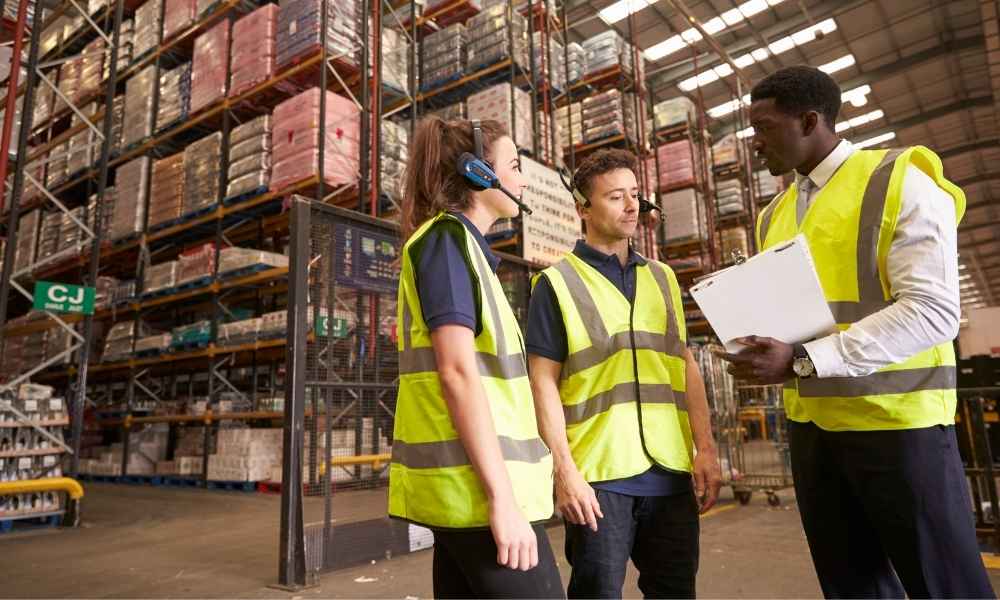 Steps to becoming a Warehouse Manager
Here is the step-by-step guideline on how to become a Warehouse Manager.
Step 1. Complete relevant education qualifications, such as a relevant associate degree or a high school diploma.
Step 2. Have a valid driving licence.
Step 3. Get relevant certification. Taking a Warehouse Manager course is a good start. It will give you the basic skills and knowledge required to work in a warehouse environment.
There are many course options: warehouse operations and maintenance of records, supply chain operations specialising in warehousing operations, and certificates III and IV in supply chain operations.
Another is certification in heavy machinery like forklifts and aerial lifts from a registered training organisation (RTO). Then get a Forklift Licence by completing a short course.
Step 4. Complete additional high–risk work licences. You can attain risk work licences through an RTO and learn how to work in high-risk places.
Step 5. Be a pro in Microsoft Office and other supply chain management software.
Knowing how to operate heavy machinery is not enough. As an aspiring Warehouse Manager, you must demonstrate your IT skills to stand out from the rest.
Step 6. Acquire relevant job experience through apprenticeship, internship, paid work as a shift worker, or volunteer work.
Step 7. Create a winning resume and cover letter highlighting why you're the best person for the job
Step 8. Apply for an entry-level job through job boards.
Frequently Asked Questions
What do I need to do to be a Warehouse Manager? 
To become a Warehouse Manager, you should get a relevant associate degree, hands-on experience and proficiency in Microsoft Office and ERP software. You also need a valid driving licence and a certification showing ability to work with heavy machinery from a recognised and registered training organisation.
How long does it take to become a Warehouse Manager?
A Warehouse Manager job is multifaceted and requires four to six years of studying for a relevant degree, although a high school diploma and 3+ years of experience are also viable. It would be best if you also accounted for the time you'll spend attaining certifications and other IT skills you learn on the go. 
Kick-start your career by enrolling in Microsoft Office 365 Online courses or Excel Courses to hone your data entry skills.