How to integrate Forms
During one of our SharePoint Online courses recently, a student asked how to create a Staff Nominations form. They wanted it to appear on their SharePoint page and then view the results.

Sounds complicated but with the high level of integration between various Microsoft Office 365 Apps this business-need has some relatively simple solutions.

Over the next three episodes we are going to cover how to create a Form, use Flow to automate storing the Form responses and display and analyse responses in Power BI. We will then embed our Form and Power BI report in SharePoint Online.

 
Episode 1: Creating our Form
At forms.office.com you can create Forms to collect responses for surveys, employee details, incident details, etc. You can also create Quizzes and assign points to each section for the correct responses.

Simply click create a new form or quiz and start adding questions. There are many options to choose from when setting the type of question. Such as the type of response (text, multiple choice, rating, or date) and if an answer is required. Don't forget to add titles, images and your logo.



In our Form we can also set branching options for responses. For example, if we wanted users who answered "Attended previously" at question 2 to answer another question about what course they attended we can set this in Branching.

First I would create the question I want those respondents to answer, in this case "What course did you attend?"




Then click on the Ellipsis (three-dots) in the top right-hand corner and select "Branching".




Based upon the users response you can choose what question they move on to:




When a user selects the "Attended Previously" option they will be taken to Question 3, whereas other responses will take you to Question 4.

Also under the Ellipsis is a settings menu. Here you can choose start/end dates and whether the Form is accepting answers or not.

Once you have completed your Form, make sure you test it out using the Preview mode available on the top menu bar.

Then select who you want to share your Form with by clicking on "Share" in the top right-hand corner. You can select either "Anyone with the [Form's] link can respond" or "Only people in my organisation can respond". Then choose how you want to share the Form. By selecting one of the four options (Link, QR code, Embed code and email).

For embedding our link in SharePoint we want either the Link or the Embed code.




 

Once you start collecting responses you can go back to your Form and view the responses in the browser or open the results in Excel. Clicking the Ellipsis on the Results page will allow you to delete all responses or print a summary.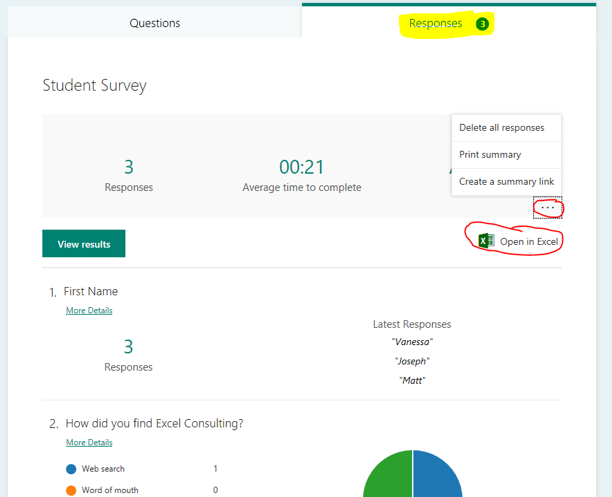 In Episode Two we will show you how to store your Forms responses in both a SharePoint List and a live Power BI dataset. If you liked this post, please like our Facebook or LinkedIn pages to receive the next episode in your feed.