Series Recap
In Episode 1 and Episode 2 we detailed the steps to:
create a Questionnaire or Survey in the Microsoft Office 365 App Forms
use the Flow App to capture the response data. Then save it to a SharePoint Online List or push it to a Power BI streaming dataset.
In Episode 3, we will show how to:
connect to those data sources in Power BI,
embed the Report into SharePoint Online.
Connecting to a streaming dataset (or other datasets already on the Power BI service)
We can do this two different ways.

In the Power BI Service (accessed via app.powerbi.com) we can navigate to our Workspace and click on the streaming dataset we created earlier on our bottom left-hand corner. Then we can start creating our Report:



The Power BI Desktop also allows us to connect to datasets that are stored in our Power BI Service Workspaces. In Power BI Desktop, click Get Data and then select Power BI datasets:

 




Then you can browse to your Power BI Workspace, select the dataset and click Load:

 


Connecting to a SharePoint Online List
Power BI also makes it very easy for us to connect to a SharePoint Online List, click on the top half of the Get Data button, Search for "SharePoint", select SharePoint Online Lists and click Load.


We then need to insert the URL of our SharePoint Online site. The URL should include up-to and including the site name and the forward slash after the name:




Then select the desired list you want to connect to and click Load: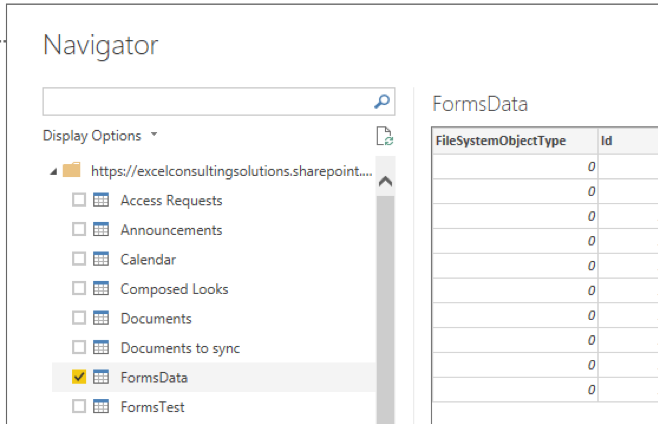 Once we connect to our data and create our Report, we can then upload the Report to the Power BI Service. If you connected to a Power BI dataset, your Report will upload to the same Workspace.




View the web published version of the SharePoint List version here: https://app.powerbi.com/view

 
Embedding Power BI reports in SharePoint Online Pages
Once we have created our reports in Power BI Service, we can get an embed code for SharePoint Online. Click on File > Embed in SharePoint Online




Copy the URL that is provided.

Browse to your SharePoint Online site, and in the page where you want to insert the Report add a Power BI web part:




Click on Add report (or edit the web part). Then insert the URL provided from Power BI Service (when you clicked "Embed in SharePoint…"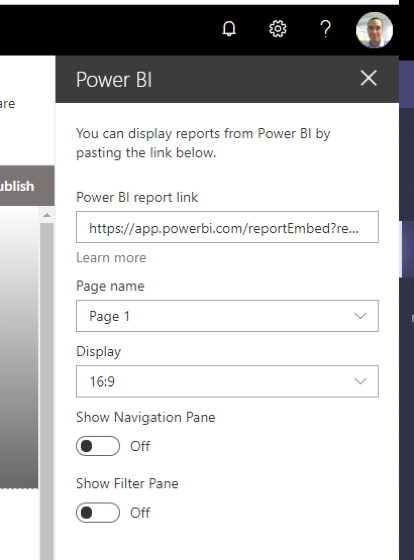 Ensure the options suit your needs: choose a Page, Display and if you want to show the Navigation or Filter Pane.

 

It's important to note that users accessing the SharePoint page will also need the correct permissions to view the Power BI Report. One good way of managing this is to use Office Groups in both Power BI Service and SharePoint, that way everyone in the same group can see the Report and access the SharePoint site.

Done!



To learn more about Power BI, SharePoint or Office 365 apps check out our courses or webinars from Matt!