Nothing adds more flair to a simple Microsoft Presentation than animation. These animations are eye-catching tools you can use to encourage audience engagement and trigger focus. However, there is a thin line between using it at appropriate amounts and overdoing it. 
No one likes a tacky presentation. The audience needs a visually appealing and professional one to grab their attention. And you can only do that with the right strategies for incorporating PowerPoint animation into your work.  
Learn how to create the best PowerPoint presentation and make the most of its available effects by reading this article.  
Types of PowerPoint Animations
Below are the animations in PowerPoint you can find under the Animations tab. 
Entrance

 
The Entrance effects, as its name suggests, control the way elements enter your slide. Make your presentation pop and stand out by letting lines of text Appear or Fly In from the side, left or right. You may also choose a more dramatic feature such as letting your texts Float In or choose a simpler PowerPoint animation such as Zoom.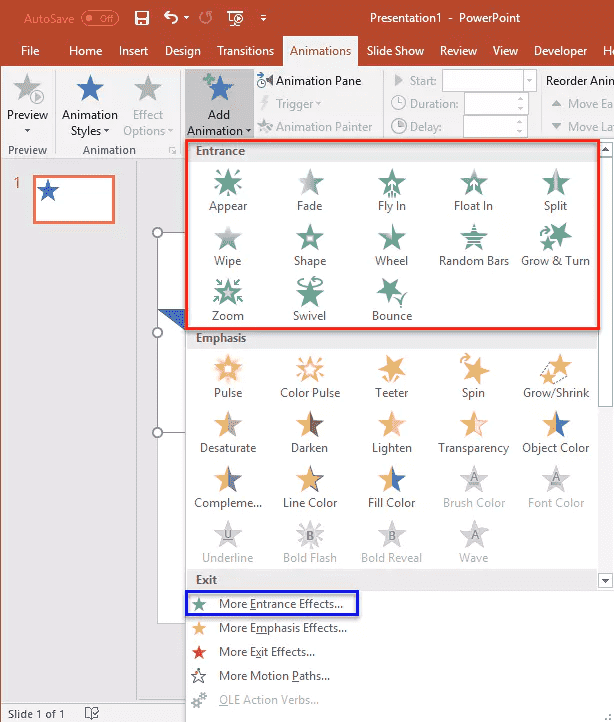 Emphasis

 
Some elements or objects require highlighting based on their significance in the topics being presented. This is where the Emphasis effects prove to be useful. You can effortlessly direct the eyes of the audience by selecting the appropriate effect, such as Darken, Grow/Shrink, or Color Pulse.  
Remember to use these effects sparingly as they may become unpleasant to the eyes when overdone.  
Motion Paths 

 
Motion Paths are excellent tools for explaining a process or narrating a story. They are also great for walking the audience through complex concepts. If you're aspiring for flexibility to tweak your presentations to your own liking, this animation effect works for that purpose too.  
You can move the elements up and down, or perhaps allow them to move in a particular shape and pattern such as Arcs or Turns.   
Exit 

 
The Exit is just as important as the Entrance. You can let the elements leave your slide by choosing an Exit effect such as Fade, Fly Out, or Split.  
Most presenters use these effects to minimize the elements of their slide to the end of the presentation and pull the attention of their audience towards the elements left in the slide.
How to Incorporate Sleek PowerPoint Animation to Your Presentation
A presenter knows that one cannot simply incorporate random animation effects into a presentation. Below are some tips that may come in handy when using PowerPoint animations. 
Use at an Appropriate Amount

 
Simplicity is key to creating superb presentations with the right animation. For instance, not all elements require an effect. You don't have to add animation to every single object in your slide.  
Instead, you can simply use subtle effects for objects you'd want to draw attention to. This is highly recommended in an academic or business presentation. You wouldn't want to lessen your credibility by adding too many animation effects without purpose.  
Apply Logic to Your PowerPoint Animation

 
Speaking of purpose, do not add animation to your presentation just because you feel like it. Every effect must have a logical order and reason for it. For instance, you chose the right Fly In effect because it aligns with the design of your template, or perhaps it resonates with the content of the slide.  
Also, ensure that the elements of your slide coincide with each other along with the animation. Otherwise, your presentation will not make much sense to the audience.  
Check the Speed of Your Animation in PowerPoint
Choose the right animation speed that matches your speech while going over the slides. Considering this will lengthen the attention span of your audience and help them absorb the material more thoroughly. You can go to the Animation tab, then Animation Pane, and finally click Timing to adjust the speed to your liking.  
FAQs
How do I make my PowerPoint look clean? 
The key to creating a clean PowerPoint presentation is to avoid incorporating too many elements in one slide. Add what's necessary and remove anything that clutters your presentation.  
How do I make custom transitions in PowerPoint? 
First, you have to select an object you've applied an animation to. Then, click the Animations tab, then the Effect Options button.  
What is the best transition for a PowerPoint presentation?  
The best transition for your presentation depends on the topic to be presented and the audience to present it for. However, the most common animations that presenters use are Fade, Push, and Cut. These belong to the subtler kinds of transitions widely used in formal and professional settings.  
What are 4 types of animation on PowerPoint? 
The four types of animation in PowerPoint are Entrance, Exit, Emphasis, and Motion Paths.  
Improve Your Presentation Skills with Practice and Dedication
While Microsoft PowerPoint is relatively easy to use, there is more to it than its basic features and interface. Once you explore this powerful tool, you'll realize that there's so much to learn – and it's never too late to start.  
Check our Microsoft PowerPoint training courses starting with Level 1 then Level 2, and witness your career take flight as you learn this essential skill for the workplace.