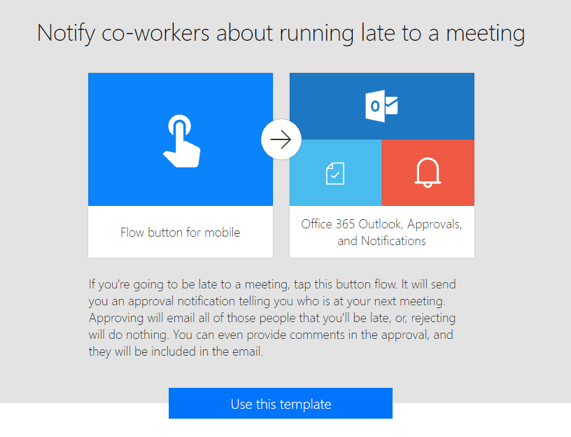 Setting up a simple Flow
The scenario is you're running late for a meeting and the goal is that with a couple of taps you will notify each attendee that you'll be joining soon. This demonstrates the use of buttons and modern approvals. The great thing about this flow is that its transferable to other applications such as running late for work or anything else that you need. The only limit is your creativity.

This flow starts out with a button – this means you can trigger the flow straight from your phone in the app, and from the Dynamics 365 home portal. When you click on the button, the flow will get the upcoming events in the next hour. You will then get an Approval notification sent to your phone that should look like this:




You can select approve to send an email to the people on the list, otherwise select reject. When you select approve, you have the option to also customize the email that is sent to your co-workers. Do this by selecting Add comment. After you complete those steps, an email like the following will be sent: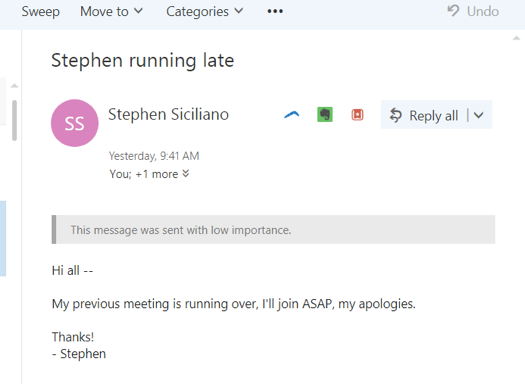 To use this flow, jump onto the Microsoft website and search for the template. You may even find ideas or other templates you may wish to use. Once you've found the template you won't need to change anything in template. Everything is all set up for you, just create the flow. One of the bonuses of this flow is you can share it with other people on your team and they get the advantage of the button on their phone too! Sharing flows with your team makes everyone more efficient and productive. A win for you and your team!

 
To learn how to do it for yourself, come join one of our Power Automate Courses!