What is Sway?
We have all dabbled in creating PowerPoint presentations and know how intimidating the first blank screen can be. Enter Sway, PowerPoint's smaller, more articulate brother who provides a cloud-only application that is easy to use and tells a story rather than slides of bullet points. Sway is available to users who have a free Microsoft account or Microsoft 365.


How is Sway used?
PowerPoint is great for creating presentations from a blank canvas, but for those without skills in design, Sway provides users with templates for common presentation, freeing up the users time to fill in information rather than designing a nice slide. You will be able to find templates like business presentations, CV's and company newsletters.




Creating a Sway
Perhaps the most impressive feature of Sway is it's "Start from a Topic" option. If you enter a topic, Sway will produce a sample outline for your presentation – including definitions, suggested areas to discuss and images. This could be invaluable for users that have a high volume of newsletters and internal communications.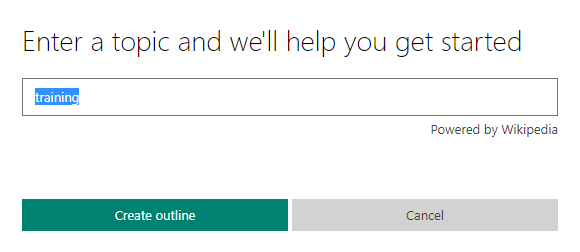 Adding new content to your Sway is easy with cards. These act as a content block and you can choose from cards like text, video, table or heading. Much like a blog, these cards work together to form a narrative as users seamlessly scroll through the document – rather than individual blocks of information.




Once your Sway is finished, you can click the Design option to help you design it. You can customise the layout, styling and textures and there's even a Remix option for a randomised design. But if you're in a hurry, by simply hitting the Design option Sway will add its own styling.

When you're happy with your Sway you can publish and share it. As Sway is a cloud-only application you won't be able to download the file – but you can share it by providing a clickable link, embedding it in an email, on your website or sharing directly to social media. 

Check out these Sway presentations for inspiration:


Learn more about Sway in our Office 365 courses, offered at a beginner, intermediate, and advanced level.