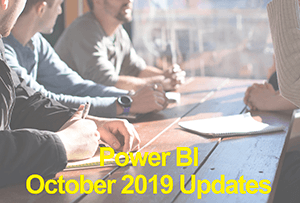 What's new?
Power BI Desktop has had a lot of updates in the past month across the whole product. Some huge steps forward have been taken with data preparation, reporting, Q&A and more.
Here's a quick highlight of the some of the key updates. 
Reporting
Power BI has released automatic page refresh for DirectQuery. This feature allows you to set the refresh interval of visuals in your report when using a DirectQuery source. It's near real-time, and allows consumers to monitor time-critical reports, helping ensure they're viewing the latest info.
Analytics
Power BI has a new Q&A visual, which is a full visual experience, allowing you to give the Q&A experience to your end-users. The visual can improve discoverability for your report customers and can interact, cross-filter, support bookmarks and be themed in whatever way, just like any other visual. The Q&A input box has also been improved for readability.
Visualisations
The PowerApps visual is now included in Power BI by default, instead of needing to add the visual from the marketplace. This is a key integration with the rest of the Power Platform, and enables key scenarios such as writeback. As well as this, there are three new visuals as part of the xViz suite, which is a set of custom visuals that aim to meet your end-to-end BI needs.
Data Preparation
Query Diagnostics is a powerful new feature within Power BI that allows users to determine what the Mashup Engine is doing during authoring time. It can be used during full refreshes, and allows you to understand what sort of queries you are emitting, what slowdowns you might run into during authoring refresh, and what kind of background events are happening.
To learn more about Power BI and how it can help your business, check out our courses.