What's new in Power BI this month?
Power BI Desktop has had a range of exciting updates occur over the last month across the whole product.  New visuals, decomposition trees and AI functions integrated into Power Query are just some of the many new updates.
Here's a quick two-minute overview of this month's new features.
Reporting
Power BI has announced a long-requested feature, which is the decomposition tree visual.  Decomposition trees can be used to perform root-cause analysis – it allows you to view how individual categories in a group contribute to the whole.  Essentially you can break down a group and explore them according to selected measures, for example by sales amount.
Here's an example image provided by Microsoft: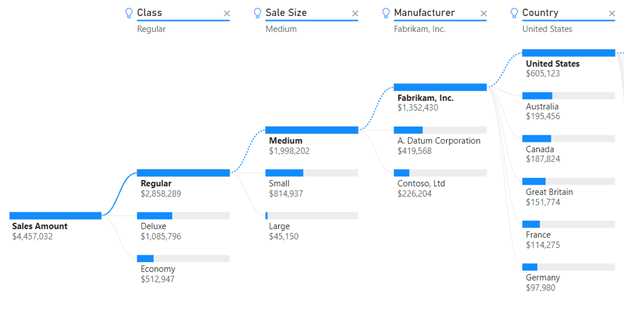 Analytics
Power BI has updated their button formatting, where users can dynamically set formatting for properties such as button text font colour, button text, icon line colour, outline colour, fill colour and button tooltip.
Visualisations
There are two new visuals in the xViz suite – Advanced Gauge and Hierarchical Filter.  The Advanced Gauge visual allows you to compare an actual value, such as key business indicators, against a target value.  This gauge can either appear as a full or semi-circle, and can be customised and configured to suit your needs, such as changing colours, setting min/max values and axis and number formatting.  The Hierarchical Filter visual is a slicer visual and supports hierarchies, advanced formatting and search, amongst others.  Advanced formatting options for this visual include things such as search support with two different search types, advanced number formatting and full text and background formatting.
You can read more about Power BI's November updates here!
To learn more about Power BI and what it can do for your business, you can check out our courses.