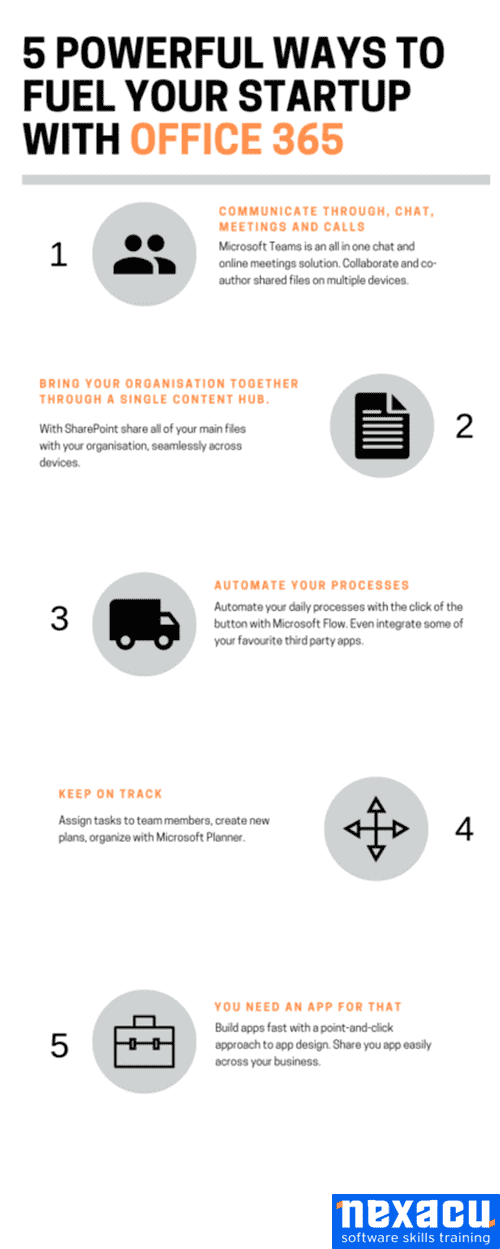 Small Business and Office 365
This week we are going to focus on how small business can leverage the abilities of Microsoft Office 365. With more and more large corporates flocking to the cloud and by extension Office 365, if you are a small business that still has not moved to the cloud, now is the time to do so. Read below for our five ways you can start incorporating Office 365 into your day to day working life.


1 – Use Microsoft Teams to communicate through chat, meetings and calls
Teams is one of those Microsoft applications that will undoubtedly revolutionise the way you conduct work. Rather than sending hundreds of individual emails or messages in a day across different platforms, you can now create a hub of collaboration within Teams that will include your chat conversations, organized to-do lists and a central hub for all your important shared documents.

 

 
2 – Use SharePoint Online to bring your organisation together, through a single content hub
SharePoint facilitates collaboration between colleagues because it allows you to easily create a webpage to store shared documents. From there you can start discussions, organise task lists and more. These Site pages are customised to how you conduct business so you can have different intranet set ups, depending on department, projects or security level.

 

 
3 – Automate your processes with Microsoft Flow
Microsoft Flow allows you to automate business processes by building workflows based on certain triggers and actions. Whether you need your new blog post reviewed or to let your team know that you've uploaded a new document, Microsoft Flow can do it all.

 

 
4 – Keep on track
Teams and individuals depend on Microsoft Planner to get organised quickly, work together effortlessly, and stay on the same page. No matter how large or small the project. Get notifications for upcoming deadlines, filter tasks and publish tasks to your Outlook Calendar.

To learn more about how you can integrate Office 365 into your workplace check out our Microsoft 365 courses.