Data has always been a rich source of knowledge. Organisations are constantly refining how they analyse their data to draw insights that create effective action. In comes Microsoft's Power BI; an application designed to simplify the analytical process to help organisations meet (and surpass) their goals.
Power BI is a powerful tool that will enhance workplaces for many reasons, some of which are outlined below. A good grasp of how the application works is a valuable skill across many industries.
1. Power BI integrates with other Microsoft 365 applications
Microsoft's plethora of Office365 applications integrate seamlessly with Power BI, creating an easy to use and interconnected system. By connecting all aspects of your workplace, you can streamline activity to improve efficiency and access. In a workplace already familiar with the functionality of Microsoft 365, the introduction of Power BI will be smooth with tools employees will already be accustomed to. This not only encourages effective collaboration, but also drives a data culture. Your contribution to your workplace could be greatly improved with an effective understanding of how to optimise your use of Power BI. 
2. Microsoft Power Platform
Organisations are constantly questioning how they can innovate their analytical process to get the most out of their data. It is a big undertaking to collect, analyse, and present data on the scale required. With Power BI, what could've been a time-consuming project is simplified.
Power BI will yield the best results through the integration of The Microsoft Power Platform. Both Power Apps and Power Automate are powerful and useful applications that can further enhance your use of Power BI. 
Power Apps is a user-friendly, low code way to create apps that reflect real time data (see here for how companies have used Power Apps). Power Automate connects apps to trigger flows when a particular action happens, for example a flow can be set up to save any email attachments to Dropbox. Power Virtual Agent is Microsoft's version of a chat bot. 

Microsoft says of the Power Platform that the apps are powerful alone but better together. Consider the following scenario: the company you work for mandates regular stocktakes to see how much inventory they need to order. Instead of each individual store taking inventory and manually ordering new items, the power platform could be used. When the stocktake occurs, each store could use a specially built Power App to input their data. This information is then uploaded to the cloud and sent to a Power BI report that displays how much inventory each store has. When a store dips below a certain threshold for an item, a flow set up in Power Automate could automatically place an order. What was once a time consuming and lengthy process become simple and easy. 

Another example could be the use of the Microsoft Power Virtual Agent. When a customer speaks to the agent, it could be pre-programmed to answer common questions. If the agent is asked a query that it cannot answer, a flow could trigger the escalation of the issue to a customer help agent. 

Although the capabilities and use of the power platform may feel overwhelming, Microsoft has built their applications in a user-friendly way.



3. Security is never in Doubt
Extensive investment by Microsoft has created a secure data environment. The program is constantly monitoring and mitigating threats to protect the confidentiality of your organisation and your potential clients. Even within your organisation, the functional permissions interface makes governance easy.
4. Machine Learning Enhances an already exceptional Product
The AI associated with Power BI is industry standard. The automated insights help you through each step of data analysis and presentation. Azure Machine Learning can help you go further with the built-in trend forecaster. Power BI also has an incredibly advanced natural language query capability and also offers native natural language generation (NLG) visuals. 
5. Strong Mobile Platform
For those on the go, Power BI offers a strong, functional mobile platform. Up to date and accurate reports are accessible on any device anywhere. With the help of Power Automate and Power Apps, stay up to date when something changes in a dataset.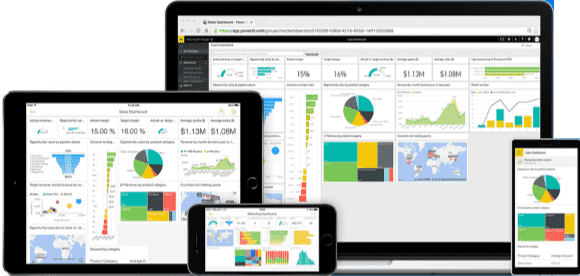 6. User-driven Updates
The users of an application will always have a unique and innovative perspective on how it can be improved. By listening to those who are utilising Power BI consistently. Microsoft gives monthly and weekly updates to Power BI. Thousands of ideas means a consistently improving app.
7. Drives a good working culture
Organisations with a data-driven culture, where employees can not only action pointedly but also measure their own success, report increased employee satisfaction.
Power BI is also affordable – the Forrester Total Economic Impact Study estimates that Power BI comes at a lower total cost of ownership and a 366% return on investment, as well as saving 1.25 hours per week. 
From both the perspective of a manager and an employee, the choice to implement Power BI and related programs is an obvious one. To get started in Power BI, check out this free tutorial from one of our Microsoft certified trainers, Steven. 

Attend one of our Microsoft Power BI courses to learn more.To start your Power BI learning journey, we recommend our Power BI Beginner course. 
This post was adapted from a Microsoft publication.