Range of Microsoft Products
Most people have heard of the core office products such as Excel, Word and PowerPoint. Today, we want to give you a flavour of the other applications we offer and regularly teach. First of all, this is just a broad overview of these applications. So, if they fit your career profile you may want to delve a little deeper.

 
Microsoft Power BI is one of our more popular courses at Nexacu. It's a business analytics service that provides interactive visualisations. In addition to self-service business intelligence capabilities. As a result, end users can create reports and dashboards by themselves. Similarly, end-users will not have to depend on IT staff or database administrators and Power BI is loaded with powerful data modelling capabilities.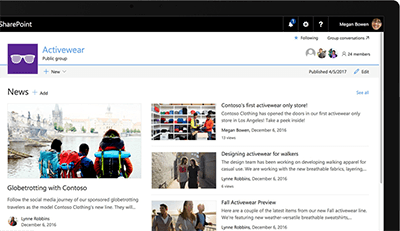 SharePoint Online is a browser-based content management system and web application platform. Used to help organisations create websites. Consequently, it serves as a secure, collaborative space or enterprise information portal. Where documents and files are stored, organised, and shared. Above all, think of it as a centralised and protected platform where groups can collaborate, streamline data management and improve efficiency.

 
Microsoft Project provides project management tools to manage projects. It allows user to:
Understand and control project schedules and finances
Communicate and present project information
Organize work and people to make sure that projects are completed on schedule.
Microsoft Flow is a relatively new application from Microsoft. It is a cloud-based software tool that allows employees to create and automate workflows across multiple applications and services without the need for developer help. It can seriously cut down the time allocated to repetitive tasks making it one of the best applications for workplace efficiency.

 

 


Microsoft Teams is a platform that combines workplace chat, meetings, notes and attachments. The service integrates with the company's Office 365 subscription office productivity suite, including Microsoft Office and Skype, and features extensions that can integrate with non-Microsoft products. Consequently, this offers a centralised hub for communication and collaboration. Therefore, if you no longer use email internally - Teams is the way to go!

 


Use Visio to create simple or complicated diagrams. It offers a wide variety of built-in shapes, objects and stencils to work with. Therefore, the driving idea behind Visio is to make diagramming as easy as possible for the user.

Finally, if any of these apps have sparked your interest then check out what's covered in our courses.