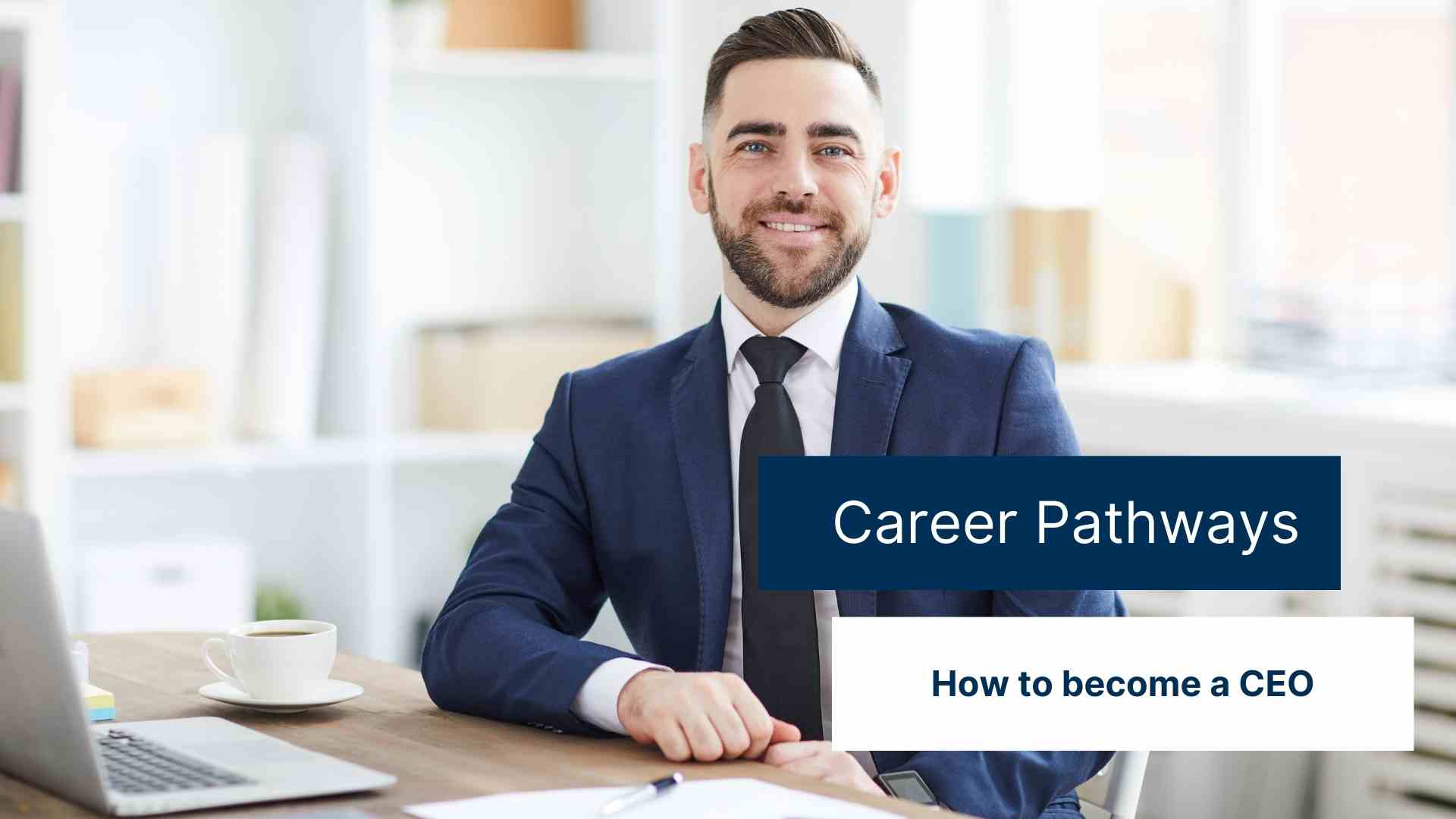 To become a CEO (Chief Executive Officer), you need to obtain a bachelor's degree, gain professional experience, and work up the corporate ladder to the top job. You may need to get an MBA and upskill via training courses to facilitate your rise to the top.
Most professionals dream of climbing the corporate ladder and getting to the very top of the company - becoming a CEO and being responsible for making all major corporate decisions. 
However, with the lofty position of a CEO as the highest-ranked executive officer, some questions many people ask are "what do you need to do to become a CEO" and "is it hard to become a CEO."
This article will answer these questions. We'll show you everything you need to know about how to become a CEO. 
Specifically, the article will cover:
What is a CEO?
What does a CEO do?
Key skills of a good CEO
How to become a CEO
Salary of a CEO
Job outlook of a CEO
Jobs like CEO
FAQ's
What is a CEO?
CEO is short for "Chief Executive Officer," and it is the highest-ranking executive officer of a company.
In smaller companies, the CEO is usually the founder. However, in large companies, the CEO is elected by the board of directors and reports to the board. 
A CEO's role differs from one organisation to another, depending on the organisation's size, culture, and structure. However, CEOs are typically in charge of high-level strategic decisions that set the organisation's overall direction. 
For example, a chief executive officer must devise strategic plans to move the company forward. The CEO also builds teams and ensures that everyone in the organisation buys into the strategies to drive success.
In smaller organisations, CEOs are often more involved in day-to-day functions. However, in larger organizations, CEOs focus on high-level strategic responsibilities.
Personal characteristics of a CEO
One study examining the factors that affect executives' future success found that personal traits make the difference between good and great performance.
For this reason, selection committees examining professionals that want to become CEOs look out for the complete package - someone with an outstanding track record and personal characteristics.
Some of the personality traits of a CEO are:
CEOs are passionate about their job
Passionate people do their job to the best of their ability and get more personal satisfaction from doing their work. A CEO should be passionate about the company they lead and their work. This will make their work personal and want to see the company succeed.
CEOs have courage
They make bold decisions that could lead to exponential growth or dramatically fail. Thus, CEOs need to be courageous to take calculated risks. 
CEOs are driven and ambitious
The ultimate responsibility of a CEO is to make the organisation a success. Thus, CEOs should have a growth mindset and a strong desire to achieve their objectives.
CEOs think outside the box
The business world is not only complex but dynamic. For this reason, tried and trusted practices may not always work. So, CEOs need to be able to think outside the box to approach and solve problems in innovative ways. 
CEOs are resilient 
Things will not always go as you plan (in your personal life and the organisation). However, being able to recover quickly will determine whether the setback drags you down or not. Thus, a CEO should be resilient and able to rise immediately after a personal or organisational setback. They should also see setbacks as learning opportunities. 
CEOs have good discipline
Everyone with big responsibilities needs self-control or discipline. CEOs need to make big decisions, and costly mistakes can occur when they allow emotions to override rational thinking. Self-control or discipline helps you put your emotions in check and think before acting. It's one sign of emotional intelligence.
What does a CEO do?
For any chance of becoming a CEO, you need to be able to show you have the skills for the job, including being able to:
Set the vision and mission to provide a direction for the organisation
Set the organisation's overall budget and make capital allocation decisions
Develop strategic plans and set organisational goals and objectives 
Provide the leadership for the achievement of goals and objectives 
Assess the overall operation and performance of the organisation  
Assess the risks to the organisation and ensure that they are being effectively monitored and mitigated
Monitor the organisation's business space to maintain awareness of industry developments and business opportunities
Build the senior leadership team comprising the C-level staff (Chief Financial Officer, Chief Operating Officer, etc.)
Evaluate the performance of the organisation's executive leaders
Report to the board of directors on all aspects of the organisation's performance, including achievement of KPIs, forecasts, compliance, etc. 
Represent the firm in front of the public (conferences, seminars, meetings with other companies, media, etc.)
Key skills of a good CEO
For any chance of becoming a CEO, you need a portfolio that shows the key skills of a good CEO. These skills include: 
Strong management skills
To drive a company's success, a CEO must be able to coordinate an organisation's human, financial, and material resources. 
Effective communication skills 
A CEO must effectively communicate with different stakeholders, including board members, managers and staff members, and external stakeholders.
CEOs would have to set out their vision and strategies so that everyone in the organisation clearly understands these plans and their effect on responsibilities within the organisation.   
Decision-making skills
In directing and managing a company, CEOs make various decisions regarding other people, processes, financial and material resources, etc.
Making decisions and committing to them makes one a strong and capable leader. So, a CEO should be comfortable making decisions, including those considered tough and unpopular.
Effective crisis management
Crises are inevitable. It can come in different forms (an industrial accident, improprieties, etc.). The CEO is usually the chief crisis officer who works to ensure that whatever crisis arise does not take the company south.
A chief executive officer should not fall into a grip of panic when there is a crisis. Instead, they should exhibit strong self-control to assess the situation effectively, make rational decisions, communicate clearly, etc.
Networking skills
Building and nurturing partnerships is vital to generating new business. Thus, CEOs need to build connections with potential partners to grow a company.
How to become a CEO
There are different pathways to becoming a CEO. However, most CEOs start with obtaining a bachelor's degree and then proceed to gain work experience. They begin with lower-level positions and rise through the ranks. To facilitate their rise to the top job, they get a master's degree and upskill with training courses.
Get a bachelor's degree
A university education helps you develop the competencies needed to operate and grow a company. So, the first step to becoming a CEO is to get a bachelor's degree.
Over half of Fortune 100 CEOs have a business-related degree (such as Business Administration, Economics, Management, Finance, Accounting, Marketing, etc.).
About 27% of Fortune 100 CEOs have an engineering or science degree, while 14% have a law degree. Thus, you can still get to the top job if you obtain a technical degree.
Gain work experience
Aspiring CEOs must demonstrate an understanding and ability to handle the complexities of the business environment. So, the next step to becoming a CEO is to join a company to gain professional experience and prove your worth.
Most CEOs start at lower-level positions. They then work their way up to senior-level managerial positions, from where they can land the chief executive officer job.
However, this does not mean that you must spend your entire career in one company for any chance of becoming a CEO. Many CEOs change companies in their professional journey. The emphasis is on moving up the corporate ladder even when you change companies.
Obtain a master's degree (optional)
Working your way up the corporate ladder takes several years of immense success. However, obtaining a master's degree in business management (specifically an MBA) may facilitate the process. It is no coincidence that about 40% of Fortune 100 CEOs have an MBA. 
An MBA (Master's in Business Administration) focuses on teaching business principles. So, it improves your knowledge of different aspects of business management, from operations management to human resource management and more. 
An MBA benefits even those with a business-related bachelor's degree because it helps people learn leadership skills and hone interpersonal abilities critical to becoming a business leader.
Upskill with training courses
Another way to fast-track becoming a CEO in Australia is to upskill with training courses. 
These training courses, whether in-person or online, will help you build or improve specific skills and abilities. There are many short courses on leadership, project management, public speaking, etc. You may also consider short courses that make you tech-savvy and advance you to the next level of capability.
Salary of a CEO
A chief executive officer is a high-paying position. Payscale reports that the average salary for a CEO in Australia is AU$157,982.
Generally, the salary of a CEO depends on the number of years of experience (as a CEO) as follows:
Less than 1 year - AU$120,000
1 to 4 years - AU$134,000
5 to 9 years - AU$151,000
10 to 19 years - AU$164,000
More than 20 years - AU$183,000
Job outlook of a CEO
According to Recruiter, the chief executive officer position has been negative since 1994 - vacancies for CEOs have been steadily declining at a rate of 2.6% per year. The decline in CEO jobs is attributed to the slow rate of new firm creation in recent years.
Interestingly, demand for CEOs is expected to go up in the coming years. The increase will be driven by new firm creation and expansion of existing ones.
This is good news for all professionals dreaming of becoming a CEO because it means that the near future will have more vacancies for CEOs than in the recent past.
Jobs like being a CEO
The corporate world has different job titles starting with the word "chief." These jobs are known as C-level jobs. The people in the C-level jobs make up a company's executive team.
The Chief Executive Officer is simply the highest-ranking executive officer. Thus, the other executive (C-level) jobs are those closest to the CEO.
These C-level jobs like CEO include:
CFO (Chief Financial Officer) - the person in charge of a company's finances.
COO (Chief Operating Officer) -the person in charge of managing the company's day-to-day operations.
CMO (Chief Marketing Officer) - the person in charge of a company's marketing and advertising activities.
CIO (Chief Information Officer) - the person in charge of a company's IT (information technology) and data security.
FAQs/ Resources
Some of the most frequently asked questions about how to become a CEO are: 
Is it hard to become a CEO?
Becoming a CEO takes several years of professional and personal development.
You need at least three (3) years of college education to develop specific competencies. Then you need several years of professional experience and a solid track record of high performance. You may also need to obtain an MBA and upskill with training courses.
How do I become a CEO without a degree?
In the most popular pathway to becoming a CEO, the first step is obtaining a degree. So, it is very difficult to become a CEO without a degree. Interestingly, it is not impossible.
The less difficult way to become a CEO without a degree is to start a company. If you start a company and run it, you can be its CEO with or without a degree.
If you are one of those who enter the popular search query "How to become a CEO without a degree," then you should consider starting a company and becoming a "founder CEO."