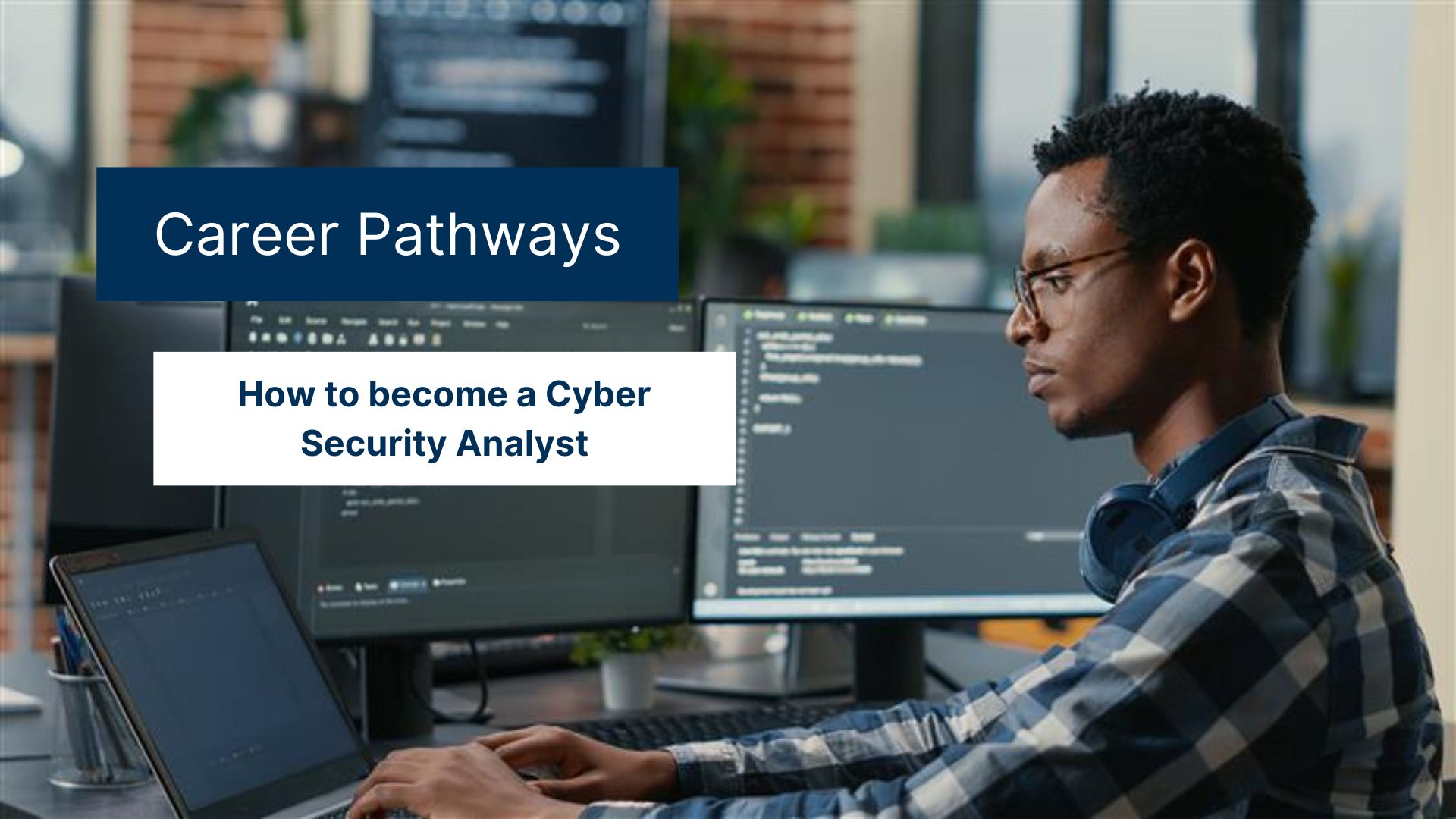 You must earn a bachelor's degree in a computer-related field to become a Cyber Security Analyst. The role is competitive, but you can increase your chances by adding the necessary credentials to your portfolio. Your experience matters, so an internship would stand you in good stead. 
As technology continues to advance, more and more people are relying on cloud solutions to store their information. However, this makes such information prone to cyberattacks, so there is an increasing demand for cyber security.
Read on and discover how to navigate through and grow in this career path.
What is a cyber security analyst?
A cyber security analyst is someone who protects computer networks from unauthorised access and cyberattacks. When cyber threats and security breaches occur, the cyber security analyst will respond to them accordingly. This job requires you to protect your company's valuable data.
A Cyber Security Analyst does not only protect the organisation's software but also the hardware and networks from loss, theft, or unauthorised access. When working in a small company, cyber security analysts perform various cyber security tasks. However, they find themselves specialising in one aspect of larger cyber security projects.
Job description
The role of a Cyber security Analyst involves protecting your company from cyberattacks by monitoring the systems and analysing threats as they arise. 
The responsibilities include installing the necessary software to protect the computer from unauthorised access, reviewing computer networks to identify any potential vulnerabilities, and documenting detections to mitigate future breaches efficiently.
Ultimately, your job will defend your organisation's computer software, hardware, and other systems from loss, theft, and other cyberattacks.
Why is cyber security important?
Cyber security is important because it prevents data leaks that could cause theft. It also keeps your sensitive information from getting into the wrong hands. 
In our technically reliant society, people store data like credit card information, social security numbers, and bank account details in Google Cloud, Dropbox, and other cloud storage solutions. Everybody depends on computer systems, whether you're an individual, small business, or enterprise. 
The rise in cloud services, smartphones, poor cloud service security, and the Internet of Things (IoT) has created many potential security vulnerabilities that didn't exist many years ago. Governments worldwide are focusing more on tackling cybercrimes. 
A typical example is GDPR. Organisations that operate in the EU must:
Communicate data breaches
Require user consent to process information
Appoint a data protection officer
Anonymise data for privacy
Roles and responsibilities
The roles and responsibilities of a cyber security analyst include:
Documenting security breaches and assessing the damage they cause
Working with the security team to perform tests and detect network vulnerabilities
Performing penetration testing
Fixing vulnerabilities to maintain a high-security standard
Developing company-wide best practices for IT security
Staying up to date on IT security news and trends 
Helping colleagues to install security software and understanding information security management
Cyber security analyst salary
According to the US job listings, the average annual salary for cyber security analysts from October 2020 to September 2021 was $100,603.
What type of companies employ Cyber Security Analysts?
Companies that offer consulting services have cyber security experts in their teams. Some top examples include Deloitte, Accenture, KPMG, and more.
Accenture
Accenture's portfolio includes clients from over 120 countries. The company offers technology, strategy, and operations consulting services and is one of LinkedIn's "50 Best Workplaces to Grow Your Career." Accenture strives to promote change and sustainability with a diverse and inclusive workforce.
Apple
Apple is another company that employs Cyber Security Analysts. It has seen many high-profile battles around encryption's privacy and security implications. Thus, the company is always looking for cyber professionals to help bolster their work and protect user data.
KPMG
Ranked among LinkedIn's "50 Best Workplaces to Grow Your Career," KPMG works with clients from over 145 countries. The company offers financial, accounting, and consulting services. KPMG aims to drive positive change for its client base by promoting inclusion, diversity, and career development.
Northrop Grumman
Northrop Grumman is a global security company that provides systems and products to government and commercial customers. It is no surprise that the company hires Cyber Security Analysts since they invest in cloud security, research on identity management, and supply chain.
Deloitte 
Deloitte is another top-ranker on LinkedIn's "50 Best Workplaces to Grow Your Career." The company offers financial, accounting, and consulting services to clients worldwide. With over 126 offices worldwide, Deloitte hires cyber professionals from many countries. 
The company leads by example in its compensation, inclusion, benefits, and work-life balance. Deloitte has many positions that combine in-office, remote, and on-site clients work.
Skills of a cyber security analyst
Some of the skills a cyber security analyst should possess include:
Endpoint management
Remote work has become popular today, and companies require security experts to secure multiple endpoints such as phones, computers, and internet of things devices. They use network access controls, firewalls, antivirus software, and virtual private networks (VPNs).
Intrusion detection
Cyber Security Analysts detect cyber-attacks when they happen. They do this through event log analysis, network monitoring, and familiarity with SIEMs.
Networking and network security 
Cyber Security Analysts know how networks work, which enables them to protect against attacks on networked systems.
Data security
Protecting data is of paramount importance for many organisations. Cyber professionals understand encryption, transmission control, access management, internet protocols (TCPs and IPs), and the CIA Triad (confidentiality, integrity, accessibility).
Programming 
Although technology has made it possible for cyber professionals to work without writing code, a fundamental knowledge of languages such as Python, JavaScript, and C/C++ is required.
Some cybersecurity workplace skills include:
Communication 
Cyber experts collaborate with the security team when security events occur and document the investigation and recovery process. You may also have to train other employees.
Attention to detail 
Cyber Security Analysts can notice minor anomalies that could cause their companies significant data loss. 
Critical thinking 
This skill is important as you must perform tasks like recommending new security protocols or patching a vulnerability.
Calm under pressure 
Being a Cyber Security Analyst requires you to act fast and prioritise tasks that will stop data breaches and minimise damage.
Experience
Cyber Security Analysts understand malware, cyberattacks, and how cybercriminals behave, which is why they can anticipate and prevent such attacks. They usually possess a bachelor's degree in cyber security or any related field.
How to become a Cyber Security Analyst
To become a Cyber Security Analyst, you must learn the basics of cybersecurity, develop cyber security skills, get certified, and do a cybersecurity internship.
Develop your cyber security skills
Don't just focus on technical skills. Also, develop your workplace skills. Skills like attention to detail, communication, etc., are as important as job-specific skills.
Learn the basics of cyber security
Firstly, you need to gain an overview of all the introductory courses in cyber security. This field has some tools and best practices that you should know. You can learn all these through blogs, books, podcasts, and courses.
Get a cyber security certification
Most cyber security roles require at least one certification. Earn a cyber security certification and validate your skills to hiring managers and potential employers.
Apply for jobs or internships
After developing your cybersecurity skill set, your next step will be applying for internships or jobs in the field. You can start in an entry-level IT role depending on your professional and educational background. You can also start as a junior data analyst before transitioning into more specialised roles.
Cyber Security Analyst qualifications
Cyber Security Analysts are entry-level positions in the cyber security field. You need a Cyber Security Analyst degree or bachelor's degree in information assurance to qualify. During your program, you will learn IT fundamentals and critical cyber security foundations.
All these help to prepare you for the job. Some other critical elements of your cyber security education include data management, countermeasures, scripting and programming, penetration testing, hacking and more.
Opportunities for advancement
You need to understand the certifications and skills required for advancement when considering your cyber security career path. Also, you must understand what kind of role you want to play and where you want to go.
The best way to do this is by consulting people in your field. Ask them how they got to their current positions. Find out how they started and how they honed their specific skills.
Enquire about the attributes you require for advancement. This way, you will know what to do to land your dream cyber  security role and how to achieve the most advancement in your career.
Similar careers 
Here are some careers that are somehow related to that of a Cyber Security Analyst:
Computer and information research scientists
You need to earn a bachelor's in a computer-related field to become a computer and information research scientist. Some also require a master's degree in computer science or a related field, which takes about 2 to 3 years. 
A computer and information research scientist has a long list of responsibilities, including:
Exploring primary issues in computing and elaborating theories and models to address those issues
Helping scientists and engineers solve complex computing issues
Developing new computing languages, tools, and methods to improve how people work with computers
Developing and improving the software systems that form the basis of the modern computing experience
Designing experiments to test the operation of these software systems
Analysing the results of their experiments
Publishing their findings in academic journals and presenting their findings at conferences
Creating and improving computer software and hardware.
Computer and information systems managers
You need to obtain a bachelor's degree in computer or information science-related fields to become a computer and information systems manager. Some information science-related courses include software development, computer programming, and mathematics. 
The responsibilities of the Computer and Information Systems Manager include:
Analysing their company's computer needs and recommending possible upgrades
Ensuring that the company's network and electronic documents are secure
Planning and directing the maintenance and installation of computer hardware and software
Assessing the benefits and costs of new projects and justifying funding on projects to top executives
Determining short and long-term personnel needs for their department
Learning about new technology and discovering ways to upgrade their company's computer systems
Planning and directing other IT professionals' work, including computer systems analysts, software developers, computer support specialists, and information security analysts. 
Computer network architects
To become a computer network architect, you need a bachelor's degree in computer science, engineering, information systems, or a related field. Classes like network security or database design offered in computer-related degree programs provide a hands-on experience for prospective network architects.
Computer network architects work on various technologies used in networks. Their duties include:
Creating layouts and plans for data communication networks
Presenting plans to management and explaining why such plans will benefit the organisation 
Considering information security when designing networks
Upgrading hardware, including adaptors and routers, and software, like network drivers, as required to support computer networks.
Software developers
Computer science degree programs for software developers are very common. This role requires a bachelor's degree in software engineering, computer science, or a related field.
The responsibilities of a software engineer include:
Analysing user's needs to design, test, and develop the perfect software to meet them
Designing each piece of an app or system and planning how the pieces will work together
Recommending software upgrades for clients' existing programs and systems
Creating various models and diagrams (like flowcharts) that show programmers the software code required for an application
Ensuring that a program functions normally through software maintenance and testing
Documenting every aspect of an app or system as a reference for future maintenance and upgrades
Collaborating with other computer experts to create optimum software