The agriculture industry in Australia was valued at nearly 54.7 billion Australian dollars by the end of 2021. Farming is a fantastic job for someone who enjoys hard physical work and the laid-back life of farms and fields. If you want to escape from the hustle and bustle of corporate life and start a career in farming, you can find everything you need to know in this article.
What are the requirements to be a Farmer?
There is no prerequisite of formal education to become a Farmer. However, you will require a lot of personal skills, including planning, problem-solving, physical strength, and the willingness to live remotely. Several courses and educational institutes can help you in your journey as a top-tier Farmer.
Skills and attributes
Being a Farmer is more about skills and experience than it is about qualifications. Farming is a rewarding but complex job. You need strong physical and character strength to enjoy your time in a field.
So how can you become a Farmer in Australia? Here is a list of traits you should consider before pursuing a career in farming:
Planning abilities
Organisational skills
Supervision skills
Administrative qualities
Smooth communication
Team management
A responsible approach to the job
Enjoy spending time outdoors
Qualifications
Although qualifications are not mandatory to become a Farmer in Australia, they can help you stand out amongst your competitors.
Several universities and training companies offer certifications and courses that can help you navigate your career.
TAFE, universities, and agricultural institutes provide numerous programs that are suitable for a career in farming. You can consider a VET qualification or acquire other credentials that focus on agricultural industries.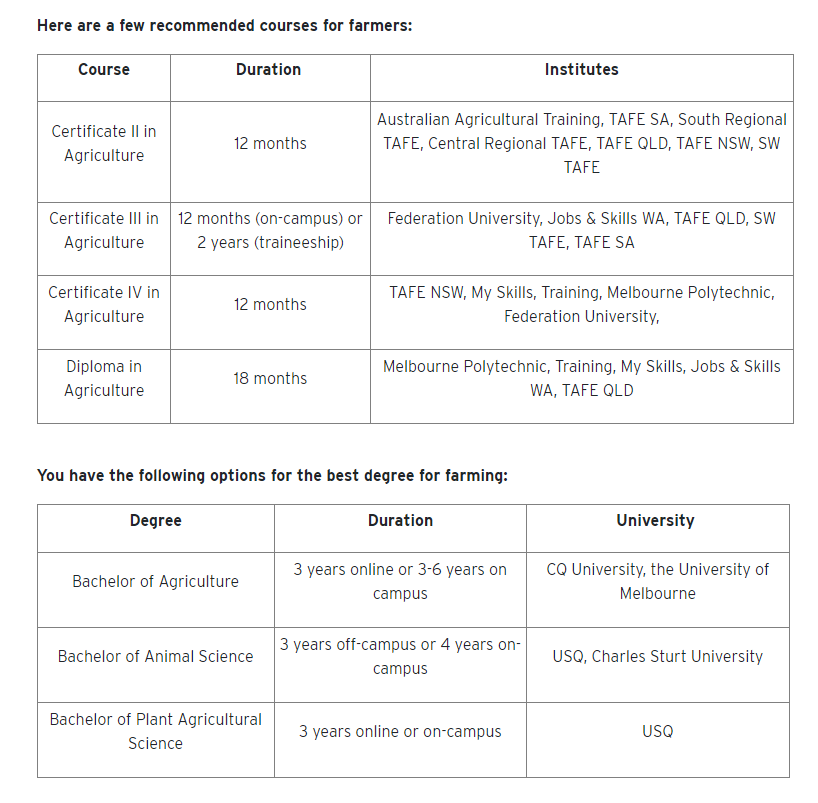 To be eligible for these degrees, universities usually require a Senior Secondary Certificate of Education or some sort of agricultural experience. All institutes have varying requirements, so it is best to contact the university you are interested in for their enrolment information.
Similar Careers
The farming industry requires a vast array of knowledge and skills that you can apply in numerous other professions too.
A few jobs that are similar to farming and allow a smooth career transition are:
Farm Manager
Aquaculture Farmer
Farmworker
Agricultural Sales Representative
Consulting and research in farming
Agronomist
Food Production Industrialist
Livestock Manager
Production Enterprise
Land care
How to become a Farmer?
To pursue a career in farming and succeed at it, you will need talent, skills, and hands-on experience. You can also start farming if you own suitable land without any experience. Here is a step-by-step guide on how to become a Farmer:
1. Decide if farming is right for you
First things first. Just like any other field, decide if farming is right for you. Ask yourself the following questions before deciding:
2. Decide what kind of farming you want to get into
Farming has a number of sub-divisions you can choose from. Decide which one interests you most, depending on your talents, experience, and personality. From here, you can develop the skills you may be lacking in your area of interest.
3. Gain Qualifications
Once you have decided on your career path, you will need to gain relevant qualifications for moving forward. You may want to enrol in a course that caters to your area of interest. A qualification is not necessary but can be a game-changer when you enter the industry. 
4. Gain Experience
The most crucial part of your farming career will be gaining experience. If you opt for a formal degree in agriculture, most universities will offer you considerable hands-on experience on a farm.
Alternatively, if you want to learn what Farmers do, you can work alongside an experienced Farmer as a Farmhand to gain valuable experience and understanding of the industry.
Career path
Farming is an in-demand career choice in Australia, as agriculture makes up a significant portion of the country's economy. As such, the career demand for farmers is likely to remain relatively constant in the future.
Jobs
The agriculture industry in Australia is substantial, with approximately 265,000 workers. You can get a job in one of the following departments:
Corporate farms
Agricultural holdings
Cattle farms or sheep stations
Fisheries
Orchids
Forsterites
Aquaculture
Horticulture
Salary
The salaries of Farmers in Australia depend on numerous factors. These include experience, location, farming style, types of crops, weather conditions, market demand, etc.
An average Farmer in Australia earns nearly AU$59,758 per year. In addition, the Australian government offers grants, subsidies, and other payments on top of this annual income.
Sustainable Agriculture and Protected Cultivation are the areas of expertise that generate the most revenue for farmers.
The cities of Australia where farmers draw the highest salaries are Warrnambool VIC, Sydney NSW, and Tatura VIC.
Here is how experience plays a vital role in a farmer's income:
Outlook
Farming jobs in Australia are rising. The industry shows a steady growth rate, with a capacity to accommodate more workers over the coming years. The agriculture industry employed nearly 44,700 farmworkers in 2020, and the numbers are expected to rise to 45,000 by 2025. The sector predicts a 7% increase in employment rate with 3,000 vacancies approximated in the next five years.
Around 200,000 businesses in Australia are linked to the agriculture industry in one way or another. Several technologies and transformations are increasing productivity in the field and promising a better future for farmers.
Related careers
A few related jobs that allow a seamless shift for a Farmer include:
Agricultural Scientist
Agricultural Technician
Animal Technician
Agricultural Technician Officer
Farmhand
Farm Technician
Aquaculture Technician
Jackeroo
General Gardener
Livestock Farmer
Shearer
Wool Classer
FAQs / Resources
How do I start farming?
If you own a piece of land, you can start farming without prior experience. And if you do not own land, look for opportunities as a farmhand or farmworker at a property owned by someone else.
What are the requirements for Farmers?
Farmers require a piece of property for farming, a source of irrigation for the crops, farming supplies such as seeds, pesticides, fertilisers, farming tools such as a rake, spade, sickle, and agricultural machinery such as a harvester, tractor, etc.
How do I become a Farmer with no money?
Many farm or property owners who do not live there look for farmhands or farm workers. You can look for employment opportunities if you cannot afford to buy your land.
Can you be a Farmer without a degree?
Yes. A degree is helpful for a successful career but not mandatory.
What can you farm on 1 acre?
You can farm potatoes, sweet potatoes, beans, cabbage, or lettuce on a one-acre farm. Potato is a prevalent crop in Australia and accounts for one-third of the country's produce.
What is the easiest farm to start?
Flowers, Ginseng, herbs, and landscaping shrubs are the easiest plants to grow. Whereas ducks are the easiest animals to grow for eggs and meat.
How do small farms make money?
People with small farms send vegetables and seedlings. Plus, they grow animals such as ducks, hens, and goats and sell their meat and manure for money. Register your small farm on AirBnB to rent it out for guests.