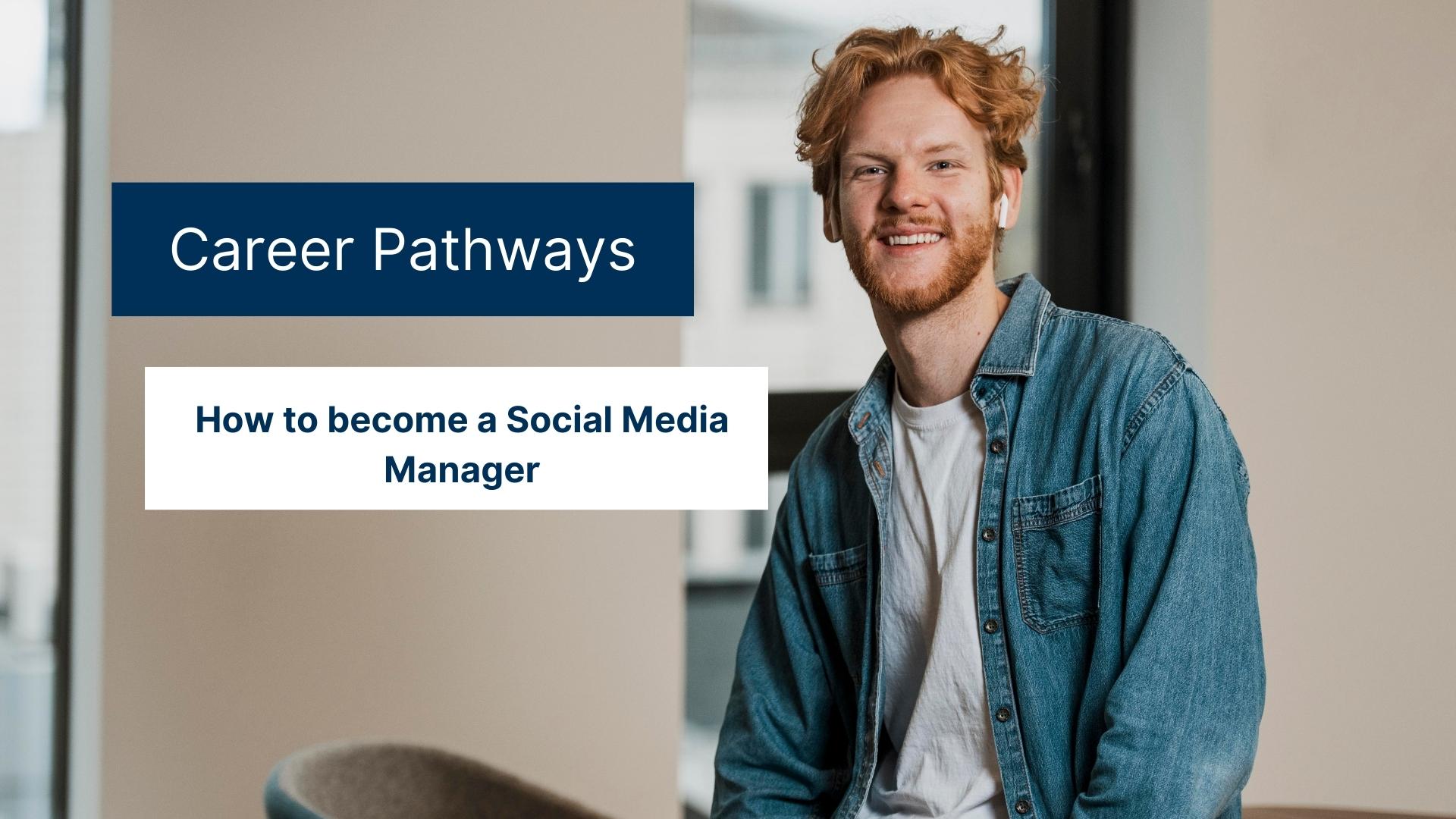 Social Media Managers coordinate the social media activities of an individual or company. Social media marketing and brand promotion are the main responsibilities of this job. 
With the rise in the use of social media, the demand for Social Media Managers has also risen exponentially. Brands and Individuals rely heavily on social media to get their word across as it has become the main communication medium. Therefore, the need for a manager who can professionally manage and plan strategies for growth rises. 
Through this article, you will understand how you can become a Social Media Manager. In addition, you will understand the responsibilities and perks that come with the job. This article also guides towards the skills and qualifications one should have to fit this role. 
What is a Social Media Manager?
A person who is assigned the duty to manage the social media content and engagement of an individual or a brand is called Social Media Manager. The person can be a permanent employee or a freelancer. 
A Social Media Manager can also manage the accounts of more than one individual or brand. 
The demand for this role is increasing day by day with the rise of users on social media. Seems interesting? Read on to find out more about the responsibilities and job availability of Social Media Managers.
Role and Responsibility
A Social Media Manager is tasked with growing social media engagement and creating campaign strategies.
Although it seems like a straightforward job, it's not. Mentioned below are some responsibilities of a Social Media Manager.
Social media data analysis 
Analysis of audience reaction towards social media posts 
Creating strategies to increase followers 
Creating and posting engaging posts
Replying to messages and comments of followers 
Conducting a market study to find out which posts generate the most traffic 
Salary
Social Media Managers earn between $60k to $100k in Australia. A freelance Social Media Manager can earn up to $150k annually. 
If you're new in this field, you can still earn upwards of $50K in Australia per annum. This number can vary depending upon the individuals or brands you're dealing with. 

Job Availability
Social Media Management jobs have a promising future with projected job growth of 11.4% in Australian markets.
In a growing field like social media, the need for managers will only rise over time. More and more brands are switching to social media for their promotion. Social media is also the place where brands can interact with their audience and customers and get feedback. 
Therefore, a manager with the right skills and qualifications will be required to manage this responsibility. Keep reading to know the right skills and qualifications that make you fit for the job. 
What skills are required to be a Social Media Manager?
Creativity, data analytics, and decent writing are some skills needed to be good at social media marketing and managing.
Time management & organization
A Social Media Manager must have excellent time management skills. Project organization is another important skill for Social Media Managers.
When Social Media Managers optimize their time, they can make the right posts at the right time. Social media algorithms can prove disruptive to growth if the posts are not properly organized and untimely posted.
Social media is a very happening place, and trends come and go. Therefore, creating the right campaigns at the right time can be very fruitful. An untimely post can be perceived as insensitive in the eyes of the audience. 
Decent writing
Good writing is an essential skill for Social Media Managers. An engaging post written by a good copywriter can generate high traffic. 
As writing is the main form of message in a social media post, it must be engaging and as per the current trends. Any insensitive words can lead to a negative response from the audience. Therefore, it's important for managers to be decent writers. 
Understanding of trends
A Social Media Manager needs to know social media trends to succeed. Keeping up with the trends reveals what the audience is watching, and if you can market yourself with the movement, you will generate a lot of followers.
The trends on social media are changing very quickly and cashing in at the right moment can put you in the spotlight. An excellent Social Media Manager understands the audience's nerves and comes up with campaigns accordingly. 
Data Analysis
Analyzing data is essential to a Social Media Manager's success. Knowing qualitative and quantitative data can boost your growth on social media. It can also help you understand your audience better.
Data analytics show which type of content was perceived better by the audience. It can also help you spot trends. Having a piece of knowledge is not enough. According to the findings, you should also know how to engineer your content and campaigns. 
Creativity
Creativity is vital for a Social Media Manager. Audiences respond positively to creative posts. With every brand competing for greater reach, your imagination will put you in the spotlight. 
All the skills mentioned above can only be fruitful if you're creative with them. Traditional methods will only give you the results for a short span. Getting creative with your posts will act as a spark in the eyes of the audience. 
Steps to Become a Social Media Manager  
Besides the right skills, proper education and experience are also essential to becoming a Social Media Manager. Having expertise in the field and studying relevant courses will help you succeed. 
Having a mix of skills, qualifications, & experience can land you an excellent job as a Social Media Manager. Here are some tips for the social media manager pathway. 
Gain a relevant qualification & experience
As a Social Media Manager, it is crucial to possess relevant qualifications. Experience in managing social media is also equally important. 
Even if you don't have a relevant degree, taking short courses pertinent to the job can help you stand out. Starting an entry-level position can help you gain the relevant experience required to progress in the field. 
Knowing the person or the business you're managing can also help you create your campaign strategies. Running the social media account of a brand or celebrity is a tough job, and unless you have the proper knowledge, you won't be able to succeed.  
Learn how to analyse data
To manage social media properly, managers must be able to analyse data collected from their audience. Knowing about the current trends can help in structuring your content. 
Social media marketing can only be fruitful if a manager knows how to analyse data and strategize accordingly. Knowing what content will attract the most traffic can only be possible through data analysis. 
If you're unaware of data analysis, you can always take different courses. These will help you interpret data and design your campaigns accordingly.
Always staying updated on the changing trends of social media can be challenging, but fortunately, many tools are available now that help you in this task. 
Create your own account and build your following
In social media marketing, it is beneficial to have a personal brand name. Social Media Managers can also market themselves through their accounts. 
On your page, you can experiment with what strategies result in the most engagement. You can design engaging posts & content and build a portfolio. 
Practice your data analysis skills on your platform and design strategies from them. Furthermore, this will also help you understand the consumer perspective of things and how the audience perceives different posts. 
You can follow various businesses and study their promotion strategies. This can help you in engineering your social media marketing strategy. 
Frequently asked questions (FAQ)
Below are some frequently asked questions that will help you gain additional knowledge about the job. 
What qualifications do you need to be a Social Media Manager?
A marketing or advertising degree can help one become a Social Media Manager. If you don't have a degree, try taking some short courses on data analysis and developing strategies. 
How do I become a Social Media Content Manager?
Relevant qualifications and experience can land you a job as Social Media Manager. Furthermore, knowing how to analyze data and having proper skills can help you in social media marketing. 
Is it hard to be a Social Media Manager?
Managing social media of different brands and Individuals is not an easy job. You should know the current trends and how to analyze data. But, with the right skills and experience, it can be fun. 
How do I start a career in social media?
You can get an entry-level position in an organization to start social media management. Alternatively, you can build and grow your account on social media and market yourself there.  
How do you analyze social media data?
Social media data can be analyzed by understanding qualitative and quantitative data. If you are unfamiliar with data analysis, you can take short courses.
Various R programming, SQL, Python, and Excel courses can guide you to proper analytical skills. 
These courses are available here at Nexacu.
So, what are you waiting for? It's time to start your journey as Social Media Manager.