How To Write A Resume
Looking for a new job should be a process that is full of excitement; but the legwork involved sometimes complicates the process. From researching prospective employers and lining up references to ensuring a job meets your needs and actually attending the interview, there are many aspects of the job hunt that require your attention.
It is easy to let your resume fall to the wayside among all of the other things you must consider. But you cannot make a second first impression, and your resume is the first opportunity a company has to get to know you.
In the midst of a job hunt, it is very common to just recycle your old resume. To just update it with your new experience and skills saves time and hassle. But in doing this, you miss an invaluable opportunity to reflect on your career thus far and tailor your resume to the job. This allows you to highlight your strengths as well as achievements in a way that will stand out the most to prospective employers.
Importance Of A Resume
Your resume is the most crucial document you will have during your job search. It is your first chance to introduce yourself to a potential employer, so you can show you are worth the investment.
Hiring managers tend to only spend six to seven seconds on each CV. Making the most of every second is crucial to help you stand out from the competition.
1. Pick the Right Resume Format & Layout
The first thing a recruiter sees is the format and layout of your resume. When you start at the very beginning by opening a new document in Google Docs, Microsoft Word, Canva or Apple Pages, set ½"–1" inch margins on all sides of the resume and select a professional font for such as Arial or Helvetica. The font size must be between 10 and 12 points. This ensures the document is readable and looks professional and clean.
At this initial stage, you can also prepare a list of the information that you want to add to your resume. Make sure the format of your resume fits the kind of job you are applying for. 
2. Contact Information
The contact information should include your full name, professional email address, phone number, city name, ZIP code, and any links to your professional website, portfolio, or social media accounts that are appropriate. This is more likely to be applicable to jobs in creative industries, with links to a portfolio of work.  
3. Summary Statement
A resume summary gives a short description of yourself to the reader. If you are not changing industries or jobs and have work experience, then you must add a good resume summary. Make sure it is clear, concise, and compelling. The following example will help you write an effective resume summary.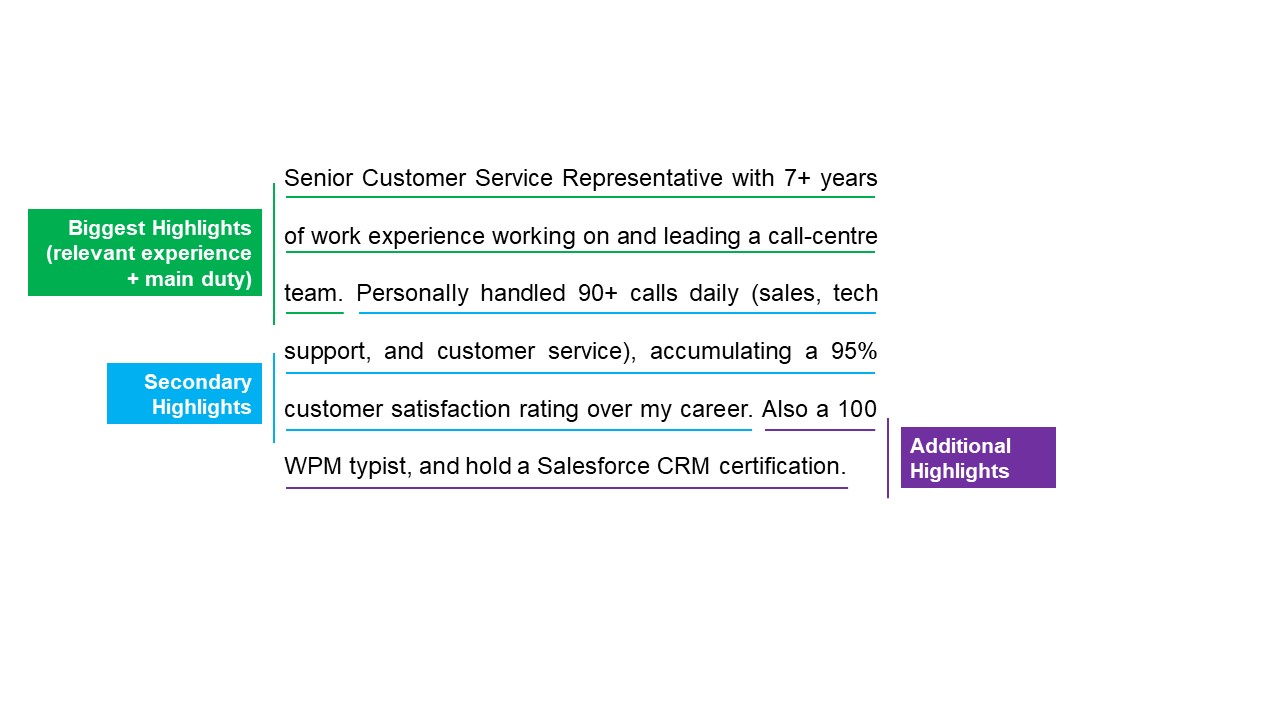 4. Skills
When it comes to adding your skills to your resume, it is important to consider both technical and soft skills. Highlight the skills, qualifications, and experiences that are directly related to the job you want to get.
Soft skills cover your personal skills such as your career attributes, communication skills, social skills, personal traits, and so on. This could include:
Leadership skills
Critical thinker
Empathy
Technical skills highlight your knowledge or qualifications, such as:
C++
JavaScript
PHP
Python
5. Work History
It is essential to keep your work history clear and factual. Your work history should include information such as the date you joined the company, your job title, and the time period you were there.
Your work history must give hiring managers an idea of what they can expect from you.
6. Education
A common issue that freshers face when making a resume is deciding how to write a resume with no experience. This is where their education helps them make a good impression. It is always better to keep it concise by adding the academic qualification you have obtained, the year of their completion, and the name of the institution along with a one-sentence summary. Also, include any academic awards you have received.
7. Certifications & or Training Achievements
Along with your education and work history, your certifications and/or training achievements should be added to your resume. Training companies will generally issue a certificate or badge that can be added to your LinkedIn profile to verify your achievements.
Certifications and training achievements can push you over the edge with recruiters. Not only does it demonstrate your skills, but it also shows you are willing to continue learning and that you have a decent work ethic.
What To Include On Your Resume?
Your resume must include each piece of information that an employer wants to know before hiring you. From your phone number to your email address, everything in it must be correct and clear. Adding a professional title and objective/summary to your resume also helps you make it attractive as well as meaningful.
What Not To Include On Your Resume?
Avoid using bold or highly stylised fonts that make your resume hard to read at a glance. It is important to use your judgment: the fact that you played trumpet in high school probably isn't relevant to that law job you want. Likewise, don't include any false information.
Conclusion
Employers usually receive hundreds of resumes for every job opening. This makes it essential for you to make sure you will present yourself as well as you can with a good resume. Making a great resume is undoubtedly time-consuming, but will serve you incredibly well in the long term.