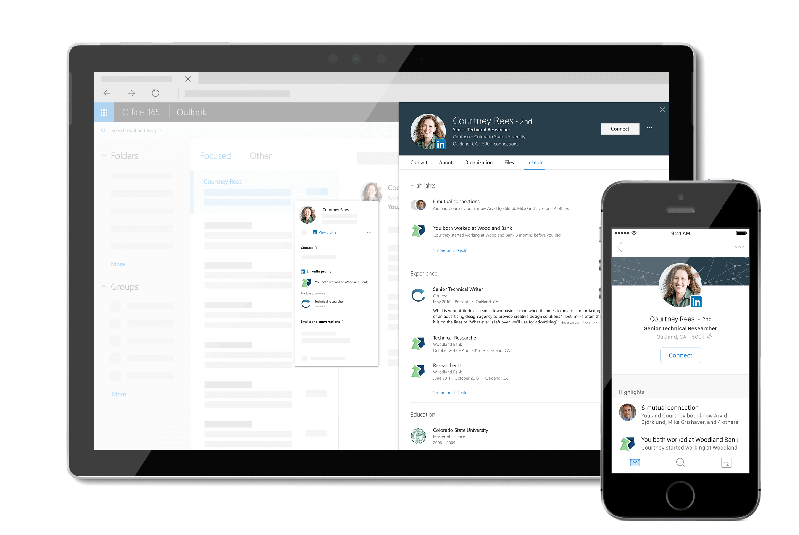 Integration between Office 365 & LinkedIn
An important update you may have missed last year was the integration between LinkedIn and Office 365. In regards to both personal and professional development as a company and as an individual. The relationships you are able to build are an important indication to the level of success you are able to achieve. These relatively new Office 365 updates you may have missed allow you to view information from LinkedIn profiles from Outlook, OneDrive and SharePoint in Office 365. This new experience, powered by LinkedIn. Enhances the way you collaborate and build relationships. By building conceptual insights about the people you're working with. Inside and outside your organisation.

 
Set up is easy
Simply connect your LinkedIn account to your Microsoft account. Then open a person's Profile Card and click on the LinkedIn match.
 
Sign into your Microsoft account.
Click "Yes, let's go"
Click accept
 

After you connect your LinkedIn account to your Microsoft account. You'll seamlessly discover more insights within the Profile card. In your inbox, your calendar and your contacts lists. Simply hover over a contacts name to see information from their LinkedIn profile. Such as where they work , what they do and where they went to school. Click on the card to view more information on their LinkedIn profile. As an example, when you receive an email from someone you haven't interacted with before you can instantly identify who they are and start the conversation on a more meaningful foot. Or, if you're not already connected with someone on LinkedIn you can send them a LinkedIn invite directly from the Profile Card within Office 365.

Whether it's a colleague, customer or partner, these details help you better understand who that person is so you can start off on the right foot and collaborate efficiently, even when the person is outside your organisation. It can also deepen existing relationships when you uncover more details about someone that you may work with every day.