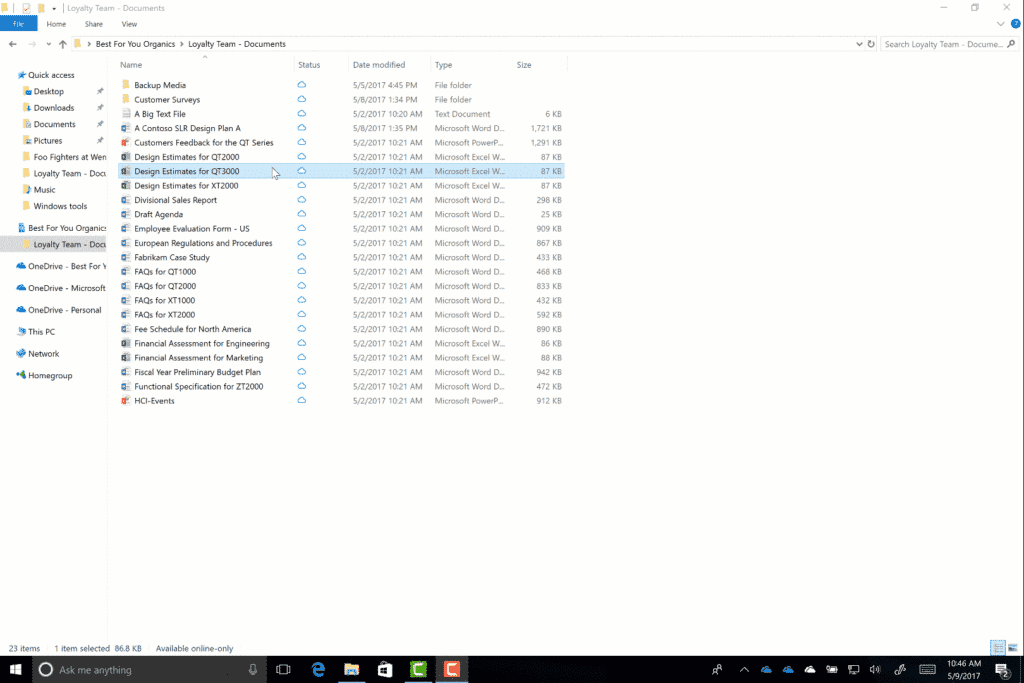 With the constant updates and upgrades to the Office 365 platform it can be easy to lose touch with some of the most effective Office 365 capabilities. Here's a rundown of some of our top Office 365 functionalities. To empower, individuals, teams and organizations to share with confidence. Transform business processes, inform and engage the organization, and harness collective knowledge.
 
Confidently Share Data
OneDrive is part of the Office 365 suite and it allows you to share files securely with anyone within or outside your organization or team. It's deeply Office integrated and therefore allows you all the benefits of co-authoring, collaboration on files and documents, in real-time. It let's you access all of your Office 365 files, including your individual works files and files shared to you by individuals, teams and the organisation – regardless of the device you choose to use.

OneDrive On-Demand Files

Files On-Demand enables you to access and work on all your files whether they are for work or personal, across OneDrive and SharePoint on any device. Access them right from the File Explorer, without having to download them directly to your device and use up valuable space.


Share files directly from File Explorer on Windows and Finder on Mac

One of my favourite experience update in the Office 365 family has been the updated sharing experience. You can now share a file or folder with specific people. Or send a link that enables anyone who needs access inside or outside your team. In addition, you can now control how long a link provides access, and you can easily view and modify the permissions you have granted. The sharing experience is the same across all platforms and devices.


 
Transform business process
SharePoint enables you, your team and your organisation to streamline tasks, automate workflows and integrate processes seamlessly into your work. On any device and from anywhere you work.
 

SharePoint and PowerApps Integration

 Use Microsoft PowerApps to easily create custom forms. Create rich digital experiences that surface right in the contact of a SharePoint list or library. Users can then create, view and interact with data using your custom form or experience, rather than default SharePoint forms.


 

Built-in SharePoint Flows

Built-in approval flows lets you send any document for approval with a custom message. The recipient can approve the request directly from rich, actionable email. So approval and feedback can be given without leaving your inbox.

 

Updates occur all the time within the Microsoft Community, stay tuned for our updates but for now check out our Microsoft Office 365 classes. Our Office 365 training online is highly recommended if you cannot join us in-person. Our entire suite of Microsoft courses will compliment your work.