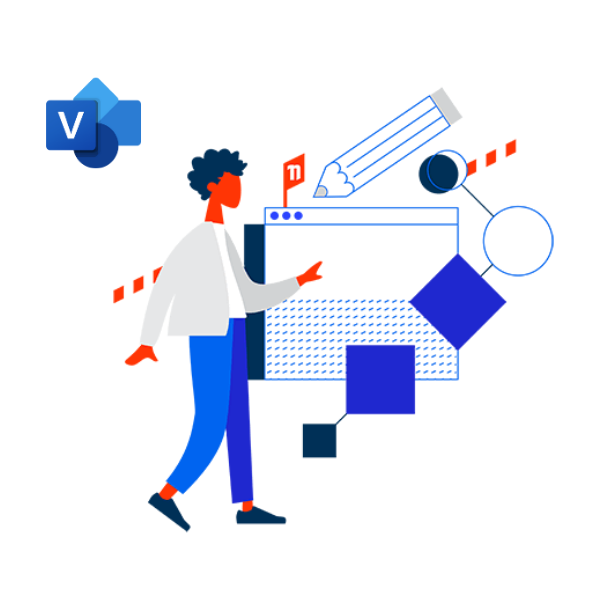 Visio Course Brisbane – Dates
Our Visio courses are offered in the Brisbane CBD and in-house across Queensland.
Microsoft Visio is the world's most popular advanced diagramming software. We will teach you how to create flowcharts, network diagrams, org charts, floor plans, engineering designs, and more on our Visio courses Brisbane.
Whether you're looking to master the basics or explore the advanced features of Visio, our expert-led training will empower you to harness the full potential of this versatile tool.
With a focus on hands-on learning and practical applications, our training ensures that you can confidently navigate Visio's features and produce professional-quality diagrams that effectively convey your concepts. Join our Visio courses in Brisbane to unlock the potential of this powerful tool and enhance your ability to communicate visually across a range of industries.
Visio Course Brisbane – Dates
Learn to use Visio to create diagrams, flow charts, floor plans, org charts and more in Brisbane CBD.
Upcoming Courses:
Scheduled
Taking enrollments.
Confirmed
Taking enrollments.
Sold Out
Try another date.
Frequently Asked Questions
What is Microsoft Visio training offered by Nexacu in Brisbane?
Nexacu offers comprehensive Microsoft Visio training in Brisbane, designed to equip participants with essential skills for creating diagrams, flowcharts, and visual representations of data. Our hands-on training ensures that you can effectively utilise Visio's features to communicate ideas, processes, and concepts visually.
Who can benefit from Microsoft Visio training?
Our Microsoft Visio training in Brisbane is suitable for individuals across various professional domains, including project management, business analysis, IT, engineering, and more. Whether you're a beginner or seeking to enhance your existing skills, our training caters to a wide range of skill levels.
What can I expect from the Microsoft Visio training programme?
Our training programme covers key aspects of Microsoft Visio, from creating basic shapes and diagrams to more advanced techniques like data linking and automation. You'll gain hands-on experience through practical exercises and real-world examples, ensuring you can confidently apply your skills in your work.
Is this training suitable for beginners with no prior experience in Microsoft Visio?
Yes, our Microsoft Visio training in Brisbane is designed to accommodate participants with varying levels of experience. We offer both beginner and advanced courses, ensuring that newcomers to Visio can build a strong foundation and more experienced users can enhance their skills.
What are the prerequisites for enrolling in the Microsoft Visio training?
There are no strict prerequisites for Visio Essentials training. Basic computer skills and familiarity with Microsoft Office applications are beneficial.
What is Remote Training?
Remote training at Nexacu involves our experienced trainers delivering your training virtually. With remote learning, students can access our usual classroom training courses via video conferencing, ask questions, participate in discussions, and share their screen with the trainer if they need help at any point in the course. Students have the same level of participation and access to the trainer as they would in classroom training sessions.
Which courses are available if I am working from home?
Currently, all of our Public Courses are available to be delivered remotely. Book any course as normal and you will receive login details and instructions the evening before your course. This includes our Microsoft Visio courses. 
How can I prepare if I am taking an online course?
Install the Microsoft Visio desktop application, note this is only available on Windows. Apple devices and macOS are not suitable for this course. Click here for instructions for installing the subscription version. 
Ensure you have a valid license, preferably Visio Plan 2. 
To download and unzip files, log in to your Student Portal and click on the "Materials" tab.
Download your exercise files and extract them to the specified folder below. Note you will first have to create this folder. 
Price
Visio Essentials: $378
Time
9am - 4pm ( approx )
Reference Materials
Provided
Training Computer
Provided
Delivery
Instructor-led training
Address
Level 8
201 Charlotte Street
Brisbane QLD 4000

Other courses in Brisbane
Trainer is very knowledgeable in this topic and presented the topic very well and at a good pace. She was clear in her communications and her personality was pleasant and supportive throughout the course.
Tracy - Visio Essentials Remote East,
6 Dec 2023
.
Training has been detailed and informative. Ben is knowledgeable and helpful. He did well to deliver the training to both the in person participants and online participants.
Allison - Visio Essentials Remote East,
10 Oct 2023
.
Was a good basic overview of Visio for myself as I currently don't use this system (I will have access in the coming weeks). I liked knowing the shortcuts that I weren't aware of and it was a fun activity completing the directions map. I enjoyed doing the hands on tasks.
Emma - Visio Essentials Brisbane,
10 Oct 2023
.
Ben is a very knowledgeable and calm trainer who makes the day run smoothly. Really enjoyed this course.
Janette - Visio Essentials Brisbane,
10 Oct 2023
.
Kate was a very friendly and helpful trainer. She very clearly knew her stuff and was well-paced in her teaching.
Leila - Visio Essentials Remote East,
10 Oct 2023
.
Well presented and informative. Thank you
Kerry - Visio Essentials Remote East,
10 Oct 2023
.
trainer is engaging
Rachel - Visio Essentials Sydney,
10 Oct 2023
.
Kate was exceptionally patient and very detailed in her training
Janine - Visio Essentials Sydney,
10 Oct 2023
.
Trainer is extremely accommodating for all my queries. Trainer fully versed in swim lanes and org charts and provided tips that I would not have known about to improve my efficiency for the requirements.
anton - Visio Essentials Remote East,
3 Oct 2023
.
Thanks John was a great session informative, comprehensive and very clear
TERESA - Visio Essentials Melbourne,
2 Oct 2023
.
great thank you
Anna - Visio Essentials Remote East,
2 Oct 2023
.
Great knowledge on the topic and delivered clearly and in an easy way to follow and understand. Thank you
Gavin - Visio Essentials Sydney,
4 Sep 2023
.