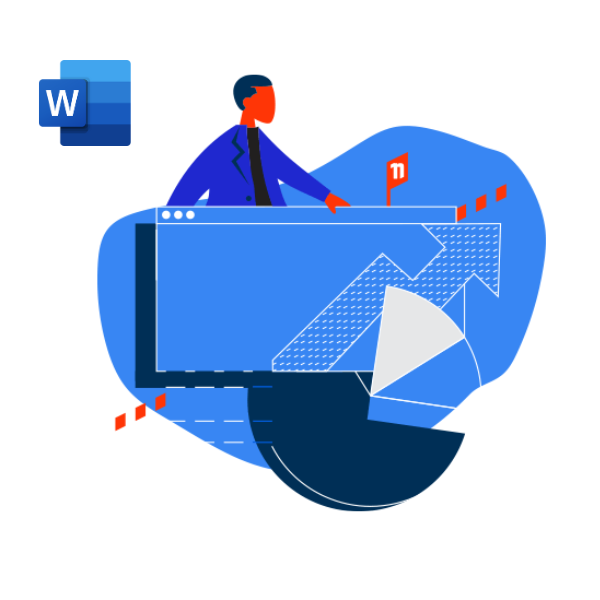 Microsoft Word Courses Brisbane
Our Microsoft Word courses are offered in Brisbane CBD and remotely.
Hands-on classes for complete Microsoft Word mastery
Enhance your Microsoft Word skills with our on-site or online training led by expert Microsoft-certified trainers in Brisbane CBD. 
We offer beginner to advanced courses with an up-to-date curriculum tailored to your needs.
Microsoft Word Courses Brisbane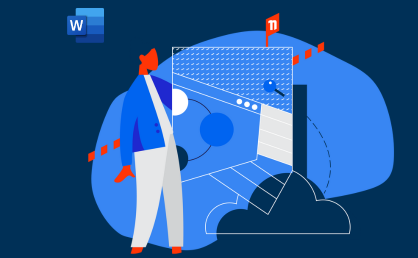 Learn to create professional documents efficiently from our experienced trainers in our Brisbane Word Courses.
Upcoming Courses:
Scheduled
Taking enrollments.
Confirmed
Taking enrollments.
Sold Out
Try another date.
Frequently Asked Questions
Why should I learn Microsoft Word?
Microsoft Word is perhaps the most widely used application across industries and roles. Learning Microsoft Word increases your employability, as many vacancies list Microsoft proficiency as a vital requirement.
On a personal note, it aids your productivity. In no time, you will be able to create polished and professional documents.
How many months will it take me to learn Microsoft Word Office?
Our Microsoft Word classes last one day and are packed with lessons on the fundamentals, essential functions, advanced formatting options, and time-saving shortcuts. You can start creating documents from the beginning.
However, we recommend budgeting 4-6 weeks of your time towards mastering Microsoft Word Office. This period will cover practice and breaks between courses, giving you enough room and time to consolidate your learning.
Which Microsoft Word course is best for beginners?
The Word Beginner course is perfect if you have no experience with Microsoft Word. There are no prerequisites for this course. It covers everything you need to know to start using Microsoft Word immediately.
Will the content of the Microsoft Word course be relevant for the workplace?
At Nexacu, we designed our courses for relevance, and the same applies to the Microsoft Word course. Our Word courses teach you how to complete various documents-related tasks you may need at work.
Can I take the Microsoft Word course for free?
Our Microsoft Word courses are not free.
How much does the Microsoft Office course cost?
The Word Beginner course costs $360, while the Word Intermediate and Word Advanced costs $370 and $385, respectively.
How long is the Microsoft Word course?
The duration for each Microsoft Word course is one day and lasts for approximately six hours.
How many students are typically in the Brisbane Microsoft Training Class?
The average number of students in our Microsoft Word courses is 5. However, we have a maximum class size of 10 students.
What are the prerequisites for enrolling in the Microsoft Word course?
We have no prerequisites for the Word Beginner course. Of course, it helps if you're familiar with the Windows operating system and are computer literate.
There are equally no requirements for the intermediate or advanced courses. We expect familiarity and knowledge of the concepts and topics in the prior levels.
Can I get a certification upon completing the Microsoft Word course?
We'll issue you a Nexacu Word series completion badge when you complete all three Microsoft Word courses. You must pass the official Microsoft MO-100 or MO-101 exam to receive a Microsoft Certified Associate or Expert certificate.
Is the Microsoft Word certification exam free?
The certification exam is not free. For $1,380, you can take all three Microsoft Office Word courses and the certification afterwards.
Alternatively, you can pay $1,020 for the intermediate or advanced Word courses and the certification exam.
How are the Microsoft Word courses in Brisbane delivered (online, in-person, or hybrid)?
You can take our instructor-led courses in-person or remotely. You'll receive credentials to our student portal when you enrol in a course, where you can access course material.
Are there evening or weekend classes available for working professionals?
Unfortunately, we currently do not run evening or weekend classes in Brisbane for our MS Word training. You may take the classes remotely and still have access to our world-class training.
What topics are covered in the Microsoft Office training courses?
We have designed the Microsoft Office training course for the modern workplace. We've put together a comprehensive suite of courses covering the length and breadth of Office tools.
Our beginner to advanced Word courses delve into Word basics, document preparation, formatting options, tables, headers and footers, breaks, working with themes, creating long documents, electronic forms, mail merge, how to write macros, and much more.
Our courses are filled with hands-on exercises to help you become proficient with Word's basic and advanced features and when to use them.
In no time, you'll be able to prepare and share professional documents at work or for your personal business.
What materials and resources will I have access to during the course?
You'll receive reference materials and get access to a training computer during your classes. You'll also get login details to our student portal to access complimentary course material and other free resources.
Do I need to bring my laptop to the Microsoft Word class?
Our classes are equipped with state-of-the-art training computers available to all students. You can, however, still bring your laptop if you prefer to work with your device. Your personal computer must have Microsoft Word installed.
Is there a specific schedule for assignments and exams, or can I work at my own pace?
The only specific schedule we have is for the classes. Each course lasts for a day and is filled with hands-on exercises.
You can learn at your own pace if you choose the "Remote Online" option when booking the course.
We recommend a 4 to 6-week preparation period if you want to take the Microsoft Certified Associate or Expert exam.
Can I access course materials after completing the course for future reference?
The student portal is the go-to hub for course materials, exercise files, certificates of completion, and ebooks.
A course ebook is a post-course resource to help you consolidate your learning after the class. All ebooks are available to you for up to four years after your course.
Can the course be customised for corporate training or group enrolment?
We can customise and run the Microsoft Word courses in your workplace or for any client with multiple staff requiring the course.
For information and advice concerning group training, please contact or call us on 1300 886 190.
What is the course cancellation or refund policy?
You must make all cancellations in writing to Nexacu more than 7 days before the course date. Otherwise, you will receive no refunds for the course. You can apply for a full refund if Nexacu has rescheduled the class more than once.
Check out our booking policy for more information.
How can I enrol in the Microsoft Word course in Brisbane?
Visit our Microsoft Word courses Brisbane web page. Scroll down to "Course Dates" to view upcoming courses. Take note of the date and the level (beginner, intermediate, and advanced). Click "Book Now" to enrol in the class. Follow the prompts and enter the required details. You should receive a confirmation of your booking.
Price
Word Beginner: $324
Word Intermediate: $333
Word Advanced: $347
Time
9am - 4pm ( approx )
Reference Materials
Provided
Training Computer
Provided
Delivery
Instructor-led training
Address
Level 8
201 Charlotte Street
Brisbane QLD 4000

MO-101 Word Certification
Other courses in Brisbane
Knowledgeable and patient
Jennie - Word Advanced Perth,
22 Nov 2023
.
Very interesting, lost me a little bit on Macros
Ella - Word Advanced Perth,
22 Nov 2023
.
Great examples! Learned a lot.
Ronald - Word Advanced Perth,
22 Nov 2023
.
This was an excellent course and I would like to have all my Microsoft training with Magdalena - very knowledgeable ad engaging. I learned a lot today.
Rhiannon - Word Advanced Remote East,
22 Nov 2023
.
Excellent! Very friendly and highly skilled.
Stephanie - Word Advanced Parramatta,
22 Nov 2023
.
Amazing!! I picked up some tips and tricks to make my life easier when using word
Megan - Word Advanced Parramatta,
22 Nov 2023
.
Was a very helpful introduction to word.
Simon - Word Beginner Perth,
20 Nov 2023
.
Easy to follow, well spoken and easy to understand.
Harmony - Word Beginner Perth,
20 Nov 2023
.
Well educated on subject
Matthew - Word Beginner Perth,
20 Nov 2023
.
Very informative, made the teaching casual yet easy to understand. Would recommend to new word beginners.
Chelsi - Word Beginner Perth,
20 Nov 2023
.
Lots of great information provided
Catherine - Word Advanced Remote East,
16 Nov 2023
.
Thank you!
Joy - Word Advanced Canberra,
16 Nov 2023
.