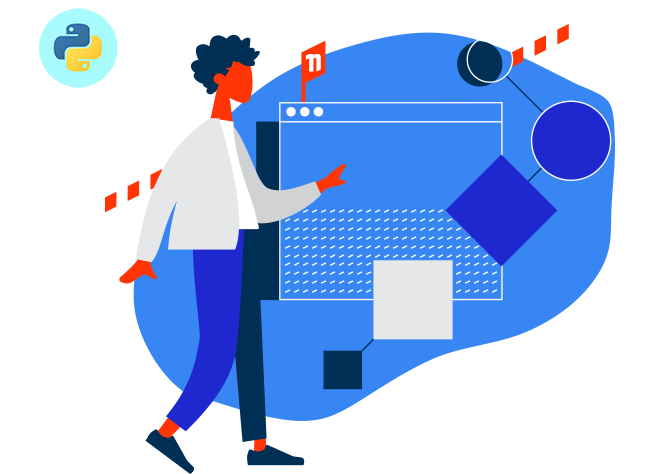 Python Training Courses in Adelaide
Learn how to programme in Python
Our Python basics course focuses on the fundamentals of working with Python for Data Analysis. Become familiar with Anaconda and JupyterLab and the basics of Python syntax in the first of our Python courses. Learn how to work with objects in Python, access and manipulate dataframes, use functions, methods and create basic visualisations. You can then build on these core skills with our Python Beginner and Intermediate courses.

Python Courses are scheduled for remote delivery in Adelaide and across South Australia. For in-class Python training, please call us directly.
Python Training Courses in Adelaide
Our Data Scientist teach you how to use Python for Data Analysis, from the basics to machine learning.
Upcoming Courses:
Adelaide
We don't have courses scheduled in your city currently. Please see our remote course options or contact us to register your interest.
Scheduled
Taking enrollments.
Confirmed
Taking enrollments.
Sold Out
Try another date.
Frequently Asked Questions
Course Introduction
Our Python courses were designed by Tamara Shatar, who holds a PhD in Agricultural Data Science. She focused her extensive experience and skills in modelling using machine learning, simulation and other techniques to create a course with depth and applicability. 
The course is consistently well reviewed by students. 
"The course was really good, Tamara is an excellent trainer and was able to answer my questions, the resources she provided to help after the course are excellent. I was a bit overwhelmed at the beginning trying to learn a new language, but Tamara put me at ease and went through the content at a pace that I could understand." -Using R Beginner Brisbane 

What is Python?
Python is a general-purpose programming language that is easy to use and learn. It is open source and free to use, including for commercial use. The Python user community is very active and have collectively developed over 237,000 packages which extend the functionality of the Python Standard Library. These packages contain functions to perform a wide range of tasks.
Why learn Python?
Python has a very broad range of applications, including programming robots, web development, data analysis and automation. The machine learning packages are very popular and Python's speed and efficiency make it possible to work with very large amounts of data. Because of its simplicity, diversity of applications and the active community behind it, Python has been one of the most popular programming languages for several years. 
Price
Python Beginner: $745
Python Intermediate: $745
Python Advanced: $745
Time
9am - 4pm ( approx )
Reference Materials
Provided
Training Computer
Provided
Delivery
Instructor-led training
Address
Level 3
97 Pirie Street
Adelaide SA 5000

Other courses in Adelaide
Easy to follow along and understand what is going on. A few sections were passed by quickly which was a bit disappointing, I would prefer to get taken through all the areas fully. Clare was very engaging, friendly and knowledgeable and was happy to go back and answer any questions that came up
Daniel - Python Beginner Remote Online,
28 Jun 2022
.
Session was a good refresher in Python. Agree with Saxon, a focus course on Arcpy would be something valuable to our teams.
Christie.Bailey - Python Beginner Remote Online,
28 Jun 2022
.
Trainer was very engaging and patient, explaining things well and helping us all when needed.
Ron - Python Intermediate Remote Online,
23 Jun 2022
.
Great session and nicely presented by Tamara.
Md - Python Beginner Remote Online,
22 Jun 2022
.
Course was excellent. Presenter was clear and concise. Remote learning environment worked well.
Daniel - Python Beginner Remote Online,
22 Jun 2022
.
Tamara is excellent. She is very good with explaining and happy to go back and help.
Wei - Python Beginner Remote Online,
22 Jun 2022
.
Very engaging, was able to explain alot of new concepts in basic terminology. Tried to relate terms to something we were familiar with.
Lucy - Python Beginner Sydney,
22 Jun 2022
.
Awesome content, well paced, logically structured and well presented!
Gavin - Python Beginner Remote Online,
22 Jun 2022
.
Easy to understand and listen to.
Larissa - Python Beginner Remote Online,
22 Jun 2022
.
Great instructor. Took time to help those with technical difficulties, covers material at a good pace. Material covered was also appropriate for the level of this course.
Cameron - Python Advanced Remote Online,
20 Jun 2022
.
Great session - a lot to take in!
john.dickson@accc.gov.au - Python Advanced Remote Online,
20 Jun 2022
.
Great training by Tamara, who regularly checked in that we were following along at home.
Cecilia - Python Advanced Remote Online,
20 Jun 2022
.