Microsoft Power BI Courses Melbourne
Transform, analyse and visualise data with Power BI Training. 
All courses available remotely. Select "Remote Online" as your location on book now.

Our Power BI courses are normally delivered in our Melbourne CBD offices, by our experienced Microsoft Certified trainers. We have capped our remote classes at 10 to maintain our high quality interaction between the students and the trainer.
Power BI empowers users to unlock insights to drive more informed decisions. It allows the business manager to access relevant Business Intelligence with ease. We have pioneered Power BI training in Australia. We continuously search and discover new IT developments, designing and delivering unique courses which provide a productivity advantage for every student. We continually update our Power BI courses to keep in step as Power BI as changes are rolled out from Microsoft. Our experienced trainers will support your learning from Beginner to Advanced.
We also provide Power BI training in the workplace in Melbourne and across Victoria.
Microsoft Power BI Courses Melbourne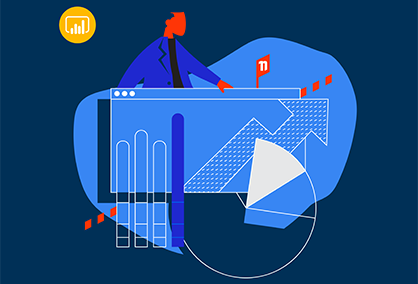 Learn Power BI from Australia's leading Microsoft Certified trainers. Beginner to advanced courses available in Melbourne CBD, across Victoria or via remote online. Learn Power BI today!
Frequently Asked Questions
Will the content in these Power BI Courses be relevant for the workplace?
Yes, our course writers and trainers have industry backgrounds. Our core principle is to deliver training that our students can not only use in the workplace but will actually drive increased efficiency and productivity gains. We teach the key elements of Power BI from Beginner to Advanced; starting with a focus on visualisations and quickly progressing to data manipulation and modelling. We also offer DAX and Power BI Certification. Our certification pathway, takes students through to the Microsoft's DA-100 exam, the industry standard for Power BI.
How many student are typically in a Melbourne Power BI Training Course?
While this varies from session to session, we typically have 5 - 7 students in our Power BI classes. We cap our classes at 10 students. This is to ensure the quality of training remains high and that all students can ask questions and engage in discussion.
Where is the training held in Melbourne?
Your Power BI training will be held at our Melbourne offices, Level 3, 466 Little Lonsdale St., Melbourne. We are a block from Flagstaff station. 
I previously attended a course with Excel Consulting, will the training be similar?
Yes, we rebranded from Excel Consulting in October 2019. The business quickly outgrew its original name. Our new brand Nexacu, better reflects our direction, continued innovation and commitment to deliver next level learning. We have always refined and continue to update our courses but retain our excellent trainers and deliver the same high quality content.
Price
Power BI Beginner: $385
Power BI Intermediate: $595
Power BI Advanced: $595
Power BI DAX: $595
Time
9am - 4pm ( approx )
Reference Materials
Provided
Training Computer
Provided
Delivery
Instructor-led training
Address
Level 3
466 Little Lonsdale St
Melbourne VIC 3000

DA-100 Power BI Certification
Other courses in Melbourne
Fantastic day, learnt a lot of new skills, Jason was extremely knowledgeable and helpful. Definitely worth attending
Christopher - Power BI Advanced Brisbane,
14 Jan 2022
.
Fantastic Session and very informative, Thank you very much Jason!
Ryan - Power BI Advanced Remote Online,
14 Jan 2022
.
Run well and quite in depth. A lot to cover and Greg did quite well
Nayan - Power BI DAX Remote Online,
14 Jan 2022
.
Great session, thanks! Well paced and informative.
Rylee - Power BI Intermediate Remote Online,
14 Jan 2022
.
well presented, understandable and good pace
Sean - Power BI Intermediate Remote Online,
14 Jan 2022
.
Domenic is a great trainer with a lot of patience, even though I am the only remote student, he takes the time to also answer my queries and check in with me. It makes me feel involved even though I am not phsyically in the class. Thank you Domenic!
Gladys - Power BI Advanced Singapore,
13 Jan 2022
.
Amazing as always! learned so much
Gal - Power BI Advanced Perth,
13 Jan 2022
.
I am very happy with the information provided in this course. Thank you Domenic
Viviana - Power BI Advanced Perth,
13 Jan 2022
.
Excellent course thanks very much Domenic, you are a master!
Jenny - Power BI Advanced Perth,
13 Jan 2022
.
Domenic is excellent at helping understand all concepts covered in the course. At no point was I confused - really helpful.
David - Power BI Advanced Perth,
13 Jan 2022
.
Good course
Sandra - Power BI Advanced Perth,
13 Jan 2022
.
Jason is an excellent and highly knowledgeable trainer, it was really great! I learnt so much, and in a way that is directly applicable to real life. Highly recommend this course, even if you're new to the topic (though do the beginner course first)
Kathryn - Power BI Intermediate Remote Online,
13 Jan 2022
.