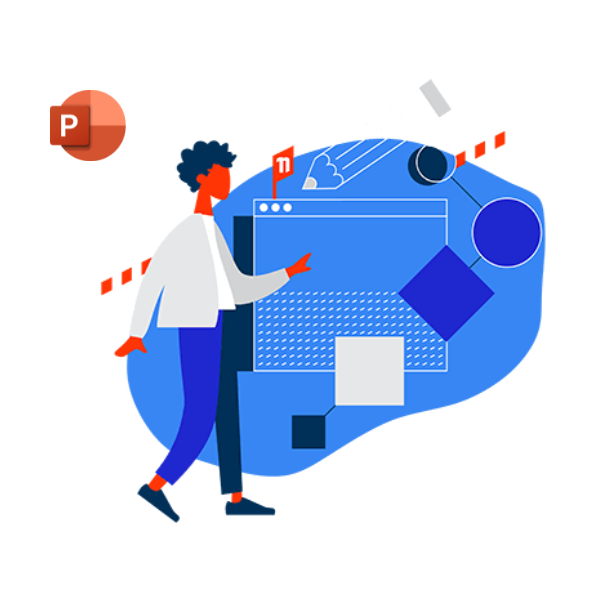 Microsoft PowerPoint Training in Perth
Our PowerPoint courses are offered in the Perth CBD and in-house across Western Australia.
All courses are available in-person or remotely. 
To attend remotely, select "Remote East" or "Remote West" as your location on book now.


Microsoft PowerPoint is undoubtedly the worldwide benchmark for crafting compelling presentations and is an integral component of the Microsoft Office suite of productivity tools. Our Perth PowerPoint courses are meticulously designed to empower you with the knowledge and skills necessary to craft captivating and professional presentations, leveraging the full range of features and tools available within PowerPoint.
In these comprehensive courses, you will embark on a journey of discovery into the myriad capabilities that PowerPoint offers. Whether you are a beginner looking to grasp the fundamentals or a seasoned presenter seeking to refine your skills, our courses cater to individuals of all proficiency levels. Our experienced instructors will guide you through the entire process of creating presentations that leave a lasting impact. You will gain proficiency in structuring your content effectively, selecting appropriate layouts, and designing visually appealing slides. Harness the power of PowerPoint's rich array of design elements, including themes, transitions, animations, and multimedia integration, to transform your ideas into polished, engaging presentations.
Furthermore, our courses will equip you with invaluable techniques for delivering your presentations with confidence and finesse. Learn the art of effective storytelling, audience engagement, and the use of speaker notes to keep you on track during your presentation. By the end of our Perth PowerPoint courses, you will have the expertise to not only create impressive slideshows but also to tailor your presentations to suit diverse audiences and purposes, whether it's for business meetings, academic lectures, sales pitches, or any other communication scenario.
Microsoft PowerPoint Training in Perth
Learn to create professional presentations efficiently in our Perth PowerPoint Courses.
Upcoming Courses:
Scheduled
Taking enrollments.
Confirmed
Taking enrollments.
Sold Out
Try another date.
Frequently Asked Questions
Who are these PowerPoint courses designed for?
Our PowerPoint courses cater to individuals of all skill levels. Whether you're a beginner looking to learn the basics or an experienced user seeking to enhance your skills, our courses are tailored to meet your needs.
What will I learn in these courses?
Our courses cover a wide range of topics, including PowerPoint fundamentals, slide design, animations, multimedia integration, and effective presentation delivery. You'll learn how to create professional and engaging presentations from start to finish.
Do I need to have Microsoft Office or PowerPoint installed on my computer?
Yes, it's recommended to have Microsoft Office or at least Microsoft PowerPoint installed on your computer before enrolling in our courses. This will allow you to practice and apply what you learn during the course.
Are these courses suitable for business professionals?
Absolutely! Our courses are ideal for business professionals who want to create impactful presentations for meetings, pitches, or reports. We focus on practical skills that can be immediately applied in a professional setting.
Can I get a certificate upon course completion?
Yes, we offer certificates of completion for our PowerPoint courses. These certificates can be a valuable addition to your professional portfolio.
Are these courses conducted in-person or online?
We offer both in-person and online courses to accommodate different preferences and needs. You can choose the format that suits you best.
How can I register for these PowerPoint courses in Perth?
You can easily register for our courses through our website or by contacting our team. We provide detailed information on course schedules, fees, and registration procedures to make the process as smooth as possible.
PowerPoint

Course Details
Price
PowerPoint Level 1: $328
PowerPoint Level 2: $329
Time
9am - 4pm ( approx )
Reference Materials
Provided
Training Computer
Provided
Delivery
Instructor-led training
Address
NEW LOCATION
Level 7
553 Hay Street
Perth WA 6000

PowerPoint

Course Outlines
MO-300 PowerPoint Certification

Digital Literacy Certification
Ithought it was great, easy to follow along and learnt a lot
Alena - PowerPoint Level 1 Remote East,
4 Dec 2023
.
Jagg was a fantastic trainer
Paula - PowerPoint Level 1 Adelaide,
4 Dec 2023
.
Great presenting.
Amanda - PowerPoint Level 1 Adelaide,
4 Dec 2023
.
Thank you, a very helpful session. Very clear instructions at a great pace. I learned a lot.
Rachael - PowerPoint Level 1 Adelaide,
4 Dec 2023
.
great presentation
Snjezana - PowerPoint Level 1 Adelaide,
4 Dec 2023
.
great session for beginners and very hands on approach
Nancy - PowerPoint Level 1 Adelaide,
4 Dec 2023
.
Valuable course, which covered many of the technical points of using powerpoint. I would also like to have learnt more 'design' techniques on how to have the presentation look professional i.e. best colours, how to divide up the screen to get the most impact, the best use of icons to convey a message. However overall a very good course that was very detailed and interesting. Thank you.
Jane - PowerPoint Level 2 Remote East,
4 Dec 2023
.
Ken was great as always
Ruby - PowerPoint Level 2 Remote East,
4 Dec 2023
.
great lesson, very informative
Brad - PowerPoint Level 2 Remote East,
4 Dec 2023
.
thank you for an educational training
Monika - PowerPoint Level 2 Perth,
13 Nov 2023
.
Thank you so much Magda for the informative session.
Lily - PowerPoint Level 2 Remote East,
7 Nov 2023
.
Comprehensive course. Able to participate/ask questions. Pleasant day.
Geoff - PowerPoint Level 2 Sydney,
6 Nov 2023
.