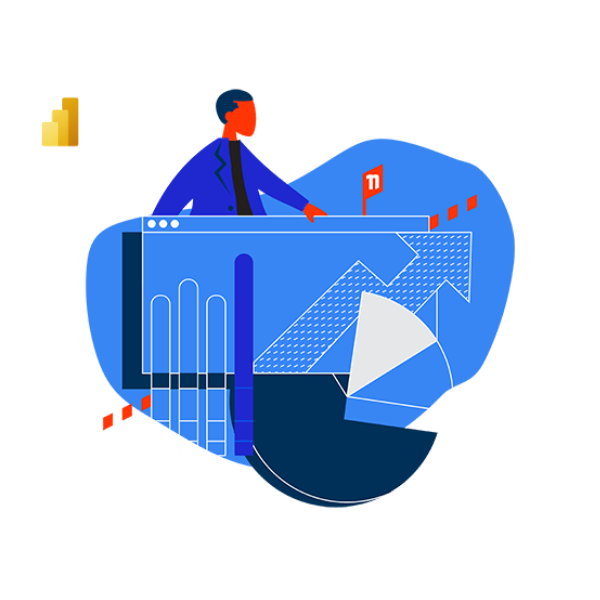 Microsoft Power BI Courses Perth
Analyse and visualise your data with Power BI training.
All courses available in-class or remotely.
To attend remotely, select "Remote East" or "Remote West" as your location on book now.

Our scheduled Power BI courses are delivered in our Perth CBD offices, by our experienced Microsoft Certified trainers. 
Power BI helps connect your data and unlock insights to drive more informed decisions for every department. We have pioneered Power BI training in Australia and continuously update our Power BI courses so they stay current. Our experienced trainers will support you from Beginner level though to Advanced.
We also provide Power BI training in the workplace across Perth and Western Australia.
Microsoft Power BI Courses Perth
Unlock data insights and create smart visuals. Perth Power BI Training Courses. Microsoft Partners.
Upcoming Courses:
Scheduled
Taking enrollments.
Confirmed
Taking enrollments.
Sold Out
Try another date.
Frequently Asked Questions
Will the content in these Power BI Courses be relevant for the workplace?
Yes, our course writers and trainers have industry backgrounds. Our core principle is to deliver training that our students can not only use in the workplace but will actually drive increased efficiency and productivity gains. We teach the key elements of Power BI from Beginner to Advanced; starting with a focus on visualisations and quickly progressing to data manipulation and modelling. We also offer DAX and Microsoft Official 20778 courses.
How many student are typically in a Perth Power BI Training Course?
While this varies from session to session, we typically have 5-7 students in our Power BI classes. We cap our classes at 10 students. This is to ensure the quality of training remains high and that all students can ask questions and engage in discussion.
I previously attended a course with Excel Consulting, will the training be similar?
Yes, we rebranded from Excel Consulting in October 2019. The business quickly outgrew its original name. Our new brand Nexacu, better reflects our direction, continued innovation and commitment to deliver next level learning. We have always refined and continue to update our courses but retain our excellent trainers and deliver the same high quality content.
Price
Power BI Beginner: $356
Power BI Intermediate: $536
Power BI Advanced: $536
Power BI DAX: $536
Time
9am - 4pm ( approx )
Reference Materials
Provided
Training Computer
Provided
Delivery
Instructor-led training
Address
NEW LOCATION
Level 7
553 Hay Street
Perth WA 6000

PL-300 Power BI Certification
Gregory Watson was a really good trainer, very patient, kept us on track and I learned a lot! Thank you.
Roselle - Power BI Beginner Remote East,
1 Dec 2023
.
Greg's attention to detail and comprehensive approach truly made the learning experience enjoyable and valuable. His expertise in Power BI was evident, and he managed to explain complex concepts in a clear and accessible manner. Greg patiently addressed each query with enthusiasm, fostering an inclusive learning environment. A particular instance highlighted Greg's dedication to ensuring everyone grasped the material. Unfortunately, my internet dropped for around ten minutes, causing me to lose crucial content. However, Greg went above and beyond by sacrificing his lunch break to guide me through the missed material, ensuring I caught up seamlessly. This level of commitment is commendable and truly made a positive impact on my overall learning experience. I believe Greg's passion for teaching and his willingness to go the extra mile make him an invaluable asset to the training team. Please convey my gratitude to him and recognise his outstanding efforts in delivering a top-notch Power BI Beginner session. Thank you once again for organising such a valuable training program, and I look forward to future opportunities to learn from experts like Greg.
Flora - Power BI Beginner Remote East,
1 Dec 2023
.
Greg explained everything clearly and helped other attendees workshop their issues.
Libby - Power BI Beginner Remote East,
1 Dec 2023
.
Thank you Greg! I enjoyed the training very much and your dogs are very cute!
Sayuri - Power BI Beginner Remote East,
1 Dec 2023
.
Very engaging session with an awesome teacher
Anja - Power BI Beginner Remote East,
1 Dec 2023
.
Content is very clear and Greg is being really patient and helpful
Hau - Power BI Beginner Remote East,
1 Dec 2023
.
Excellent. Informative and light humor to keep interest throughout
Emilie - Power BI Beginner Remote East,
1 Dec 2023
.
Excellent trainer, easy to follow and considerate. Fun and made the day go quickly!
Sandra - Power BI Beginner Remote East,
1 Dec 2023
.
Excellant. Patient. Knowledgeable
Balu - Power BI Beginner Remote East,
1 Dec 2023
.
thank you for being patient with all our questions.
Zara - Power BI Beginner Remote East,
1 Dec 2023
.
Anu did great presenting and stepping through the process. She made sure to take enough time that everyone could follow and was targeted to a beginner class.
Nathan - Power BI Beginner Adelaide,
1 Dec 2023
.
Anu understood the course content and presented information clearly. Future courses may benefit by initiating more frequent check-ins to ensure students are keeping up. She did move through content in an efficient way. Thank you :-)
Casandra - Power BI Beginner Adelaide,
1 Dec 2023
.