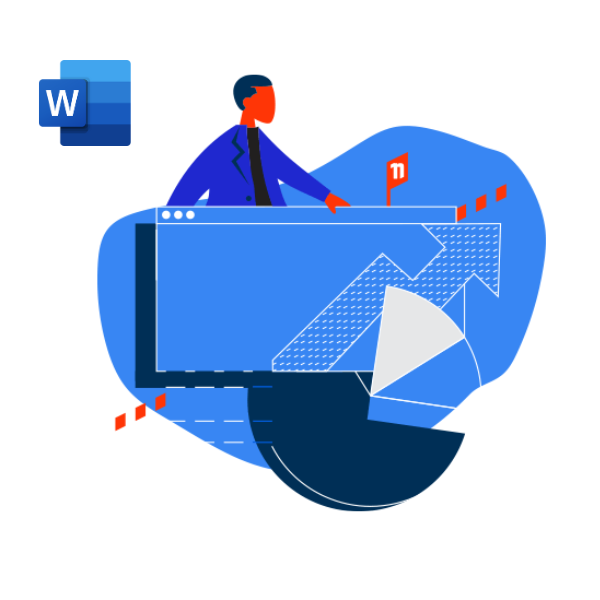 Microsoft Word Courses Perth
Our Microsoft Word courses are offered in the Perth CBD and remotely.
Dive into the heart of document creation with our Word courses in Perth, Australia. As a cornerstone of the globally-recognised Microsoft Office suite, Word offers powerful tools for producing pristine and proficient documents. Join us and master the art of crafting documents with Word's unparalleled capabilities.
Microsoft Word Course details
We offer three hands-on, best Microsoft Word courses – Word Beginner, Word Intermediate and Word Advanced.
Word Beginner
Our Word Beginner Course is designed for those in Perth, Australia, just starting their journey with this powerful tool. In this immersive experience, you will grasp the basics of in-built tools, document creation, formatting, and navigation. Tailored for absolute beginners, we simplify complex concepts, ensuring you leave with the confidence to craft clean, professional documents for business operations. Due to greater demand for other training courses, we no longer run Word Beginner as a publicly scheduled course. However, we can run an in-house Microsoft Office training Perth location on an 'on-demand basis' with clients who have multiple staff requiring the course.
Word Intermediate
Dive deeper into the world of MS Word with our Intermediate course. Building on foundational skills, this course delves into advanced formatting, dynamic tables, and effective document structuring. Perfect for those who have mastered the building blocks but wish to enhance their skills further. Our training providers will help you unlock Word's full potential, refining your professional documents to reflect higher sophistication and functionality.
Word Advanced  
Navigated the basics and explored the intermediate layers of Word? Our Advanced Course beckons. Here, we delve deeper, focusing on the nuanced aspects that elevate document preparation. From intricate layouts to mastering macros, this course is for those seeking a comprehensive understanding of Word's advanced functions for project management. Our advanced training module is the ideal progression if you aim to refine and hone your expertise to the highest level.
Microsoft Word Courses Perth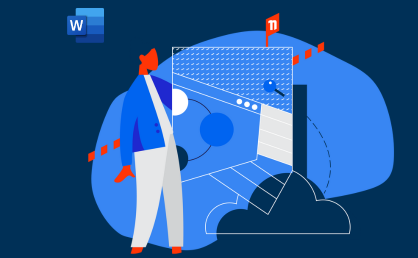 Learn to create professional documents efficiently from our experienced trainers in our Perth Word Courses.
Upcoming Courses:
Scheduled
Taking enrollments.
Confirmed
Taking enrollments.
Sold Out
Try another date.
Frequently Asked Questions
What are the Benefits of the Microsoft Word Course?
Enhance productivity: Get more done and save time with our Word courses! Dive deep into shortcuts, templates, and tools that will have you zipping through documents with newfound efficiency.
Professional polish: First impressions count. Learn to create polished and professional documents that shine with professionalism, whether it is a simple letter, a complex report, or a captivating presentation.
Future-Proof Your Career: In today's digital age, proficiency in tools like Word is invaluable. Boost your employability and stand out in any workspace with mastery over this essential tool.
Customised Learning Experience: Our course isn't a one-size-fits-all. Whether you are a beginner or need to refine your skills, we will tailor our teachings to suit your unique needs and pace. Don't miss out on this opportunity to become a Word wizard. Whether for personal projects or career advancement, our course has got you covered.
Will the content of the Microsoft Word course be relevant for the workplace?
Yes, Nexacu's Microsoft Word courses are designed to equip you with practical skills essential for the workplace. The training covers foundational to advanced features, ensuring you efficiently create, edit, and format documents. Tailored to real-world scenarios, our Microsoft Word training enhances productivity in professional settings, making it highly relevant for current job roles and future opportunities in Australia and globally.
Can I take the Word training course for free?
Nexacu does not offer free Microsoft Word courses. All our Word courses are paid.
How much does the Microsoft Office course cost?
At Nexacu, we offer the following three Word courses: Word Beginner, Word Intermediate, and Word Advanced. All these courses are one-day sessions and cost $350 each.
How long is the Word course?
Our instructor-led Microsoft Word courses are one-day courses that run from 9 a.m. to 4 p.m. (approx.). All the courses will give you 6 CPD hours credit.
How many students are typically in the Perth Microsoft training class?
The Perth Microsoft training class typically has an average of 5 students per session. However, the class size can go up to a maximum of 10 students. It ensures a conducive learning environment with ample individual attention and interaction opportunities.
What are the prerequisites for enrolling in the Word training course?
For the Word training course, there are generally no strict prerequisites. Beginners can enrol without prior knowledge. However, basic computer literacy and familiarity with the Windows operating system can be beneficial to grasp concepts more quickly and enhance the overall learning experience.
Can I get a certification upon completing the Microsoft Word course?
Upon completing the training, you can pursue the MO-100 or MO-101 certification. Achieving this Microsoft Certified status demonstrates your Word expertise, showcasing your highly sought-after skills and ensuring confidence in your skills and proficiency.
Are there evening or weekend classes available for working professionals?
Unfortunately, we don't have evening or weekend classes in Perth for our MS Word training. However, you can attend the training live online or in person.
What topics are covered in the Microsoft Office training courses?
The Microsoft Office training courses delve into various topics, ensuring a comprehensive understanding of the suite. Key areas include Word documents and formatting, Excel training and spreadsheet management, PowerPoint presentation design, and Outlook's email and calendar functionalities.
The Microsoft Word training courses thoroughly explore the software's capabilities. Participants learn about fundamental text editing, formatting, and document design. The curriculum delves into creating tables, inserting graphics, and managing headers and footers. Advanced topics may include utilising styles and templates, collaborating on documents, employing mail merge, and working with complex layouts and designs. The training ensures a holistic grasp of Word's versatile features.
Do I need to bring my laptop to the Microsoft Word class?
No, you don't necessarily need to bring your laptop to our Microsoft Office courses, as we provide training computers. However, if you prefer using your own device, you can bring it along for a personalised learning experience.
How can I enrol in the Microsoft Word course in Perth?
To enrol in the Microsoft Word course in Perth, visit our official website, navigate to the "Courses" section, find "Microsoft Word" under the listings, and select the Perth location. Follow the registration prompts, provide the necessary details, and complete the enrollment process. Ensure you receive a confirmation of your booking.
Price
Word Beginner: $324
Word Intermediate: $333
Word Advanced: $347
Time
9am - 4pm ( approx )
Reference Materials
Provided
Training Computer
Provided
Delivery
Instructor-led training
Address
NEW LOCATION
Level 7
553 Hay Street
Perth WA 6000

MO-101 Word Certification
Knowledgeable and patient
Jennie - Word Advanced Perth,
22 Nov 2023
.
Very interesting, lost me a little bit on Macros
Ella - Word Advanced Perth,
22 Nov 2023
.
Great examples! Learned a lot.
Ronald - Word Advanced Perth,
22 Nov 2023
.
This was an excellent course and I would like to have all my Microsoft training with Magdalena - very knowledgeable ad engaging. I learned a lot today.
Rhiannon - Word Advanced Remote East,
22 Nov 2023
.
Excellent! Very friendly and highly skilled.
Stephanie - Word Advanced Parramatta,
22 Nov 2023
.
Amazing!! I picked up some tips and tricks to make my life easier when using word
Megan - Word Advanced Parramatta,
22 Nov 2023
.
Was a very helpful introduction to word.
Simon - Word Beginner Perth,
20 Nov 2023
.
Easy to follow, well spoken and easy to understand.
Harmony - Word Beginner Perth,
20 Nov 2023
.
Well educated on subject
Matthew - Word Beginner Perth,
20 Nov 2023
.
Very informative, made the teaching casual yet easy to understand. Would recommend to new word beginners.
Chelsi - Word Beginner Perth,
20 Nov 2023
.
Lots of great information provided
Catherine - Word Advanced Remote East,
16 Nov 2023
.
Thank you!
Joy - Word Advanced Canberra,
16 Nov 2023
.